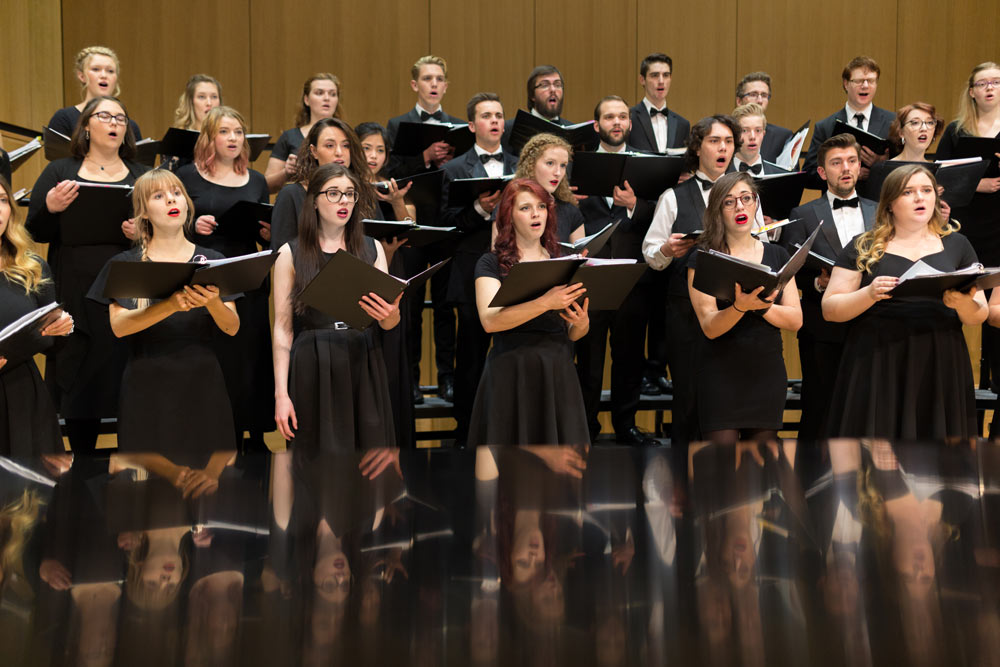 Conductor: Jaimee Jarvie 
The U of L Singers are an auditioned mixed chamber choir that includes music majors and talented non-majors across campus. The choir was begun by Emeritus Professor George Evelyn in 1982, and has enjoyed many years of success. The choir performs in a wide variety of styles, and has premiered several works by Canadian composers including Ruth Watson Henderson, Dean Blair, David Squires, and Lydia Adams. The group has performed as invited guests at the national conferences of the Association of Canadian Choral Conductors, the Alberta Music Conference, and has been a finalist in the CBC Amateur Choir competition on several occasions. In spring 2002, the Singers competed at the Cork International Music Festival in Cork, Ireland.
Rehersals will be held in person this year. All rehersals and performances will be masked. 
Repertoire for Fall 2021:
Te Deum Laudamus - Mozart
Bogoroditse Devo – Rachmaninoff
Earth Song – Tichelli
Jubilate Deo – Anglea
Let My Love Be Heard – Runestad
Oh! What a Beautiful City – Dillworth
Salmo 150 – Aguilar
The Ground – Gjeilo
Silent Night – Huish
What Strangers Are These? – Forrest
Auditions
Placement auditions are Thursday September 9 between 4:00pm and 7:00pm. New members will be sent a pre-assigned time communicated by email. Returning members do not need to audition unless they wish to change sections. 
Rehearsal Times & Location
Rehearsal times are Tuesday and Thursday from 4:30pm – 6:15pm in the Recital Hall (W480)
The first full Singers rehearsal will begin on Tuesday, September 14th at 4:30pm.