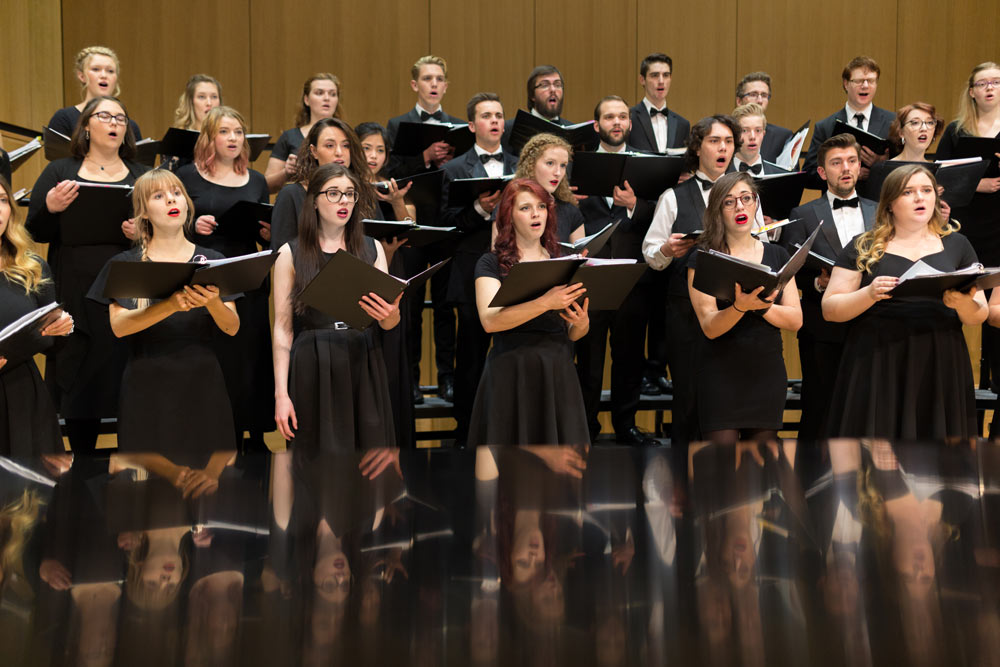 Conductor: Dr. Janet Youngdahl
Assistant Conductor: Jaimee Jarvie 
The U of L Singers is the choir that serves the University of Lethbridge community. It is open to all students, and is designed to be a welcoming and courageous vocal space, where students have amazing opportunities to explore their singing voices in the company of others: breathing, listening, sharing, and using their beautiful voices in harmony and cooperation. The goal of the group is to create a marvelous and inclusive space for sharing choral music with one another and with the community, through rehearsals, performances and special projects. The half-credit course meets Tuesday and Thursday from 4:30pm – 6:20pm; non-credit members can join through community registration. 
Please contact conductor Dr. Janet Youngdahl (janet.youngdahl@uleth.ca) and copy assistant director Jaimee Jarvie (jaimee.jarvie@uleth.ca) for questions or more information.
The U of L Singers chamber choir includes music majors and talented non-majors across campus. The choir was begun by Emeritus Professor George Evelyn in 1982, and has enjoyed many years of success. The group has performed as invited guests at the national conferences of the Association of Canadian Choral Conductors, the Alberta Music Conference, and has been a finalist in the CBC Amateur Choir competition on several occasions. In spring 2012, the Singers competed at the Cork International Music Festival in Cork, Ireland.
Auditions
Placement auditions are Tuesday, September 12, 2023 between 4:30 and 6:15 p.m. in the Recital Hall (W570)
New members will be sent a pre-assigned time communicated by email. Returning members do not need to re-audition.
If you wish to join the group and you have missed this date, please contact the directors; we will work with you!
Rehearsal Times & Location
Rehearsal times are Tuesdays and Thursdays from 4:30 to 6:20 p.m. in the Recital Hall (W570)
The first full Singers rehearsal will begin on Tuesday, September 12th, at 4:30 p.m.