uLethbridge Faculty of Fine Arts Events
Experience the Fine Arts this Academic Year!
PLEASE NOTE:
All students, faculty, staff, and visitors 12+ must be fully vaccinated against COVID-19 to access the Lethbridge and Calgary campuses. Albertans can access their vaccination record and QR code by visiting the Alberta Covid Records website. Paper documentation is acceptable at this time for our community members. U of L members (students, faculty and staff) are required to continue to use the uLethbridge Safe app to attest that they meet the vaccination requirements to be on campus. 

Event attendees will be asked to show this proof and photo ID, prior to entering any venue. Attendees who cannot provide this attestation will be refused entry and no refunds will be issued. Venues include University Theatre, University Recital Hall and David Spinks Theatre.
Masks are Mandatory on campus and in all performance venues, at all times.
Thank you for your understanding.
Nov. 29, 12 pm | Art NOW: Sara De Bondt - Online presentation 
Reserve your pass
---
Nov. 30, 12:15 pm | Music at Noon Concert Series: Deanna Oye & Peter Visentin - In-person Event | University Recital Hall Program
---
Dec. 1, 7:30 pm | U of L Wind Orchestra presents Inclusivity of Wind Music - In-Person Event | University Theatre

Buy Tickets

 Program
---
Dec. 1, 7:30 pm | uLethbridge Film Series: American Pop
 - In-Person Event | The Movie Mill 
Learn More
---
Dec. 4, 7:30 pm | U of L Jazz Ensemble presents Back in Full Swing - In-Person Event | University Theatre

Buy Tickets

 Program
Music at NOON |

CONCERT SERIES
Featuring: Deanna Oye & Peter Visentin
November 30 | 12:15 pm
University Recital Hall
Admission is free
Masks Mandatory | All uLethbridge COVID-19 protocols apply
University of Lethbridge
Wind Orchestra | CONCERT
Inclusivity of Wind Music
December 1 | 7:30 pm
University Theatre
Tickets: $20 adult, $15 seniors and alumni, $12 students
Masks Mandatory | All uLethbridge COVID-19 protocols apply
uLethbridge Film Series |
@ The Movie Mill
Featuring: American Pop
December 1 | 7:30 pm
Hosted by Bob Cousins (Dept. of New Media)
Tickets: $5 students/youth | $8 adults
Rated 14A - Substance abuse, Violence
Masks Mandatory | All University COVID-19 protocols apply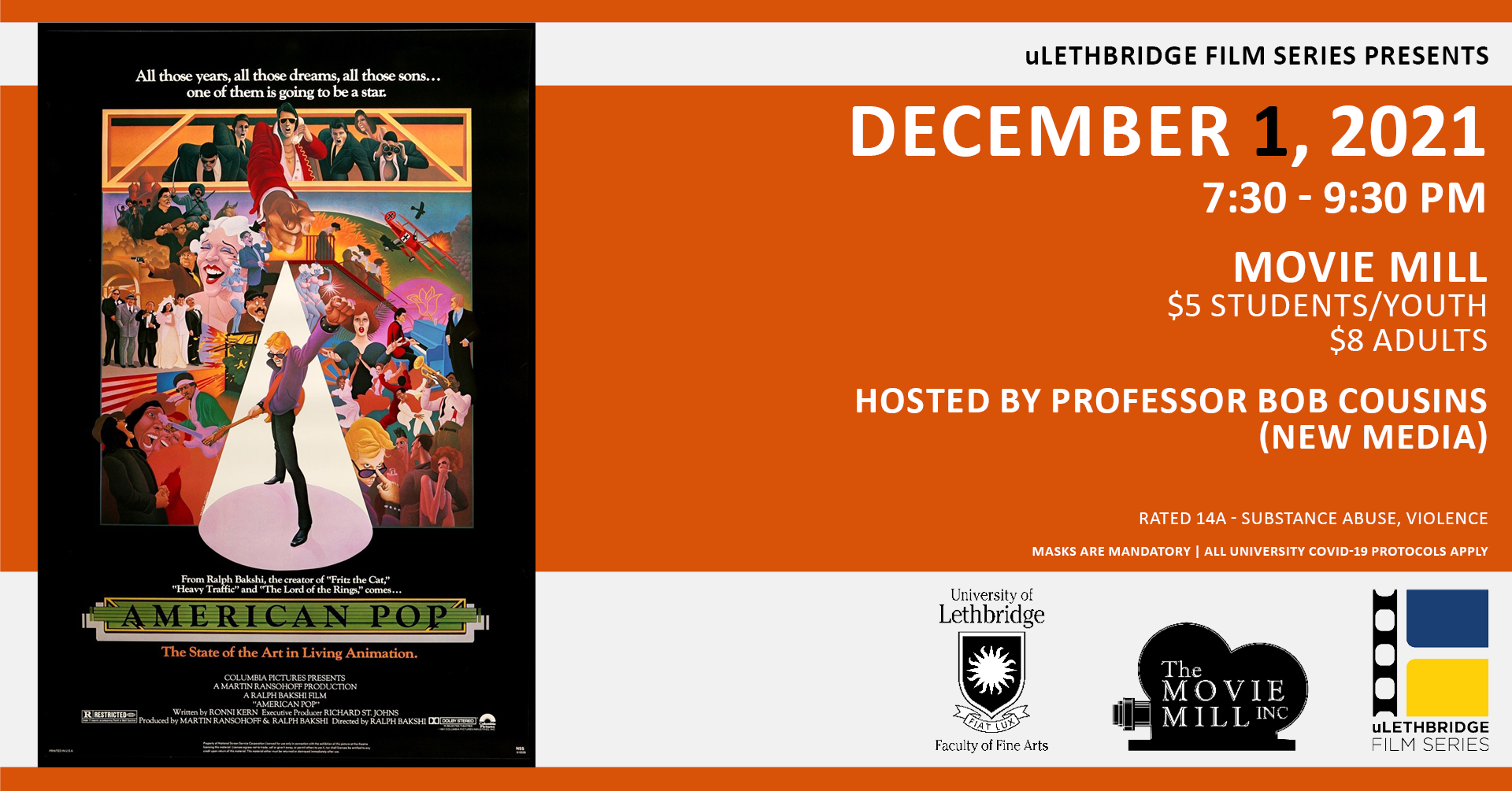 University of Lethbridge
Jazz Ensemble | CONCERT
Back in Full Swing
December 4 | 7:30 pm
University Theatre
Tickets: $20 adult, $15 seniors and alumni, $12 students
Masks Mandatory | All uLethbridge COVID-19 protocols apply
uLethbridge Art Gallery |
Knitting at Noon
December 6 | 12 pm
Dr. Margaret (Marmie) Perkins Hess Gallery
Masks Mandatory | All uLethbridge COVID-19 protocols apply