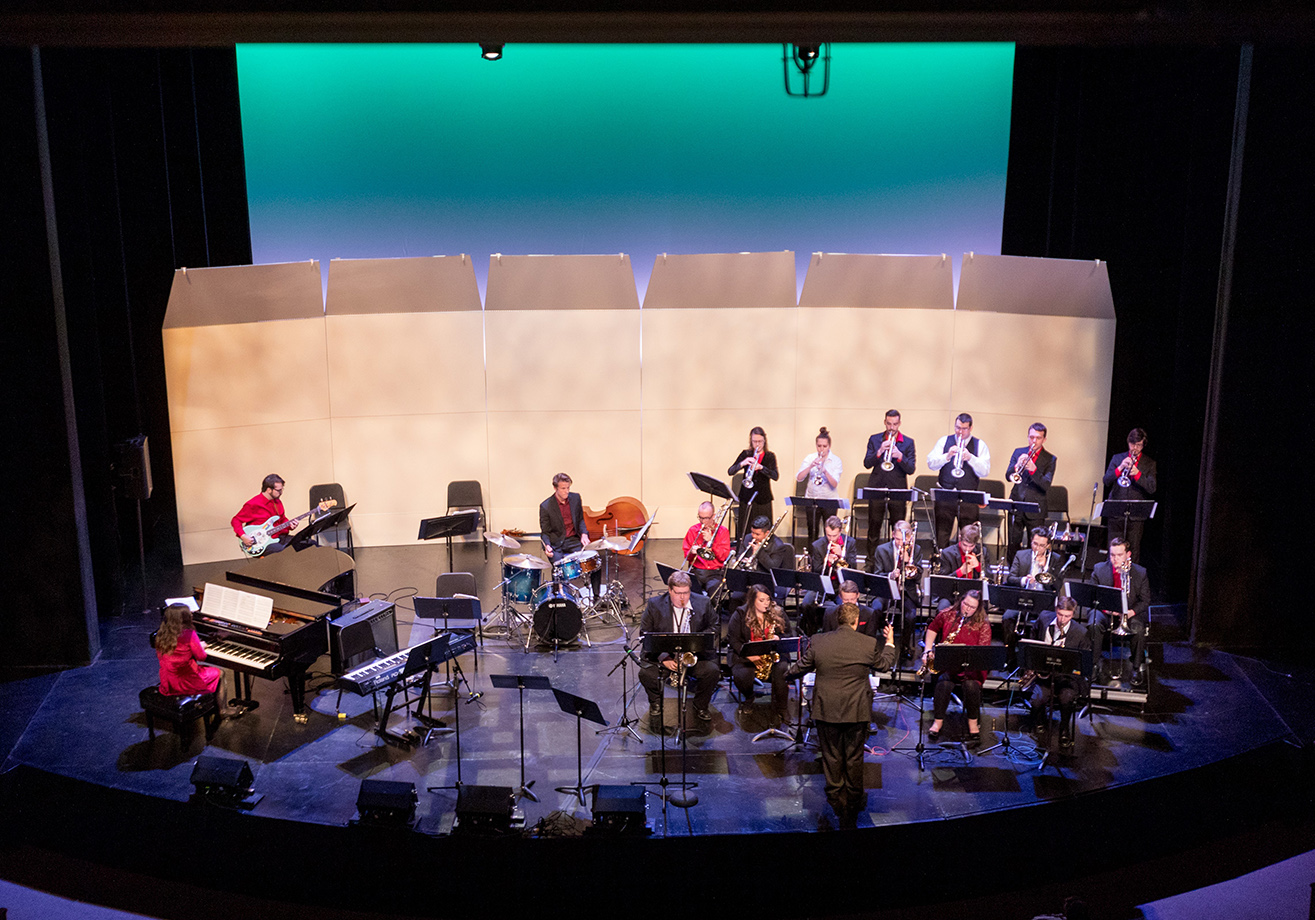 Conductor: Dr. Josh Davies
The U of L Jazz Ensemble performs an eclectic mix of repertoire including contemporary and vintage big band jazz music. The band consists primarily of music majors as well as other interested students from a variety of disciplines. Each year the band performs several times, both on and off campus, and makes a point of performing for school audiences, and conducting workshops with school groups whenever and wherever possible.
The band also enjoys collaborating with a wide variety of guest artists. In recent years, the band has shared the stage with our own Fine Arts faculty, school and community groups such as the Lethbridge Big Band, the Lethbridge Collegiate Institute Vocal Jazz Choir; and a number of local high school jazz bands. Concerts have also featured several of Canada's top jazz musicians, most notably, alto saxophonist PJ Perry, trumpeters Al Muirhead and Don Clark, trombonist Alastair Kay, and tenor saxophonist Pat Belliveau. The U of L Jazz Ensemble has recorded three full-length CD's that are available by purchase. (2014-Critical Mass, 2015-Swing Set, and 2016-Swingin' for the Fences)
Auditions
Auditions happen at the beginning of each semester and are open to everyone. For more info contact Director, josh.davies@uleth.ca
Please note: Jazz Ensemble will not be offered for Fall 2022, but WILL BE BACK IN SPRING 2023!
If you are interested in performing with the Jazz Ensemble in Spring, and have not performed with the group before, please state your instrument(s) and contact josh.davies@uleth.ca
Auditions
Auditions take place in the first 3 days of classes of the fall semester.
Sign-up sheet for auditions will be posted outside W752 in the University Centre for the Arts at least one week before the audition. Previous ensemble members do not need to re-audition, unless attempting to move in the section or instrument. If you would like to stay in the ensemble without re-auditioning please send an email no later than the third day of classes.
To request an audition time, or to maintain your placement, please contact Josh Davies at josh.davies@uleth.ca
Audition Requirements
Each audition will be approximately 5-10 minutes in length and consist of the following:
Winds, Brass, and Voice
Prepared piece of your choice demonstrating a jazz style. This can be a transcribed solo, etude, or previous ensemble music.
Scales demonstrating range.
Possible sight-reading and improvisation demonstrations may be requested.
Rhythm Section
Be prepared to demonstrate comping in multiple jazz styles. This can include transcribed solos, etudes, previous ensemble music or jazz standards.
Possible sight-reading and improvisation demonstrations may be requested.
Rhythm instruments are provided at the audition if needed.
*note – Piano will be the only rhythm instrument provided at the audition.  Bass should be acoustic, guitars must bring amp, and drums must set up alternate time with the instructor.
Rehearsal Times & Location
(Returning in Spring 2023)
Tuesdays/Thursdays 4:30 pm - 6:15 pm | W470