[re]Discovery
An integrated and labourious discovery and consultation phase comprising the first half of the current process will ultimately define the principle Directives and Objectives of the new master plan effort before any conceptual planning work, in the traditional sense, gets underway.

As outlined in the Consulting Services portion of the University Campus Master Plan Request for Proposal, the appointed architecture and planning firm and supporting team will work with the University Campus Plan Steering Committee (UCPSC) to solicit input from all broad base of appropriate stakeholders.
Strategies of the consultation process include personal interviews of key leadership across the institution, five World Cafe sessions, Facebook/Whiteboard Forums to further engage students and the community and Open Houses to publicly review the development of conceptual plans with our community before assembling the draft plan.
Presentations and lectures have also been planned at various points along the planning process and in a variety of settings by both the department of Campus Planning & Architecture (Facilities) and by representatives of the planning consultant team (Moriyama + Teshima Architects and Planners).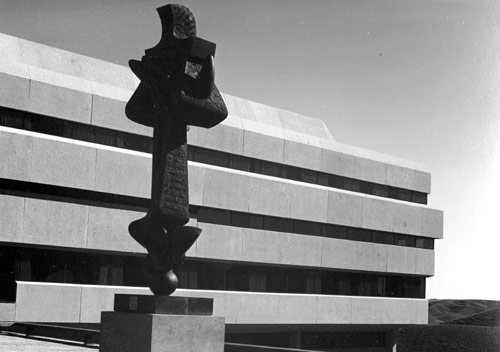 Inaugural art sculpture, Moses, by Sorel Etrog, donated to the University from Expo 67, initiating the University's art collection.