In planning for a new Library Information Network Centre (LINC) the University undertook the opportunity to review its long term campus development plan, originally conceived by Erickson/Massey in 1969.
In consultation with the Board of Governors Design Panel, the University elected John Andrews International Pty. Limited in 1993 to undertake a study of four major areas:
Review the Campus Plan
Identify campus planning issues for institutional decisions
Provide site options for institutional decision
Provide design guidelines as advice to the University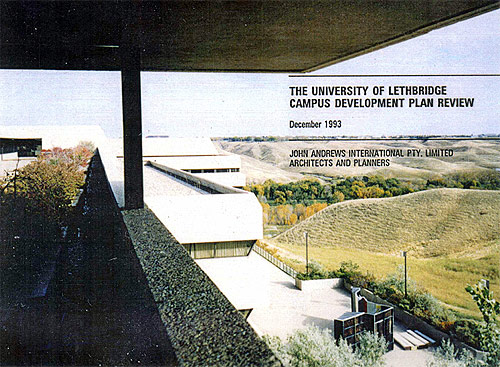 John Andrews is best known for his post-secondary work at Scarborough College in the mid-sixties as a contemporary of Erickson and as design architect for the CN Tower in Toronto, among several other notable academic buildings in the United States and abroad.
After reviewing the existing planning documentation, visiting the Lethbridge campus and meeting with University representatives, the firm submitted documentation for the Campus Development Plan Review (1993). Guidelines for recommended development sites included the South Coulee, West Ridge, North Univeristy Hall, Atrium Terrace and University Hall - Existing Library Space. See Key Development Guidelines.
A New Library/Information Centre
Following a ten-year fundraising campaign, the long-awaited Library Information Network Centre (LINC) was officially opened. It was the largest construction project on campus since University Hall.
More than $10 million was raised by close to 3,600 individuals, corporations and organizations, including the University of Lethbridge Students' Union. The largest single donation was $1.5 million.
In addition to housing the University Library and Security Services, the LINC building features study areas, breakout rooms, and Security Services. The library itself is one of the most technologically advanced and spacious libraries in North America. The room prefix for LINC is "L" and it has three floors (9, 10, 11).