A. Entrance Court
The arrival point of the University is between the University Centre, Residential Complex and Recreation Complex. Buses and vehicles would load or discharge passengers here and would proceed through the activity sections of the university to the academic core.
B. Vehicular Movement and Parking
On approaching the university, one would enter by a divided boulevard circling the Residential Centre to the entrance circle, discharge passengers and enter a main parking lot behind the Recreation Complex. The main parking area is directly accessible from a second entrance to the north. If the destination were the Residential Complex, one would enter its parking directly off the entrance road.
Further parking associate directly with the north and south blocks of the academic area would be reached by the service roads at the east and south ends of the campus. Service and emergency access to the academic buildings is at north and south and via access road along the west wing to the centre of the academic area.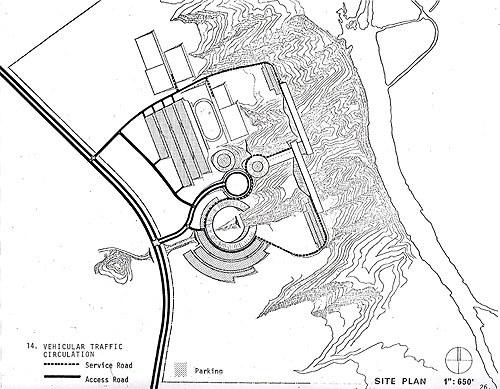 C. Pedestrian Circulation
External access is possible to all parts of the campus by means of walks and walkways around the edge or down through the coulees, or over the roofs of the academic buildings. Thus a great variety of alternate routes with differing aspects and views are available.
The pedestrian also has complete covered and indoor access to all parts of the university through a main concourse level, varying only by two floors throughout the university. This concourse level gives access up or down one storey to all academic facilities except for the library, which is multi-storey.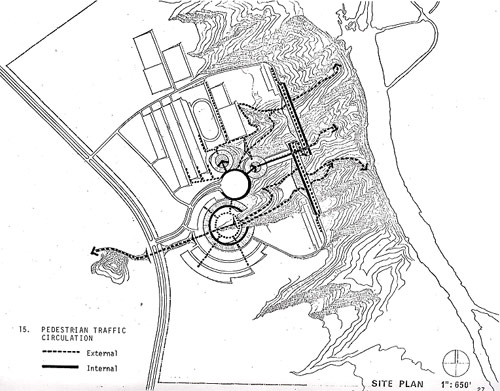 Exerpted from pages 25-27 of the Development Plan, 1969 report.