A comparative analysis of options 1 through 6 was performed and detailed in the report. Option 1 - South Expansion - was deemed as the preferred option and developed into the body of the report with the following rationale:
Central location for Library users at Public Concourse Level 6.
Front door Entrance at a logical location at the end of Aperture Drive, on Level 9.
Limited loss of surface parking.
Introduction of 445 parking spaces immediately accessible to Drama and Music at Level 5, as well as to Library, Administration, Offices, Art Gallery and the campus population in University Hall and University Centre for the Arts.
Future expansion options available on Level 3, or by expansion westward at levels 6, 7 and 8.
Additional elevator and stair access serving Entrance-Office function and Library function, providing, in addition, public and service access at all levels including parking.
Vehicular access to the lower parking levels would be by a tunnel from the north service road, or by a spiral ramp entering from the west parking lot at Level 8 and leading directly to parking levels 3 and 2.
Drawings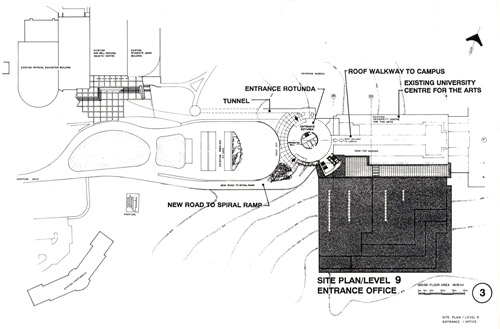 Proposed Site Plan of entrance scheme and south expansion of Library.
Elevation/Section drawings of proposed expansion facilities.
Artist's concept renderings of building entrance rotunda, architectural character and form.