The Department of Mathematics and Computer Science at the University of Lethbridge offers a number of highly diverse and exciting programs, each of them exhibiting their own unique characteristics.
What is Computer Science?
Computer Science is the study of algorithms and data structures, and their applications in designing new and efficient solutions to industrial, technological, environmental, and social problems.


As a Computer Science student, you will learn to tackle difficult problems using a variety of high-tech tools and approaches. You'll also learn to effectively communicate your expertise to others by coupling your technical learning with a solid grounding in Liberal Education.

The program is designed to enable you to gain both theoretical knowledge and practical experience, including access to state-of-the-art hardware and software in our two computer labs whenever they are available (C513 and D519).

Computer Science and Geographical Information Science This multidisciplinary major is offered jointly by the Departments of Geography and Mathematics & Computer Science. It combines the technical and practical methodologies of GIS with the systems analysis and design skills from Computer Science to provide a strong foundation in this growing field. See the GIS brochure or speak to an Academic Advisor for more information.
What is Mathematics?
Mathematics is the study of structure and patterns in numbers and shapes. It is an active research area, providing language, theories, and models to solve complex problems across a wide variety of scientific, industrial, and economic sectors.

Over the past century, discoveries in pure mathematics have found unexpected applications in science, industry, and finance, such as secure internet transactions, Google, DNA sequencing, and the stock market.

As a Math student, you will study both pure and applied mathematics—giving you the opportunity to see real-world applications of your theoretical studies.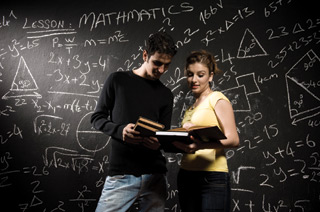 The program offers courses in four main areas: algebra, analysis, number theory, and geometry, as well as statistics. Many students opt to combine math with courses in Physics, Computer Science, Chemistry, Economics, Management, or other areas of interest.
A mathematics education provides a solid training that is sought after by employers and allows flexibility in your career choices. You will learn to tackle difficult problems employing a variety of theories and statistical models. You will also learn to communicate your expertise by combining technical skills with a sound Liberal Education.
You will have access to state-of-the-art science and research facilities, which provide the infrastructure to support the research interests of our award-winning faculty.
The knowledge and experience you gain from the program will provide an exceptional stepping stone into a career in Mathematics, should you choose to pursue a Master's or Doctorate degree, or enter the working world.