CREATE. INQUIRE. DISCOVER.
Welcome to the Faculty of Arts & Science
We are the founding academic faculty at the University of Lethbridge with over 40 disciplines.
Oki, and welcome to the University of Lethbridge. Our University's Blackfoot name is Iniskim, meaning Sacred Buffalo Stone. The University is located in traditional Blackfoot Confederacy territory. We honour the Blackfoot people and their traditional ways of knowing in caring for this land, as well as all Indigenous Peoples who have helped shape and continue to strengthen our University community.
The Faculty of Arts & Science offers three very diverse degree programs: Bachelor of Arts (BA), Bachelor of Arts and Science (BASc), and Bachelor of Science (BSc). As a liberal education based system, you must select courses from the humanities, social sciences, and sciences as part of your degree program requirements. As such, you have the opportunity to study from within your areas of interest even if these areas are not part of your major. You can make your uLethbridge degree exactly that - YOUR degree - individualized to what you want to study.
Academic Advisors are available daily for virtual walk-in appointments.
Faculty of Arts & Science News
Dr. Trevor Harrison, leading researcher in the study of populism, named winner of Speaker Research Award
Recognized as one of Canada's leading sociologists, Dr. Trevor Harrison is renowned for his interdisciplinary approach to research that delves into many of today's vital issues related to globalization, populism, immigration and political economy. The University of Lethbridge is proud to name Harrison as the winner of the 2022 Speaker Research Award.
"Dr. Harrison is well known for his work thanks to his unique ability and willingness to share his insights on key societal issues through public platforms including speaking events and media engagement," says Dr. Dena McMartin, the University's vice-president (research). "The research he shares in the public spotlight, connecting economics, history, politics and sociology, is unparalleled and sets him apart from his peers. He brings this diligent approach to the classroom and his students, who are encouraged to think deeply and critically about today's issues."
Harrison will be presented with the Speaker Research Award at Spring 2022 Convocation Ceremony IV, Thursday, June 2, 2022, at 2:30 p.m. in the 1st Choice Savings Centre for Sport and Wellness.
Graduate student Alicia Anderson earns world renowned Gates Cambridge Scholarship to study at Trinity College
"As a 17-year-old, when I first came to the University of Lethbridge, I hadn't really planned on any of this," says Anderson, who completed her bachelor of science with great distinction in 2020 and just recently successfully defended her master's thesis. "You start by making connections with professors and I've been lucky to have really passionate professors teaching me undergraduate physics and inspiring me to join a research group and take it to the next level. I really owe it all to my department and all the professors who have taught me."
Alicia Anderson (BSc '20) has always aimed high — her study of astrophysics can attest to that — and she's now earned one of the highest honours in academia. Anderson has been awarded a Gates Cambridge Scholarship, which will see her study her PhD at Trinity College on the grounds of the University of Cambridge (United Kingdom) beginning this fall.
"It's a major success," says Dr. David Naylor, physics and astronomy professor, Board of Governors' Research Chair and head of the Astronomical Instrumentation Group (AIG) at the University of Lethbridge. "This is about flat-out excellence. You basically have the best talent on the planet going after this award and she won it."
Key member of Return to Campus Committee, Dr. Trushar Patel, to receive 2021 Volunteer Award
As one of the country's best young research scientists, Dr. Trushar Patel has earned numerous honours for his expertise with viruses and RNA-based vaccines. His work in the lab and in mentoring student researchers is only a fraction of what Patel brings to the University of Lethbridge and this commitment to give freely of his time to help the community has led to his selection as the 2021 University of Lethbridge Volunteer Award recipient.
As ULethbridge looked at how it would safely reopen its campuses for the Fall 2021 semester after a year of online instruction due to the COVID-19 pandemic, the need for expert guidance was clear. Patel, a professor in the Department of Chemistry & Biochemistry and Canada Research Chair, volunteered to co-chair the Return to Campus Committee. The work involved in a safe reopening of campus was tremendous and required long hours, as provincial public health guidance frequently changed in response to the shifting pandemic. Patel's expertise was invaluable in helping the University safeguard the health of the campus community during this time.
Compound found in tires toxic to certain fish
As the treads on tires wear down, small particles of rubber fall off onto roadways where they react with oxidants such as ozone. And when it rains, these particles get flushed down storm drains and into waterways where they can be toxic to certain species of fish.
"For some time now, we've seen coho salmon along the west coast of the United States die after rainfall events," says Dr. Steve Wiseman, a University of Lethbridge biology professor and Canada Research Chair in Aquatic and Mechanistic Toxicology. "Research suggested that tire-related chemicals might be responsible for this."
These sloughed-off particles contain a chemical compound called 6PPD, which becomes 6PPD-quinone when it interacts with ozone. In addition to previous research showing that small amounts of the chemical are toxic to coho salmon, another study showed that zebrafish and Japanese medaka can tolerate high amounts of the compound.
University of Lethbridge chosen to conduct dosage study for novel Parkinson's disease formulations
Gb Sciences, Inc. (OTCQB:GBLX), a leading plant-inspired biopharmaceutical research and development company, has selected the University of Lethbridge to complete a dose range study of Gb Sciences' patent-protected formulations in a rodent model of Parkinson's disease (PD).
"Gb Sciences is an innovator in drug discovery and development, and they have promising drug candidates for the treatment of Parkinsonian movement disorders. With the state-of-the-art behavioral measurement methods at the University of Lethbridge and the exceptional innovative programs, this promises to be an outstanding, productive partnership," says Dr. Robert Sutherland, professor and Chair of the Department of Neuroscience at ULethbridge; Board of Governors Research Chair in Neuroscience; and director of the Canadian Centre for Behavioural Neuroscience.
New possibilities for therapeutic interventions revealed in collaborative study
Many medications on the market today target disease-related proteins, but a new study by scientists from Massachusetts General Hospital (Harvard Medical School), Merck Research Laboratories and the University of Lethbridge has shown that small-molecule drugs can target non-coding RNA (ribonucleic acid), thereby expanding the possibilities for therapeutic interventions in many diseases.
"This work opens up the possibilities of developing drugs that can target RNAs that are involved with many diseases," says Dr. Trushar Patel, Canada Research Chair in RNA and Protein Biophysics.
In our bodies, DNA is transcribed or copied into coding RNAs, which in turn are translated into proteins that are the workhorses of a living system. However, most RNA is noncoding and scientists are learning about the critical role it plays in controlling systems. On a normal day, these nucleic acids provide cell maintenance and cell differentiation, but if they go rogue they can play a major role in diseases such as cancer.
Students, Faculty & Staff Stories
Career Bridge: Centre for Work-Integrated Learning and Career Development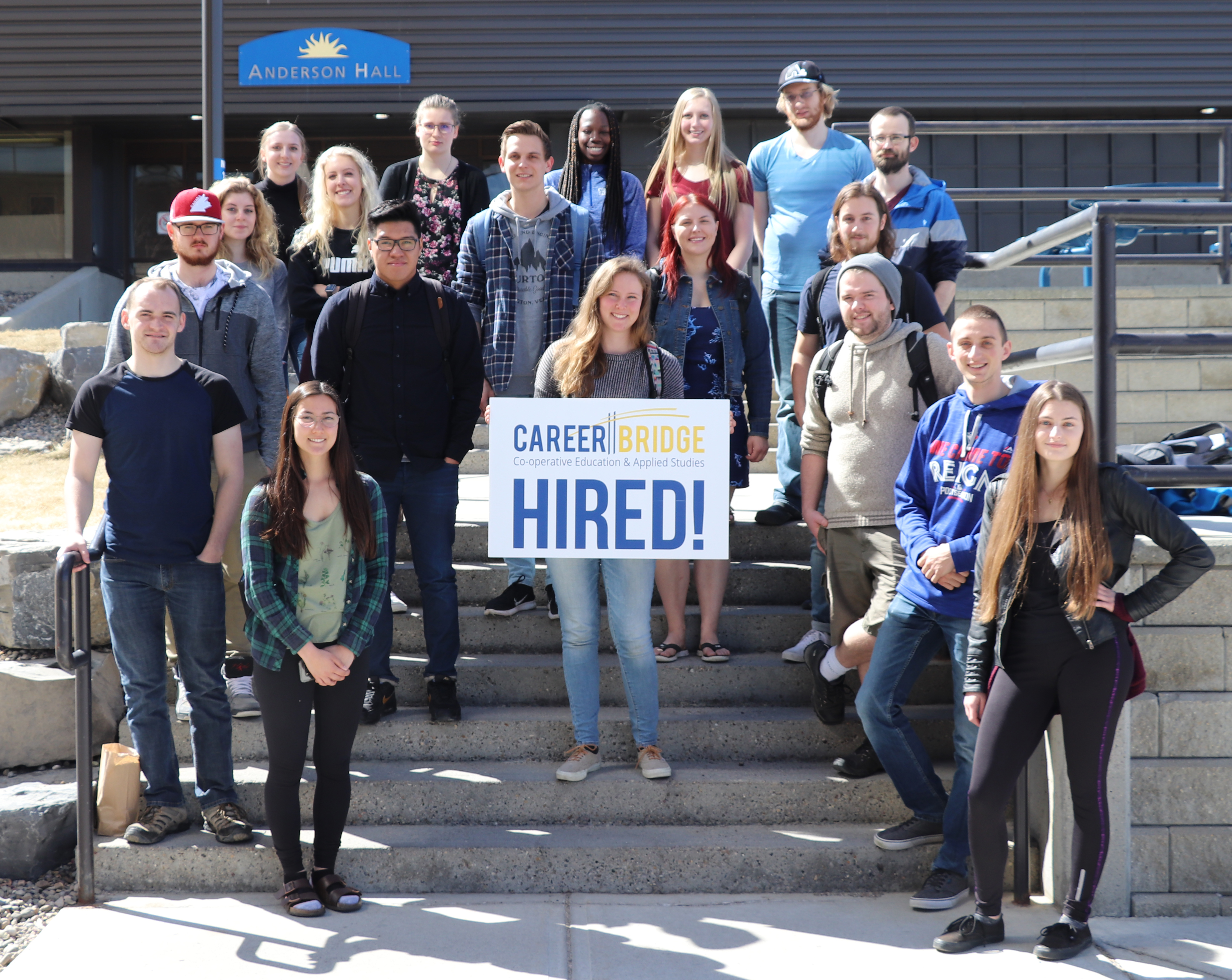 Put Your Knowledge to Work 
Whether you're looking for a more in-depth learning experience by assisting with research projects on campus or by testing your knowledge in a real-life work setting, we can help! The University of Lethbridge is proud to offer you an exceptional opportunity to explore professional development through academic programs and services designed to give you a competitive edge in a fast-changing world.
You have a bright future — experience it via Career Bridge at uLethbridge!