Accessing the scholarship application
The internal scholarship management system can be accessed through the Bridge Portal or at https://uleth.academicworks.ca/. Through the Bridge, you can find the application on the Student page, under the Student ink, and through the Apply for uLethbridge Scholarships, Awards and Bursaries link.  
*If you are unable to log in be sure you are using Chrome; if you still are having problems clear your browser history and cookies.
The General Application requires students to fill out general information on your education, ancestry, as well as campus and community involvement. This application can be updated throughout the year as needed.
The Graduate Application requires a research proposal, transcripts, curriculum vitae, references, and community engagement and leadership. Must be submitted by May 15th.  You can continue to edit up until the deadine even if you have already submitted.
Recommended opportunities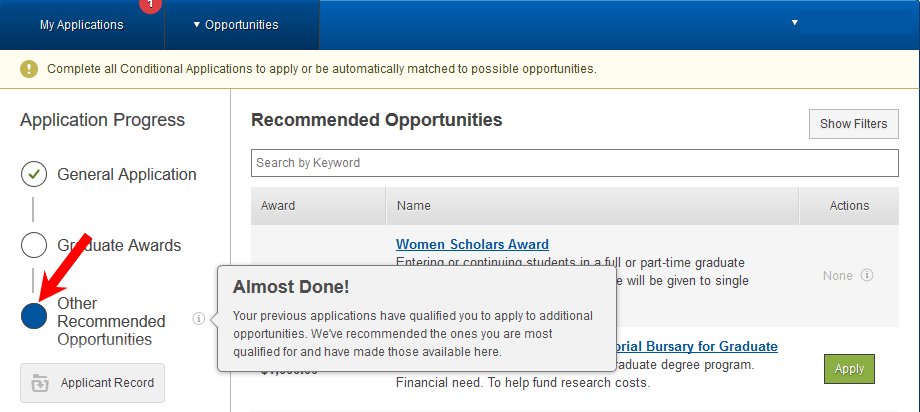 The Recommended Opportunities are funding opportunities that you may qualify for based on the general and/or graduate application. To apply for these opportunities, click the corresponding link and fill out the supplementary information.
The general and graduate applications must be finished and submitted to be considered for funding opportunities.
Finding internal and external funding opportunities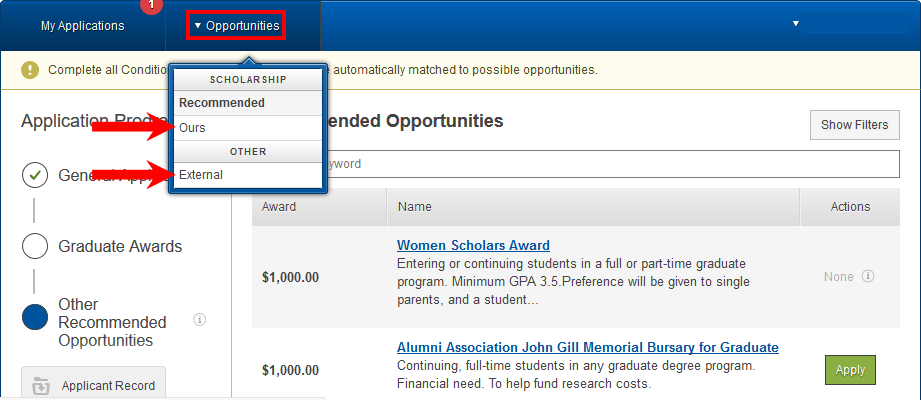 Recommended funding opportunities will be listed following the submission of the general and graduate application based on their content and can be applied for manually. A full list of internal awards can be found in the Opportunities tab under Ours, and external awards and their application links can be found in the External in the same tab.
My applications & tracking your funding
The My Applications tab shows your currently submitted applications, incomplete applications that require more information or submission, and awards that the applicant has received will also be displayed here following the funding decision.
Lastly, your Account Details can be found under the username tab in the top-right corner.