Thursday, March 22, 2018 - 7:00pm - 9:00pm
Event Location: Lethbridge Lodge, 320 Scenic Dr S, Lethbridge, AB
FREE. Everyone welcome. No RSVP required. Seating is limited, however, so arrive early!
Light appetizers and a cash bar will be available.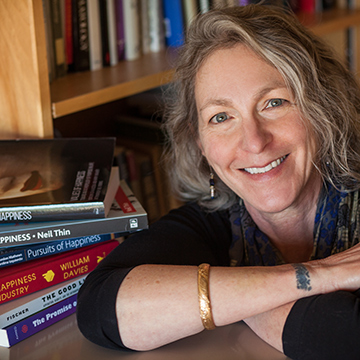 Join anthropology professor, Dr. Catherine Kingfisher, as she explores
Locating Happiness: Beyond Individualism.
In recent decades, an increasing interest in happiness and wellbeing has come to permeate scholarly, governmental, and popular imaginaries and practices, signalling a paradigm shift in orientation to work on society and work on the self. Driven in part by the emergent sub-disciplines of positive psychology and happiness economics, these new engagements with happiness, marked by a radically individualistic perspective, both reflect and buttress neoliberal forms of governance. Collective housing communities represent a challenge to this dominant, EuroAmerican orientation by locating well-being, at least in part, in the social.
My research on two urban collective housing communities – Kankanmori, in Tokyo; and, Quayside Village, in Vancouver, will 1) place into relief the cultural assumptions and forms of governance at the foundations of dominant EuroAmerican approaches; 2) highlight alternative models of wellbeing that provide potential, practical responses to problems associated with the individualizing, fragmenting, and isolating aspects of neoliberal projects of governance; and, 3) explore governmentalities of utopia as method.
With special thanks to our talk sponsor: