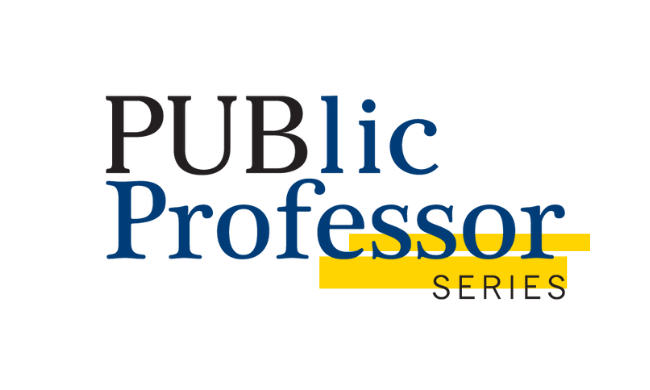 Join us for a fresh season of the PUBlic Professor Series!
Community outreach is a priority for the University of Lethbridge. Dissemination of faculty research expertise to a wider community through programs and activities such as talks, lab visits, youth and family activities, and in-school presentations has been delivered with great success over the years.
 
In June 2014, the Faculty of Arts & Science launched something special: the PUBlic Professor Series. Fast forward to 2023, and we're thrilled to announce that we've expanded the series to include talks by researchers from across the University. This monthly lecture series is designed to spark thought-provoking discussions and bring a diverse group of experts and researchers from our campus right into the community.
While the size of the series has grown, its core mission remains unchanged. These talks will continue to offer valuable insights into topics that pique interest, inspire questions, and foster open and engaging conversations. The PUBlic Professor Series provides an excellent opportunity for the community to come together, connect with one another, and dive into meaningful discussions.
This series is a natural extension of the popular Public Professor column, co-edited by Dan Johnson and James Linville, which you may have enjoyed reading in the Lethbridge Herald. Over the span of three years, they published a total of 146 regular Saturday columns, each penned by our talented faculty, sharing intriguing aspects of their research with you.
Together, let's explore the fascinating world of knowledge, one conversation at a time.

A Professor of History, author, researcher and expert in border studies was 2023's last presenter:
Dr. Sheila McManus
Borders are Stupid
Thursday, November 23
---
Most people today, if they think about borders at all, can be forgiven for believing lines on a map are real things serving useful purposes. Demarcating the edges of nation-states is responsible for everything from shoring up sovereignty, nationalism and colonialism, to drawing the lines between "us" and "them." However, by taking a closer look at their long, messy histories, and even messier contemporary functions, you'll discover those invisible lines are, at best, lying to us. This talk explores why we believe the lies borders tell us, and why we shouldn't. 
Explore research at ULethbridge