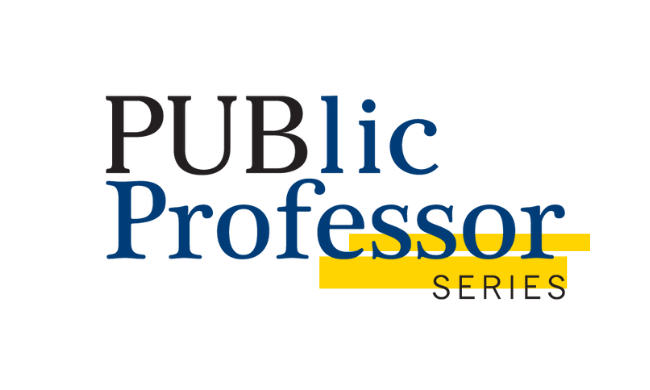 Join us for a fresh season of the PUBlic Professor Series!
Community outreach is a priority for the University of Lethbridge. Dissemination of faculty research expertise to a wider community through programs and activities such as talks, lab visits, youth and family activities, and in-school presentations has been delivered with great success over the years.
 
In June 2014, the Faculty of Arts & Science launched something special: the PUBlic Professor Series. Fast forward to 2023, and we're thrilled to announce that we've expanded the series to include talks by researchers from across the University. This monthly lecture series is designed to spark thought-provoking discussions and bring a diverse group of experts and researchers from our campus right into the community.
While the size of the series has grown, its core mission remains unchanged. These talks will continue to offer valuable insights into topics that pique interest, inspire questions, and foster open and engaging conversations. The PUBlic Professor Series provides an excellent opportunity for the community to come together, connect with one another, and dive into meaningful discussions.
This series is a natural extension of the popular Public Professor column, co-edited by Dan Johnson and James Linville, which you may have enjoyed reading in the Lethbridge Herald. Over the span of three years, they published a total of 146 regular Saturday columns, each penned by our talented faculty, sharing intriguing aspects of their research with you.
Together, let's explore the fascinating world of knowledge, one conversation at a time.

An internationally renowned agricultural engineering researcher — and new University of Lethbridge president and vice-chancellor, kicks off the latest season:
Dr. Digvir Jayas
Recent Trends in the Food Industry
Thursday, September 28 | 7 - 9 p.m.
Sandman Signature Lethbridge Lodge
Upstairs Grand Ballroom
Cash bar | Light appetizers
Free, everyone welcome!
---
As with any other industry, the food industry has been changing over time. These changes are driven by many factors including changes in consumer behaviour, advice to consumers from health practitioners, government regulations, global economy, transportation, climate change, technology including internet-of-things (IoT), research done by academic institutions and industry itself, and most recently pandemic. The presentation will provide an overview of recent trends in the food industry and factors driving these changes. Using food quality monitoring as an example, this presentation will highlight what role research has played and is continuing to play towards this area. 
---
About Dr. Jayas  |  Born and raised in India, Dr. Jayas earned a Bachelor of Agricultural Engineering at G.B. Pant University of Agriculture and Technology, and went on to complete a graduate degree and PhD in agricultural engineering at the Universities of Manitoba and Saskatchewan, respectively. He began teaching at the University of Manitoba in 1985, eventually ascending to the position of Vice-President (Research and International), which he held for 12 years. 
An internationally renowned researcher, Dr. Jayas studies the drying, handling and storing of grains and oilseeds, and digital image processing for grading and processing operations in the agri-food industry. From 2002 to 2009, he was a Tier I Canada Research Chair in Stored-Grain Ecosystems, and in 2009 was inducted as a Fellow of the Royal Society of Canada. In 2018, Dr. Jayas was appointed an Officer of the Order of Canada. He is the 2023 recipient of the Lieutenant Governor's Award for Excellence in Public Administration in Manitoba. 
---
Explore research at ULethbridge