The questions below will help you identify some initial steps you may want to take to get your course ready for online teaching.
Asynchronous: not simultaneous or concurrent time. Course content can be accessed by students at any time. Example: A recording of a lecture that is posted in Moodle. Students do not have to access this video at a specific time.
 Are synchronous meetings really needed? Disruptions that are major enough to force closures can also be major enough to significantly impact people's schedules and availability (Moore & Hodges, 2020).
Synchronous: happening, existing, or arising at precisely the same time. Course content that requires students to participate at the same time. Example: Students connect to a Zoom lecture at 9 AM on Tuesday and Thursday for 1 hour.
Is it really important that students be present live, at a specific time, for a lecture? If so, then try recording lectures students can listen to on their own time. Also set up reoccurring live sessions throughout the week where students can join you for virtual office hours to ask questions and get further guidance and support (Moore & Hodges, 2020)
Determinizing which aspects of your course are synchronous or asynchronous will help you determine which teaching tools you need to use as well as the communication that needs to occur with your students.
---
Information from Dr. Harold Jansen, Interim University Librarian 
The University is not mandating one or the other, but we encourage you to think through the pros and cons of these two different forms of delivery and decide what is appropriate for your course, your students and for you. Many students prefer asynchronous delivery, as it gives them some flexibility about when and how they interact with the course. Async can also work well for students who don't have great Internet access or who have family or other responsibilities that might interfere with their ability to be available at particular times of day. It can also more easily allow for the use of a variety of different teaching materials, enabling the incorporation of readings, video, pictures, maps, etc. It may also facilitate participation from some of your more reticent students: it can allow them time to consider what to say as not all students think quickly on their feet. Async courses can also more easily accommodate students in multiple time zones, particularly international students. For the faculty member, it can have some advantages, too. Having the ability to prepare much of the course ahead of time takes some of the pressure off for Fall, particularly if Faculty members are also facing challenges such as poor Internet or if you're worried about children or other distractions making it difficult to teach at a particular time on particular days.
Asynchronous teaching has disadvantages, too. Because students are not together with their instructors at a given time, even virtually, a class doesn't feel the same. It takes more work and conscious attention to build that sense of community and interactivity that makes a class come alive. It takes more deliberate effort to make yourself "present" in the class. Without that, it can feel like your class is just interacting with content, rather than with you. Asynchronous teaching also requires more advance preparation than synchronous teaching.
The main advantage of synchronous teaching is that it can feel the most like a "real" classroom, in that you're interacting with students in real-time. Students have the ability to interact with you and ask questions when they don't understand something. It can build more of a sense of community between you and the students, which is an important part of creating a supportive learning environment. It can also help to build accountability for students as it is much harder for them to disengage when they need to check in at a particular time each week. It can take less preparation time – you don't need to pre-record video or develop other content. It can be a bit disconcerting, if you're used to a lecture style class setting. It's much harder to "read the room" in a video lecture as many students will have their cameras off and even for those who do have their cameras on, their facial expressions are much harder to read over video. Synchronous delivery is probably most effective when there is real opportunity for discussion and interaction.
The choice doesn't need to be all or nothing. An effective strategy is to use asynchronous delivery for the parts of the course that are going to consist of students listening while you talk and reserve synchronous sessions for things like question and answer periods, discussion, or other active learning activities, where students have an opportunity to participate.
A good resource to read more: https://www.niagaracollege.ca/cae/eddev/teaching-resources/online-teaching/design/synchronous-online-teaching/ 
It will be important to address workload, expectations, Zoom etiquette, FOIP rules for recording classes, how office hours will work, etc. For example, students may assume that an asynchronous course is less work, as they will not have to attend classes, just do the regular out-of-class work; is this going to be true of your course? It is also important to set expectations for communication: how should students contact you with questions, how will you contact them (email? Via Moodle?), what turn-around time is reasonable, etc. Don't assume that students have any natural skills in this environment: we need to teach them how to succeed and address these kinds of issues openly and early on.
Creating a Course Syllabus and Structure for Online Teaching
https://openeducationalberta.ca/fitfol/part/creating-a-course-syllabus-and-structure-for-online-teaching/
Ensure your teaching materials are saved to your own computer/cloud account. Saving it to both your computer and a cloud account will ensure you have multiple backups of your teaching materials.
Make asynchronicity your friend – using asynchronous tools such as emails, or utilizing the many tools available in Moodle, are often the simplest and most easily accessible tools for ensuring that all students are able to participate.  
Ensure that any content you share is easily accessible to all students.  - Universal Design for Learning (UDL) 
In some cases, you may host synchronous lectures or meetings with your students to deliver the content of the course. Be sure that all your students can attend and connect during that time using the technology needed. If they cannot, you will have to consider asynchronous methods for delivering the content. This may be as simple as recording your synchronous lecture and posting it on Moodle. ­
Create a Communications Plan
Once you have identified communication channels for you and your students, their accessibility needs and type of communication asynchronous (not concurrent in time) vs synchronous (communication in real-time), consider how students will send you course-related questions and how you will respond to those questions. Remember this is important because you will not be available to answer questions face-to-face. Lastly, decide how assignment feedback will factor into your communication loop. 
Carefully walk your students through the plan as well as the course site or teaching hub
Create an Online Teaching Hub
Since you don't have a physical classroom to teach out of anymore, you want to create a virtual teaching hub for your students. If you are just starting out, we recommend you stick with Moodle, the U of L's learning management system (LMS). If you are looking to use a different tool, OneNote or your own website will also work. Before you make a choice, you want to consider what is the easiest and most navigable approach for you and your students.
This online hub is place where students go to get tools, updates in the class, interact with one another, and explore resources. Try to establish a routine in your courses so students know what to expect. Some ways you can do this is through:
1. A discussion forum that is an introduction. You can ask students to upload a picture or video of themselves. You will also want to include an introduction of yourself.
2. Think about the structure of your Moodle page (aka teaching hub). Will your students understand where to go and how to navigate your virtual classroom? You can consider labelling your topics in Moodle with dates and topics so your students can easily find the lessons, resources, and assignments they need.
3. You may also want to consider creating a checklist for your students. This checklist can provide students with explicit direction relating to the readings and resources they need to read for each week of your course, the assignments that are due, and any other requirements you have for the class. Your students can use this as a way to make sure they complete all of the required work they need to get done.
4. Attendance issues are often magnified in distant/online learning spaces. You want to proactive and consider how you can touch base with your students who fall out of the loop. In some instances, many profs will set up phone calls with their students or zoom meetings to welcome them to the course or to check-in with students who seem disengaged.
5. You will also want to consider hosting open office hours as you did on campus with a standing Zoom meeting. You can set up a waiting room in Zoom
6. You can see who is not accessing resources in your class if you use Moodle.
Feel free to take a look at this demo of an online classroom space to help guide you as you structure a Moodle Page:https://moodle.uleth.ca/long_term/course/view.php?id=909
Identifying what you want students to learn and how they will demonstrate their learning, can help you determine what methods of assessment you will use. 
Moodle, the Learning Management System for the University of Lethbridge, has a multitude of tools available to create assessments that your students can access online.
There are a number of tools available for you to use in our course. All the tools available to you are explained on the Teaching Tools page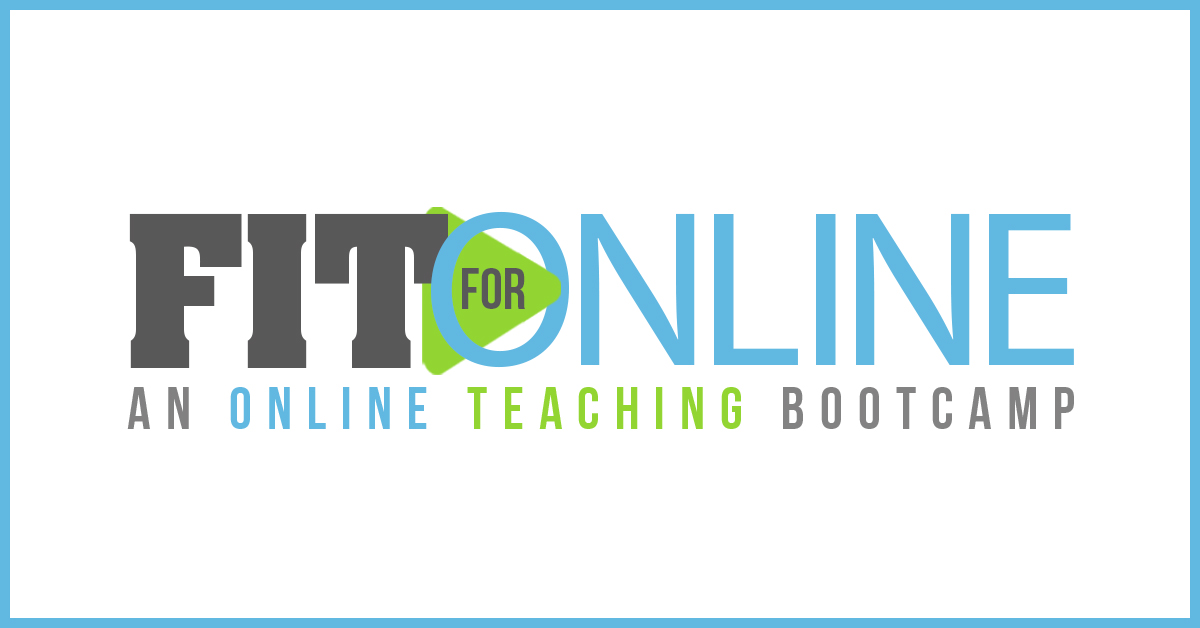 The Teaching Centre would like to remind you that we have an on-demand version of our FIT for Online Bootcamp resource available. This resource is designed to assist you in planning for meaningful and effective online experiences for your students. You can access this version without any registration and work through any (or all) of the resources at your own pace.
Resources
* Resource list compiled  with help from Adriana Monteiro Lima