The Learning Environment Evaluation (LEE) project is constantly researching ways to improve classroom spaces on campus. Based on the data we have collected, we were able to turn a few rooms into LEE Project Classrooms to pilot new equipment, furniture, room layout, and other physical aspects of the rooms.
1. L1050 - Library
Phase I of improvements to L1050 was made in the Spring 2013, followed by a second improvement in the Spring of 2014 to prepare for Phase II. The second phase will be finished by Fall 2014, when L1050 will be the first Active Learning Classroom on our campus.
Before: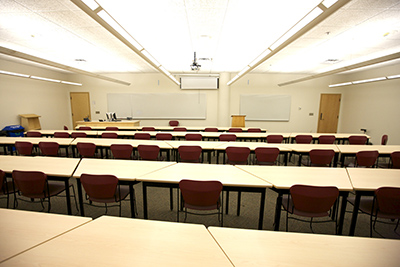 Phase I:
Reduce space from 60 to 40 seats, rearrange furniture, reorient the room front to back, put in a smaller instructor station, replace projection screen with two LCD screens, install a central whiteboard: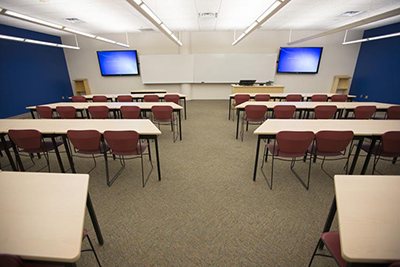 Phase II - part 1:
Replace existing trapezoidal tables with rectangular tables on casters, replace existing chairs with chairs on casters: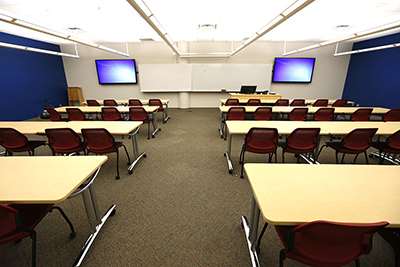 Phase II - part 2:
Fall 2014. Angle monitors, replace instructor station to height-adjustable table with small form-factor PC under the desk, replace instructor chair with height adjustable instructor stool, move instructor station to centre of front.
2. W565 - Fine Arts
Over the years, we have heard many students complain about the outdated and uncomfortable tablet arm chairs in W565. We have formally researched this room in the Spring 2014, and discovered it is the second worst room in the ones we studied that term. One of the main reasons happens to be the furniture. For Fall 2014, LEE is moving in brand new, upgraded tablet chairs that will allow for more flexible furniture configuration as well as more comfortable seating.
Before: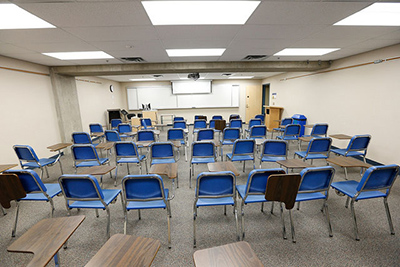 Phase I:
Fall 2014. Reduce seat number from 54 to 40. Replace outdated tablet arm chairs with modern, heigh-adjustable tablet arm chairs with a larger tablet and on casters. Paint walls.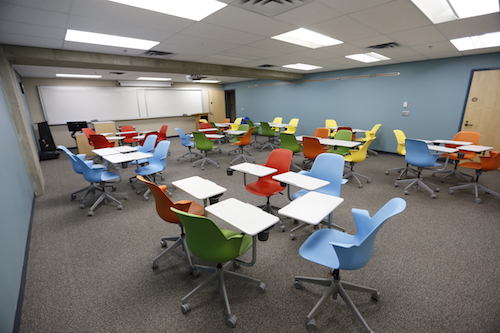 3. AH177 - SCALE-UP Room
One of the very exciting developments in the Summer/Fall 2014 was the addition of the U of L's first ever SCALE-UP room. The room alone will be showcased here. To learn more about what SCALE-UP is, please visit our SCALE-UP site!
Phase I:
SCALE-UP room for 36 students
This room might undergo iterations in the future. We are investigation what works and what doesn't work and will adjust the room accordingly.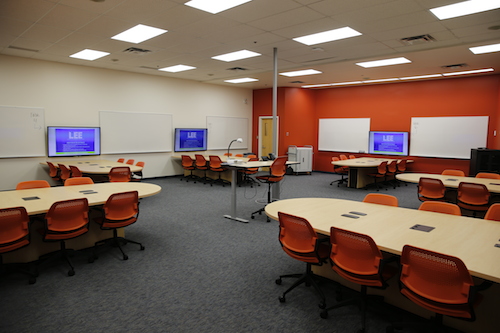 Here is a preliminary video as well. Please note that the remaining whiteboards and monitors are still missing.
UPDATE (Sep 2014): Please check out our brand new SCALE-UP Room Gallery!
UPDATE (Nov 2015): The room capacity has been increased to 40 seats.
Find LEE on Twitter @LEEprojectUleth for news from LEE, the University,
and education around the world!

Find LEE on Facebook at LEE Project Uleth for news and updates as well!