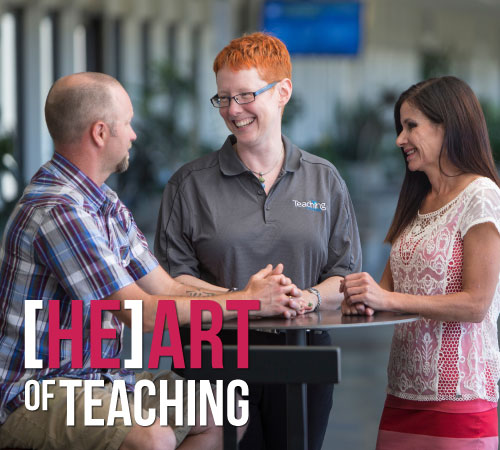 by Dr. Michelle Hogue, Dr. Jason Laurendeau and Dr. Sheila McManus
Have you ever wished that you could have more open, confidential conversations with colleagues, where you could share your successes, challenges, worries, and big (or little) ideas about what you might do in the classroom? So did we!
Back in the fall of 2012, six faculty members from six different departments and three different faculties started talking about ways to increase the number of peer-to-peer conversations about teaching at the University of Lethbridge. In addition to the many new initiatives the Teaching Centre has launched to improve teaching and learning at U of L, we -- Michelle Hogue, Harold Jansen, Phil Jones, Jason Laurendeau, Sheila McManus, and John Sheriff -- wanted to create an informal drop-in space for relaxed, confidential peer support with people who've been there. We envisioned it as a place where new and experienced faculty could stop by, share ideas, get feedback, brag about their teaching successes, and vent about the challenges. (He)art of Teaching was the result! We began in December 2012 -- every three weeks or so two of us (the pairs rotate) met in a quiet room on campus to talk about teaching.
Each of us became involved in this initiative because we're always looking for new and better ways to do what we love to do -- teach! Collectively, we have a broad range of interests, including such things as peer-evaluation methods, exam-free course structures, alternative exam strategies (e.g., pyramid exams), distance learning, hands-on and applied learning, and fostering discussion about difficult topics in the classroom.
We started again in August with a special themed drop-in for sharing and getting feedback on course outlines. We'll continue throughout the 2013-14 year, every three weeks or so -- see the Teaching Centre website for more information, or check out our digital signs and colourful postcards. Please join us -- we'd love to hear YOUR ideas!