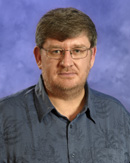 Bernie Wirzba Project Manager - Learning Environment Evaluation Project (LEE)
email: b.wirzba@uleth.ca | phone: 403.380.1856
In my thirteen years with the Teaching Centre, I have played many roles, from coding course websites and multimedia production, to University Photographer. I have spent most of my life in an educational setting. I'm a UofL alum, having received a B.A. in Political Science in the early eighties. Other education includes a multimedia diploma from the Lethbridge College and a law degree from the UofA.
My current role as Educational Facilitator consists mostly of Project Management of research projects spearheaded by the Teaching Centre. Currently the Learning Environment Evaluation Project [LEE] is where I spend most of my time. This is a long-term project focused on evaluating formal learning spaces on campus. The objective of this project is to help inform the planning of new classroom spaces and the renovation of existing spaces, in consultation and collaboration with Faculty, ITS and Facilities.
My other areas of interest and responsibility involve digital media, including digital photography, digital video, digital audio and digital asset management.
In my *spare time* I follow the developments in mobile computing with intense interest.