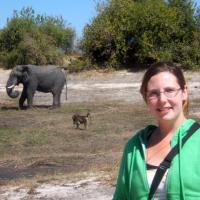 Living and working in Gaborone, Botswana, was not something I had expected to do when I signed up for the Co-op program. I spent the summer working for Somarelang Tikologo (Environment Watch Botswana) and traveling around southern Africa. I applied for the job to push myself to do extraordinary things and to take advantage of an amazing opportunity to gain global perspective, independence and confidence.

Fiona Geldreich BMgt Co-op '09
World University Service of Canada (WUSC) – Somarelang Tikologo Environment Watch Botswana
Work Internationally
International opportunities help you learn how to work and adapt in a cross-cultural environment- an essential skill in today's marketplace. They allow you to develop independence, confidence, communication and teamwork abilities.
You have an opportunity to see the world, experience the dynamics of a new culture, contribute to international development projects, and feel like you are making a difference all while gaining experience in your field of study.
Working with Organizations or Agencies
Global internship, charities, and aid organizations offer a range of opportunities around the world. Agencies partner with you in your international experience by liaising with an employer to set up work experience in your field, and arranging some of the following: visa, travel, airport pickup, support, accommodations, and orientation.
There are hundreds of agencies that arrange international experiences, and each one is different. We recommend meeting with a co-op coordinator before signing any agreement or contract with an agency.
We have worked with the following reputable agencies:
Other agencies to give you a starting point in your research:
Where do I start?
Start your research
Start doing your research well before your departure, as deadlines to apply can be 8-12 months in advance. Here are some points to consider:
Discuss working outside of Canada with your parents / guardians / significant other
Consider how an international co-op work term will affect your living situation (lease, rental agreement, mortgage)
Discuss with an academic advisor how an international co-op opportunity fits with your academic plan
Decide how much you can afford
Check with Scholarships and Student Finance to see how your loans and scholarships may be affected
Consider your heath limitations (prescriptions, physio, chiropractic, etc.)
Set a timetable for when you want to go
Choose a location
Determine countries for which you are eligible and search organizations which arrange terms in your field in those countries. Some experiences require that you speak the language fluently before you go. Others will help you learn the language there.
Check out helpful information on health and safety, travel documents, travel advisories and more on the Government of Canada's Travel Abroad website
Create a budget
Create a budget of travel costs, insurance, agency fees, co-op tuition and other expenses. There are often travel scholarships (up to $1500) to cover costs associated with an international experience. Make sure that you look up deadlines and requirements in advance.
As a global volunteer or intern, it is common for you to fund your own travel, visa, immunizations, insurance, and living expenses. In addition, you may be expected to pay a placement/program fee. However, some agencies have scholarships, bursaries or stipends available to offset costs.
Come in and talk with us
Make an appointment with a co-op coordinator to discuss your research and findings.