Credentials available
Bachelor of Arts
Bachelor of Arts & Science
Bachelor of Arts / Bachelor of Management
Program description
​​​Philosophy investigates fundamental questions about the nature of things; about the universe as a whole, about human beings, society, science, ethics and art.
As a philosophy student, you will learn about the basic intellectual foundation for our political, social and legal systems, as well as our understanding of the principles of modern science and technology. You will explore deep theoretical, practical and moral issues that do not easily fit into more specialized disciplines.
Philosophy will challenge you with its reflective and critical approach to important, often puzzling, questions about the nature of right and wrong, time and space, perception, and the human mind.
Philosophy pays careful attention to its own long history, spanning more than 2,500 years. These early investigations are the focus of the department's courses on ancient, early modern, late modern and 20th-century philosophers and philosophical movements.
There are numerous branches within the study of philosophy, touching virtually every topic; from questions about the existence of God, through to aesthetic principles, and the concepts of space and time:
Justice and goodness:

Investigates questions about right and wrong, or good and evil, such as biomedical ethics or environmental philosophy.

Truth and reality:

Looks at truth and reality through areas such as logic, metaphysics, epistemology and the philosophy of science.

Social philosophical concerns:

Delves into fundamental social philosophical issues addressed by political philosophy, ethics and the history of philosophy itself.

Scientific philosophical concerns:

Focuses on the conditions under which enquiry produces genuine truth and accurate representations of objective reality.

Human creativity and artistic expression:

Evaluates concepts like beauty in disciplines such as aesthetics and the philosophy of art.
Concentrations (Optional) | Students in the BA and BASc in philosophy degree programs may declare a concentration in legal reasoning.
Minors | Adding a minor to your degree is a great way to explore academic interests beyond your major. A minor is a set of courses comprising a secondary focus of interest generally not related to your major. A minor may be required or optional.
Honours thesis | If your GPA is high enough in your fourth year, you can opt to complete an undergraduate thesis course. This is an excellent opportunity for you to earn an "Honours Thesis" designation on your degree.
Experience learning | Our students have a number of experiential learning opportunities available to them including co-operative education, international exchanges, independent and applied studies as well as volunteer opportunities. uLethbridge is the only university in Alberta to offer co-operative education to all majors in the arts & sciences, at both the undergrad and grad level. Transfer students can actually head out on their first work term before ever stepping foot on campus! For example, many transfer students have completed a summer work term before starting classes in September.​​​​

Skills acquired | In this program, you will develop exceptional written and oral communication skills and outstanding negotiation capabilities. You'll also develop strong critical, analytical and "big picture" thinking skills, advanced information acquisition and management skills, as well as precise attention to detail. All of these abilities are highly sought after in the business and professional world and can be applied to practically any working or life scenario.
Possible careers
​Related Fields. There are numerous career options open to philosophy graduates, like:
TV / Web Documentary Producer
Foreign Service Officer
Public Relations Officer
Human Resources Personnel
Corporate Proposal Writer
Political or Social Lobbyist
Medical Ethics Consultant
Business Ethics Consultant
Environmental Ethics Consultant
Business Administration
Education
Government
Artificial Intelligence Design & Ethics Consultant
Expert Systems Design
Web Content Writer
Business Analyst
Legislative Policy
Speech Writer
Corporate Sales Executive
Mediator
Professional disciplines & graduate studies. Your undergraduate degree in philosophy also provides an excellent foundation for law (corporate, mediation, prosecution or defense), business management, education, journalism and public policy. Graduates from the Department of Philosophy at the University of Lethbridge have gone on to distinguished careers as professors, senior academic administrators, lawyers, business managers, scientists and a wide range of other professional fields. The University of Lethbridge's School of Graduate Studies offers graduate programs, at the master's and doctoral levels spanning over 60 disciplines — so why not consider pursuing grad school right here in Lethbridge! Whether you choose to do your advanced studies at uLethbridge or another institution, know that your undergraduate degree has set you on the path to post-graduate success.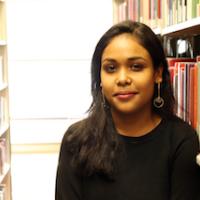 I am pursuing a double major in philosophy and psychology. Both disciplines overlap quite a bit, which allows me to explore interesting topics from an interdisciplinary perspective. Studying philosophy has been particularly enjoyable. It is both challenging and fun to ask all kinds of questions and look for ways to answer them in philosophy. All the people in the philosophy department at uLethbridge have also been very supportive in my endeavours.
- Anjali, Philosophy and Psychology
Sample classes
Critical Thinking
Introduction to Ethics
Environmental Philosophy
Metaphysics
Philosophy of Language
Game Theory in Philosophy
Wittgenstein