Options available
Bachelor of Science (BSc) with a concentration in GIS
Program description
Geography deals with the diverse landscapes around us. It is about everything from the original formation of the earth's surface, to the effects we have on our environment: past, present and future.
The post-diploma BSc in geography, with a concentration in geographical information science, is a two-year program directed toward graduates of approved college programs in geography, geomatics and land resource information systems. Graduates of other diploma programs in geography will also be considered. Visit Admissions for a list of colleges with approved diplomas.
The program complements previous technical training in geomatics or land information systems and the primary focus is to provide you with the theoretical knowledge and technical skills that will enable you to analyze the spatial organization and interaction of all creatures and ecological processes on the planet — and sometimes beyond it — in order to address real-world issues.
As a geography student, you will have access to the latest hardware and software available in geography, economics, environment, agriculture, ecology, planning and a host of other disciplines.
The department is particularly strong in the areas of geographical information science (GIS) and remote sensing, water research and rural & urban studies — areas of spectacular growth in research, teaching and employment for our graduates.
You will also have access to state-of-the-art facilities, such as the Alberta Water and Environmental Science Building. This facility provides the infrastructure to support the research interests of our award-winning faculty — your instructors — as they investigate diverse areas such as: weather and climate, water, glaciers, sediments, plants and insects.
Situated in the Oldman River Valley, the University's location offers an excellent centre for field research, surrounded by farm and rangelands, and in easy reach of the Rockies and the city of Calgary.
Student clubs and activities | The Geography Club has a very active presence on campus organizing activities such as canoe trips, field trips to US and Canadian locations, local hikes, social events and an informal lecture series, "Slide du Jour."
Minors | Adding a minor to your degree is a great way to explore academic interests beyond your major. A minor is a set of courses comprising a secondary focus of interest generally not related to your major. A minor may be required or optional.
Honours thesis | If your GPA is high enough in your fourth year, you can opt to complete an undergraduate thesis course. This is an excellent opportunity for you to earn an "Honours Thesis" designation on your degree.
Experience learning | Our students have a number of experiential learning opportunities available to them including co-operative education, international exchanges, independent and applied studies as well as volunteer opportunities. uLethbridge is the only university in Alberta to offer co-operative education to all majors in the arts & sciences, at both the undergrad and grad level.
Learn more about geography at uLethbridge, visit /geography
Possible careers
Skills acquired | In addition to developing exceptional communication skills, you will develop critical and analytical problem solving skills, research and information management skills and improve your attention to detail and patterns. You will leave the program with a strong ability to develop research questions, conduct field work, and summarize findings, as well as an in-depth knowledge of environmental and social issues.
Related fields | Our graduates often secure employment with local, provincial and federal government departments, or with corporations and consultants around the world. Here are just a few of the options open to you once you've earned your degree:
Forestry Management
Oil & Gas Exploration
Geo-technical Consulting
Academic Research
Eco-Tourism
Environmental Consulting
Environmental Education Specialist
Environmental Impact Analyst
GIS Specialist/Technician
Hydrologist
Location Analyst
Municipal & Resource Planning
Park Management
Remote Sensing Analyst
Renewable Resource Management
Soil Conservation
Urban or Regional Planner
Mining reclamation
Teaching
Professional disciplines & graduate studies | Your undergraduate degree in geography and GIS provides an excellent foundation for environmental law, management, journalism, education and geology. The University of Lethbridge's School of Graduate Studies offers graduate programs at the master's and doctoral levels spanning over 60 disciplines — so why not consider pursuing grad school right here in Lethbridge! Many of our students pursue advanced degrees in geography. Whether you choose to do your advanced studies at uLethbridge or another institution, know that your undergraduate degree has set you on the path to post-graduate success.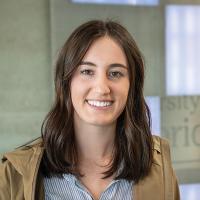 Geography at the University of Lethbridge has inspired me to connect with our environment by exploring and understanding the processes that have shaped our Earth. I have studied the theory and practical applications of remote sensing and GIS through a variety of classroom and field courses, and I have actively participated in geographical research as an undergraduate student. My studies have shaped my world outlook through a geographic lens, which has motivated me to continue my studies into practical applications that will have a real impact on our world.
- Nicole (BSc '21) Geography
Sample classes
Introduction to Human Geography
Geomorphology
Geographical Data & Analysis
Geographical Information Systems
Hydrology
Remote Sensing
Field Techniques in Earth Science
Quick links
Why uLethbridge?
Experience | Expand your knowledge, gain practical hands-on experience and learn from an expert in your field of study by participating in co-operative education, applied or independent studies and our international exchange programs — explore your interests while connecting with employers and putting future career opportunities to the test. Post-diploma & transfer co-op students can actually head out on their first work term before ever stepping foot on campus! For example, many post-diploma and transfer students have completed a summer work term before starting classes in September.
Research | Opportunities to work on research projects with world-renowned professors — uLethbridge actively engages students at the undergraduate, graduate and PhD level.
Ease of transition | Transferring from college to a smaller university pretty much guarantees that you'll get to know your professors.