Options available
Bachelor of Arts (BA)
Bachelor of Science (BSc)
Program description
Agricultural studies delves into the relationships between the social, economic, political and environmental factors that affect the agricultural sector, from farm level production to international policy.
The agricultural studies post-diploma program is directed toward graduates of approved two-year college diplomas in agriculture. Graduates of other diploma programs in agriculture will also be considered. Visit Admissions for a list of colleges with approved diplomas.
This unique program focuses on both the art and the science of agricultural practices from theoretical and applied perspectives, including extensive lab experience and a special emphasis on current issues and cutting-edge research.
As an agricultural studies student, you will develop an expansive breadth and depth of knowledge in all things agriculture. Firmly grounded in the humanities and natural and social sciences, this liberal education approach ensures comprehensive, multi-faceted exposure to the study of agriculture and agri-food.
As a multidisciplinary major, agricultural studies takes full advantage resources and course offerings in the Departments of Biological Sciences, Chemistry & Biochemistry, Geography & Environment and Economics.
This broad range of perspectives will expand your understanding of issues such as policy development, the farm as a production unit and the environmental implications of land use. You'll also be exposed to the latest developments in genetic engineering, precision farming and animal nutrition, to name just a few.
Concentrations (Optional) | Students in the post-diploma BA in agricultural studies degree program may declare a concentration in agricultural business. Students in the post-diploma BSc in agricultural studies degree program may declare a concentration in geographical information science.
Student clubs | The Agricultural Students' Society has an active presence on campus, organizing a number of events including tours of local ag-based businesses and research facilities — offering you invaluable fellowship and learning opportunities.
Minors | Adding a minor to your degree is a great way to explore academic interests beyond your major. A minor is a set of courses comprising a secondary focus of interest. It is generally not related to your major. A minor may be required or optional. Pursue a second passion by adding a minor to your degree.

Honours thesis | If your GPA is high enough in your fourth year, you can opt to complete an undergraduate thesis course. This is an excellent opportunity for you to earn an "Honours Thesis" designation on your degree.

Experience learning | Our students have a number of experiential learning opportunities available to them including co-operative education, international exchanges, independent and applied studies as well as volunteer opportunities. uLethbridge is the only university in Alberta to offer co-operative education to all majors in the arts & sciences, at both the undergrad and grad levels.
Learn more about Agricultural Studies at uLethbridge, visit /agstudies
Possible careers
Skills acquired | In addition to developing exceptional communication skills, you will develop critical and analytical problem-solving skills, as well as research and information management skills. You will also improve your attention to detail, increasing your ability to read and discern important yet subtle differences in information. You will leave the program with a strong ability to summarize research findings, excellent fieldwork and risk assessment techniques, as well as in-depth knowledge of agricultural issues.
Related fields | Graduates of the program may pursue careers in areas such as:
BA Program
Commodity sales representative
Agricultural account manager
Product support specialist
Marketing & Technical Advisory Services
Farm Commodity Marketing Services
Animal & Plant Production Management
Resource Management
Trade Development
Agribusiness Consultation
Agronomy
Land Development Industries
BSc Program
Precision agriculture
Account manager
Agronomist
Quality assurance technician
Entomology
Plant Science
Agricultural Engineering
Horticulture
Animal Science
Agricultural Product Inspection
Professional disciplines & graduate studies | Your undergraduate degree in agricultural studies provides an excellent foundation for environmental law, management and education. The University of Lethbridge's School of Graduate Studies offers programs at the master's and doctoral levels spanning over 60 disciplines — so why not consider pursuing grad school right here in Lethbridge! Whether you choose to do your advanced studies at uLethbridge or another institution, know that your undergraduate degree has set you on the path to post-graduate success.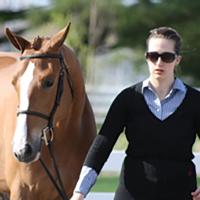 I've been involved with agriculture and animals my whole life, and couldn't imagine anything better than making a living off the things I love most.
- Phyllis, BA (Co-op) '15

Phyllis transferred to uLethbridge after completing her diploma in agriculture at Kemptville College in Ontario. She chose uLethbridge not just because it is a top-ranked university in Canada, but because it also has a unique agricultural program that ties agriculture, business and economics together. The Bachelor of Arts in agricultural studies with a concentration in agricultural business is a program that fits closely to Phyllis's career goal of working in livestock market and analysis, examining trends in the cattle business.
Sample classes
Agricultural studies courses. Course selections for the program will vary, but may include:
Animal & Plant Physiology
Genetics
Agricultural Policy
Ecology
Microbiology
Economic Geography
Biotechnology
Weather & Climate
Agricultural Geography
Soils & Irrigation
Environmental Economics
Resource Management
Geographic Information Systems
Agricultural Markets
Quick links
Why uLethbridge?
Experience | Expand your knowledge, gain practical hands-on experience and learn from an expert in your field of study by participating in co-operative education, applied or independent studies and our international exchange programs — explore your interests while connecting with employers and putting future career opportunities to the test. Post-diploma & transfer co-op students can actually head out on their first work term before ever stepping foot on campus! For example, many post-diploma and transfer students have completed a summer work term before starting classes in September.
Research | Opportunities to work on research projects with world-renowned professors — uLethbridge actively engages students at the undergraduate, graduate and PhD level.
Ease of transition | Transferring from college to a smaller university pretty much guarantees that you'll get to know your professors.