Our University's Blackfoot name is Iniskim, meaning Sacred Buffalo Stone, and was gifted to us by Elder Bruce Wolf Child in 2002. The University of Lethbridge acknowledges and deeply appreciates the Siksikaitsitapii peoples' connection to their traditional territory. We, as people living and benefiting from Blackfoot Confederacy traditional territory, honour the traditions of people who have cared for this land since time immemorial. We recognize the diverse population of Aboriginal peoples who attend the University of Lethbridge and the contributions these Aboriginal peoples have made in shaping and strengthening the University community in the past, present, and in the future.
Keep up to date with news and events
@iikaisskini
Lindi Shade | Manager of Iikaisskini
 lindi.shade@uleth.ca
 403-317-2812    
---
Jodie Flamand | Indigenous Student Advisor
 jodie.flamand@uleth.ca
 403-332-4455
Check out our Indigenous focused programs!
The University of Lethbridge is proud to have a wide selection of majors that focus on Indigenous history, art, culture and way of life. Click the links below for more information on these programs.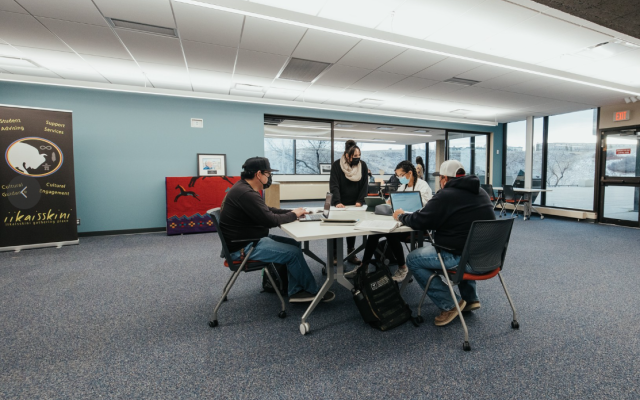 The Indigenous Student Success Cohort (ISSC) is a first-year credit program offered by the Faculty of Arts and Science. By providing a solid foundation of core skills in a supportive cohort environment that focuses on Indigenous ways of knowing and learning, it provides First Nations, Métis, and Inuit (FNMI) students, who are not fully admissible to the University of Lethbridge, an opportunity to be admitted and succeed at the university level.
Iikaisskini Student Center
Iikaisskini (ee-GUS-ganee) is Blackfoot meaning "low horn " named in honour of Leroy Little Bear - BA,  JD, HON. DAS, HON. LL.D. In recognition of his services to the University of Lethbridge. A modern day warrior for aboriginal higher education, aboriginal rights, treaties, blackfoot traditional knowledge and culture.
Low Horn - representing the stance of the charging buffalo, its head down and horns low to the ground.
Our gathering place is about an invitation to come share our stories, teachings, and wisdom.  It's about relationships, a safe place to explore new knowledge and engage in community dialogue.  It's about igniting pride and inspiring leadership. 
Rhonda Crow; BMgt '99
Dhillon School of Business
Indigenous Learning & Program Coordinator
Oki my name is Rhonda Crow and I'm the Indigenous Learning & Program Coordinator in the Dhillon School of Business (DSB).  I'm Blackfoot from Kainai and have called Lethbridge home for the past 28 years.  I'm proud to be a part of the University of Lethbridge; both as an alumna, obtaining my Bachelor of Management here and as an employee, having worked at the University for 14 years as of April 2021. I'm pleased to provide support to Indigenous students in DSB as well as assist with the program development for Indigenous Governance and Business Management (IGBM), which is offered as a major, either 40-course degree, double degree, second degree and post-diploma degree.  We also offer a 6-course minor and 10-course certificate in IGBM.  In addition to the work I do in the Dhillon School of Business, I also oversee our Elders in Residence, Tutoring and Youth Mentorship programs which are open to all Indigenous students regardless of program or major.  It's a pleasure working alongside the other Indigenous staff, as we all have the common goal of helping students to succeed. The University of Lethbridge is great place to be! I encourage all students to get involved and utilize the various program and services at the university, as they will enhance your experience and provide you with long lasting connections.
Tara Froehlich | BA '11
Faculty of Health Sciences
Academic Advisor
Tansi, Oki, Hello my name is Tara Froehlich (Johnson) I am a proud member of The Metis Nation of Alberta. I have lived in the Lethbridge area for over 15 years minus a short stay in the Yukon after graduating from the BA. Native American studies major in 2011. I am beyond grateful to live, work and be accepted on traditional Blackfoot territory. I have been an Academic Advisor at the University of Lethbridge in the Faculty of Health Sciences for over 6 years and worked at Lethbridge College as the FNMI Academic Advisor prior to that. The best part of my job is seeing students walk across the graduation stage and see them realize that all of the hard work, sacrifice and resilience was worth it! I am here to help students navigate curriculum, policy and all other aspects of their academics when they are unsure what to do, what classes to take or how to proceed when life throws a curveball. I am proud to be an Indigenous Alumna and staff member of the University of Lethbridge and I look forward to meeting with you! 
Wilma Spear Chief | BA, MA
Counselling & Career Services
Indigenous Counsellor
Oki, niita'nikko, Ookaki (Sleeping Woman). I am Wilma Spear Chief a member of the Blood Tribe/Kainai First Nation.  I am a Registered Psychologist hired through the Master Card Foundation at the University of Lethbridge to provide counselling to the Indigenous students. This unique position was identified as a need through the Iikaisskini Centre to help with student retention and support in the academic success of the Indigenous student population. I currently work part time within the Counselling Department and started my job in December 2020.
I have been a Registered Psychologist for over 32 years and over the course of my career I have worked for Alberta Health Services, and several First Nations in Alberta including the Blood Tribe, Siksika and Piikani Nation, to name a few and spent over 15 years in private practice. I am an alumni of the university and received an undergraduate degree in psychology.
On a personal note, I am married and a mother of two adult children. I recently became a grandmother to a beautiful granddaughter. In my free time I enjoy quilting, hiking, and photography.
Jacinda Weiss | BA
Faculty of Arts & Science
Student Program Advisor
Dr. Michelle Hogue
Faculty of Art & Science Associate
Associate Professor
Indigenous Student Success Cohort
Coordinator