Credentials available
Bachelor of Arts
Bachelor of Arts & Science
Bachelor of Arts / Bachelor of Education
Bachelor of Arts / Bachelor of Management
Program description
Indigenous studies explores art, law, philosophy, health, politics, history, gender studies, ecology, business, customs and language — all from a unique Indigenous perspective — making this one of the most sought-after programs of its kind in Canada.
In this program, you'll have the opportunity to investigate First Nations', Métis and Inuit (FNMI) history, heritage and culture, as well as the contemporary issues that face FNMI communities.
As a student of Indigenous Studies, you'll have access to Indigenous instructors, who are often nationally or internationally renowned, seasoned professionals with real-world experience.
Indigenous Students' Union (ISU) | Indigenous Studies students have an active presence on campus through the ISU, which sponsors the annual Indigenous Awareness Days and various other community events.
Indigenous Awareness Days | This annual, week-long event consists of a series of free lectures, workshops and the celebration of Indigenous culture. Indigenous Awareness Days usually takes place in March.
Minors | Adding a minor to your degree is a great way to explore academic interests beyond your major. A minor is a set of courses comprising a secondary focus of interest generally not related to your major. A minor may be required or optional.
Honours thesis | If your GPA is high enough in your fourth year, you can opt to complete an undergraduate thesis course. This is an excellent opportunity for you to earn an "Honours Thesis" designation on your degree.
Experience learning | Our students have a number of experiential learning opportunities available to them including co-operative education, international exchanges, independent and applied studies as well as volunteer opportunities. uLethbridge is the only university in Alberta to offer co-operative education to all majors in the arts & sciences, at both the undergrad and grad level. Transfer students can head out on their first work term before ever stepping foot on campus! For example, many transfer students have completed a summer work term before starting classes in September.
Skills acquired | In addition to developing exceptional written and oral communication skills in the program, you will also develop your critical and analytical thinking skills, your information acquisition and management skills, as well as your attention to detail. These abilities are highly sought after and can be applied to practically any working scenario.
Possible careers
Related fields. There are numerous interesting career options open to Indigenous studies graduates, like:
fine arts
politics
administration
Native outreach work
international affairs
art history
economics
film
human rights work
social work
Native issues lobbying
governmental diplomacy
historic site administration
public relations
art appraisal
demography
preservation planning
civil service
environmental history
historical documentation
historical film production
historic foundation
administration
genealogy
museum curation
local government
archaeology
historical research
creative writing
Professional disciplines & graduate studies. Your undergraduate degree in Indigenous Studies also provides an excellent foundation for law, management, journalism and education. The University of Lethbridge's School of Graduate Studies offers graduate programs at the master's and doctoral levels spanning over 60 disciplines — so why not consider pursuing grad school right here in Lethbridge! Whether you choose to do your advanced studies at uLethbridge or another institution, know that your undergraduate degree has set you on the path to post-graduate success.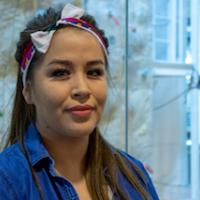 Work in silence and let your success be your noise.
- Shay-Lynn, Indigenous Studies
Sample classes
Course selections for the program will vary, but may include:
In

troduction to In

digenous

Studies

Indigenous

A

rt

S

t

ud

io

Indigenous

H

i

st

o

rie

s o

f Canada

Indigenous

Peoples

and

Law

Th

e

Mét

i

s

C

o

mpar

ati

ve

Tr

a

di

tion

al

Indigenous

E

co

n

o

m

ies
Blackfoot & Cree Languages