Indigenous Summer Research Academy
July 7 - August 18, 2023
What is InSRA?
InSRA is the Indigenous Summer Research Academy. This six-week consecutive program runs annually at the University of Lethbridge alongside the HYRS program. InSRA will run from  July 7 – August 18, 2023.
This opportunity is open to Indigenous High School Students who have completed grade 11. Priority will be given to students from Piikani, Kainai, and Siksika (on reserve or urban). There is no cost to register, and eligible students will be paid a $3,000 award for completing the Academy. Students will be responsible for meals, travel (a $500 travel bursary is available for eligible students), and entertainment costs.
During this program, students will:
Participate in hands-on work with researchers at the University of Lethbridge
Join a team of PhD, Master and Bachelor students
Work on multidisciplinary projects which may include:

Indigenous Studies
art (the Mootookakio'ssin team)
genetics 
neuroscience
bioengineering
molecular imaging
recreational therapy

Work in areas on the cutting edge of science not yet in textbooks
However, InSRA is much more than laboratory research! Additional activities include:
Guest speakers talk about their careers in research
Research Showcase Night where students invite their parents, mentors, and members of the public to view their research in a symposium setting at the U of L
Meet other students with similar interest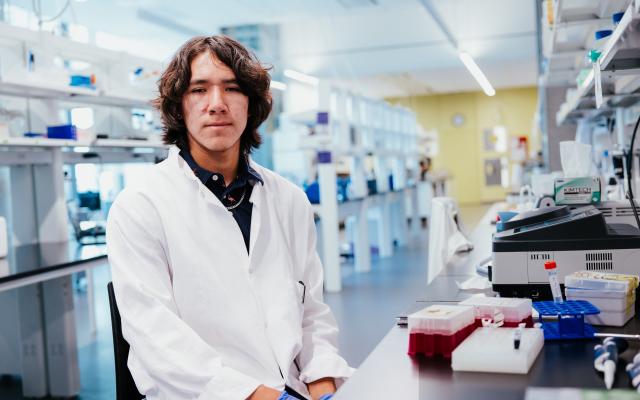 Dryden Many Bears
Through the InSRA program, Dryden Many Bears found a sense of belonging as a lab member. Dryden worked on developing new molecular standards that involve the analytical ultracentrifuge (AUC) during his time in the InSRA program.
Jack Crosschild
Through the InSRA program, Jack Crosschild sparked his interest in kinesiology. During the program, Jack found himself networking and making new friends.
When: 
July 7 - August 18, 2023
The Academy runs for 6 weeks in the summer and applicants must be able to commit to this 6-week consecutive period.
Requirements:
Interested students must have completed or in the process of completing Math 20 – 1 or 20 – 2, and Bio 20, or Science 20, or one other science. A minimum grade average of 65% and solid school attendance is required. 
Applicants must submit an essay (350 – 400 words) on why they would like to participate and how they will benefit from the program, 
Applicants must submit a reference letter from a teacher or a community/non-academic person. 
---
Be a HYRS/ InSRA Mentor
To mentor a HYRS and/or InSRA student over the summer, please fill out the following mentor application. More details on what is expected as a mentor can be found here.