STEM Summer Camps
Science Technology Engineering and Math (STEM) camps for 2023!
2023 Summer Camps
---
In-Person (Grades K - 10)
A summer filled with fun for everyone. There is lots to offer this summer. Check out our specialty camps like InnovateHER, Codemakers, Code+, The Design Lab and Experience U! Of course, join us for our classic Destination Science & Tech (Gr K-2) and Science & Tech Explorers (Gr 3-6) camps running all summer long! 
 
Camper grade is determined by their current grade (completed in 2022/23) 
*Not all DST camps are open for Ks or Gr3s.
** 4-day weeks
Destination Science & Tech Camps (DST)
for those finishing grades K-3 
- Grade ranges vary each week - 
Our Destination Science & Tech camps (DST) are perfect for your junior scientist to explore the crazy world of STEM. They'll code with robots, mix chemical reactions, try out 3D printing, and design insane solutions to everyday engineering problems! The week's element theme (cobalt, gold etc.)  indicates what weeks will run the same programming. Specific themes are not set for this age group, but all camps will incorporate chemistry, robots and design challenges. 
Science & Tech Explorer Camps (STE)
for those finishing grades 3-6
Our Science & Tech Explorer camps (STE) are great for those who want to keep exploring the world of STEM! Campers can choose between the three themes: Medical Science (Med Sci), Engineering & Science (Eng Sci) or Computers & Technology (Comp Tech). Explore these themes through experiments, technology, and design challenges. 
InnovateHER 
for those finishing grades 3-7
InnovateHER is a week of camp designed to empower young women through hands-on experiments, activities, and lab visits to see the power of diversity in STEM! Try 3D printing, chemistry experiments and put your creativity to the test to solve design challenges. 
The Design Lab
for those finishing grades 4-7
The Design Lab focuses on engineering and ways to use all of STEM together. Engineers are people who use science, technology, and creative thinking to design new and innovative solutions to everyday problems. This week you will try to solve problems like living on mars, adaptive gaming, sustainable energy and more! 
Experience U
for those finishing grades 8-10
Go beyond the Outreach Facility and explore what STEM is all about at the University of Lethbridge. Visit labs, do experiments and meet some of the people that are changing the world right here at home. This camp does not follow the traditional schedule of DE camps, typical afternoon swim and rec times will be filled with additional hands-on lab visits and experiences.  
A TYPICAL DAY 
---
8:30am - Drop off 
9:00am - STEM Activities 
10:15am - Snack Break! 
10:45am - STEM Activities 
Noon - LUNCH! 
12:45pm - STEM Activities 
1:30pm - Recreation Activities & Snack
(M: The Gym  T: Pool  W: Wide Games  Th: Pool  F: The Grove)
4:00pm - Back for Pick Up
DROP-OFF & PICK-UP
Drop-off is from 8:30am-9:00am. 
Pick-up is from 4:00pm-4:30pm.
There is no extended care offered. 
Campers will be dropped off/picked up at the S-Parking lot at the North end of the Science Commons. 
All campers will wait outside in the covered North Atrium until 9:00 am each day. 
If you know that you are running behind, it is very important that you call or text 403-915-0651 (the camp cell phone) to let us know.
FOOD/PERSONAL BELONGINGS
Campers must come with a labeled water bottle
Please pack a lunch and 2 snacks for the day
Camp is NUT FREE​
No sharing food 
No access to a microwave 
CAMP DETAILS & IMPORTANT INFO
DE Camps no longer visit the Nicholas Sheran Spray Park 
Campers will visit the pool every Tuesday & Thursday 
Technology & robots are included in EVERY camp no matter the theme/age
Destination Science & Tech (K-3) camps will 3D print every week
Join us for mini uLethbridge!  Each of the 3 weeks of MiniU will be hosted by a different department, but will give you a day of each Music, Art, STEM & Sports!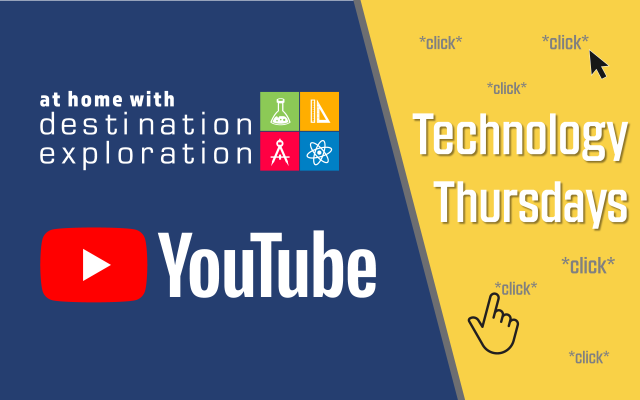 Join us online and follow along with one of our Technology Thursday videos! No tech is required! Remember that if you complete a TinkerCAD activity, you can send it to us and we'll print it on our 3D printers!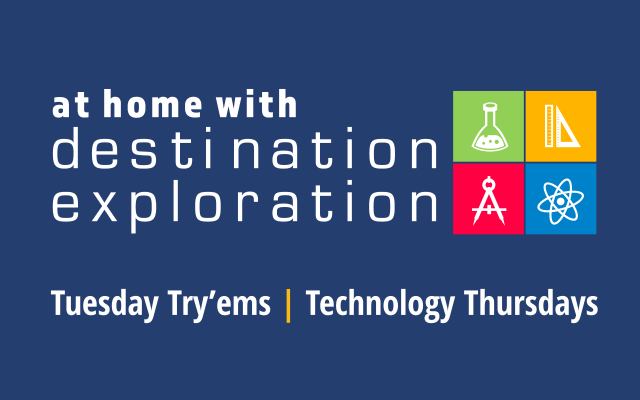 If you're looking for new things to try this summer at home, check out all of our At-Home With DE activities! 
---
Cancellation Policy:
Destination Exploration recognizes that due to extenuating circumstances, programs may be canceled on our end, and we further recognize that plans change, and you must withdraw your child from camp. Our cancellation policy is as follows:
Canceled by Destination Exploration:
Programs canceled due to insufficient enrolment or instructor availability will be fully refunded
All provincial COVID-19 public health measures have been limited, as such summer camps are permitted to run without restriction. If in-person camps are unable to run due to the re-instatement of public health measures, you will be refunded the full amount. A virtual option may also be offered at a lower price. 
Cancellation by you
A $20 cancellation/$10 transfer fee is charged for each activity/program cancellation or transfer.
The administration fee is not applicable on refunds due to enrollment quotas.
Canceling between 7 working days and 1 working day prior to the commencement of the activity/program will result in a 50% refund of the original registration fee – the materials portion of registration will not be refunded.
Refunds/transfers will not be considered from 1 day prior to the commencement of the activity/program
Refund requests received after the start of the activity/program will be considered on an individual basis. These requests need to go to the appropriate program supervisor for approval.