Program description
Remote sensing provides a new vantage point to marvel, monitor and measure our world. With the advent of Earth observation and satellite technology, we are now able to view the planet — and our impact upon it — in real-time digital imagery.
These images allow us to observe and quantify objects and patterns found in the earth, atmosphere, ocean and space. This fast-paced science powers the geospatial information revolution, providing the framework for new technologies like Google™ Earth and helping us to better understand things like climate change.
Remote sensing is used at a much smaller scale, producing non-invasive medical imagery such as X-rays, MRIs and scans. This technology has virtually transformed the study of the internal workings of complex organs like the brain.
As a remote sensing student, you will study geography, environmental science and physics, as well as other topics focused on the field. You will also learn to record and interpret images using highly-specialized instruments, some of which are unique to the BSc in remote sensing at the University of Lethbridge.
Faculty members in the department host an extensive suite of fully-equipped laboratories, with dedicated research and graduate student areas. These labs include the latest equipment and software, supporting a variety of earth and environmental science studies.
Student clubs and activities | You are encouraged to take part in a wide variety of activities hosted by the Departments of Geography & Environment or Physics & Astronomy, as well as social events hosted by student clubs.
Minors | Adding a minor to your degree is a great way to explore academic interests beyond your major. A minor is a set of courses comprising a secondary focus of interest. It is generally not related to your major. A minor may be required or optional. Pursue a second passion by adding a minor to your degree.
Honours thesis | If your GPA is high enough in your fourth year, you can opt to complete an undergraduate thesis course. This is an excellent opportunity for you to earn an "Honours Thesis" designation on your degree.
Experience learning | Our students have a number of experiential learning opportunities available to them including co-operative education, international exchanges, independent and applied studies as well as volunteer opportunities. uLethbridge is the only university in Alberta to offer co-operative education to all majors in the arts & sciences, at both the undergrad and grad level. Transfer students can actually head out on their first work term before ever stepping foot on campus! For example, many transfer students have completed a summer work term before starting classes in September.
Skills acquired | In addition to developing exceptional written and oral communication skills in this program, you'll also develop strong critical and analytical thinking skills, advanced information acquisition and management skills, as well as precise attention to detail. All of these abilities are highly sought after in the business world and can be applied to practically any scenario.
Possible careers
Employment in remote sensing has an exceptionally bright outlook. This is the only remote sensing program of its kind in Canada; therefore, graduates have unique qualifications for direct employment in private industry, government, and universities, as well as for entry to advanced graduate-level studies. As a graduate in this emerging field, your skills will be in demand across a wide range of sectors — from corporate energy giants to specialized government departments. Here are just a few of the options that may be open to you:
Geospatial Technology Companies (Google, Microsoft)
Survey Firms
Mapping Companies
Aerospace Engineering Firms
Positioning & Navigation Businesses
Building or Defence Contractors
Petroleum & Energy Producers
Mining Corporations
Remote Sensing Companies
Space Agencies
Geographical Information Companies
Computer Graphics Businesses
Public Utilities
Government Departments
Professional disciplines & graduate studies | Your undergraduate degree in remote sensing provides an excellent foundation for management, engineering and environmental law. The University of Lethbridge's School of Graduate Studies offers programs at the master's and doctoral levels spanning over 60 disciplines — so why not consider pursuing grad school right here in Lethbridge! Whether you choose to do your advanced studies at uLethbridge or another institution, know that your undergraduate degree has set you on the path to post-graduate success.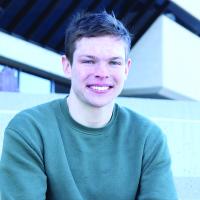 I knew I wanted to pursue a program with a focus on math, science and technology. The fact that remote sensing is a new innovative program, a program not offered by all universities in Canada that lets me work in a state-of-the-art building, is amazing. I am excited to be involved in a program that trains me for a promising future, especially with the rapidly changing world around us, from climate change to technological advances.
- Scott, Remote Sensing (Co-op)
Sample classes
Weather & Climate
Introduction to Physics I, II, & III
Geomorphology
Waves, Optics & Sound
Remote Sensing
Physics of Remote Sensing
Geographical Data & Analysis