Credentials available
Bachelor of Science
Bachelor of Arts & Science
Bachelor of Science / Bachelor of Education
Bachelor of Science / Bachelor of Management
Program description
Physics is the study of matter and energy at all scales, from the sub-nuclear to the dimensions of the universe. It is the fundamental science — all other sciences and technologies rely on the principles of physics.
Physics involves observing and understanding natural phenomena. It is evident in the world around us in everything from the seasons, the motion of objects, the flight of birds, the night sky and the weather, to lasers, electronics and the technology we rely on today.
Physics is very much a "hands-on" science, so the most effective way for you to learn the subject is to actually do physics. Astronomy teaches you how to study objects at a distance and interpret the information gathered. This helps us begin to understand the universe we live in. The skills you will learn in astronomy are also applicable to remote sensing and its application to environmental problems.
The department offers a comprehensive physics major. The foundation of this program is built in the first two years, as you study mechanics, waves, electricity and magnetism, optics, thermal physics and modern physics.
In your third and fourth years, you will gain a deeper understanding of the fundamentals and delve into more advanced and specialized areas. Specialized topics may include the research interests of department faculty members, as all faculty members are involved in rigorous research programs.
Faculty members also ensure you are provided with a wide view of physics, exposing you to all areas of the subject and describing a wide variety of applications. This enables you to make informed decisions when choosing the areas you may wish to pursue in the future.
Physics club | Through the Physics Club, you can volunteer to take part in community outreach activities and physics demonstrations in local schools. Not only do these popular events kindle the interest of younger students, they also provide you with a valuable educational experience.
Concentrations (Optional) | Students in the BSc and BASc in physics degree programs may declare a concentration in theoretical physics.
Minors | Adding a minor to your degree is a great way to explore academic interests beyond your major. A minor is a set of courses comprising a secondary focus of interest. It is generally not related to your major. A minor may be required or optional. Pursue a second passion by adding a minor to your degree.
Honours thesis | If your GPA is high enough entering your final year, you can opt to complete an undergraduate thesis course. This is an excellent opportunity for you to earn an "Honours Thesis" designation on your degree; as well as obtain extensive research experience.
Experience learning | Our students have a number of experiential learning opportunities available to them including co-operative education, international exchanges, independent and applied studies as well as volunteer opportunities. uLethbridge is the only university in Alberta to offer co-operative education to all majors in the arts & sciences, at both the undergrad and grad level.
Skills acquired | In addition to developing exceptional communication skills, you will develop critical and analytical problem solving skills, research and information management skills, and improve your attention to detail. You will leave the program with a strong ability to summarize research findings, excellent fieldwork and risk assessment techniques, as well as an in-depth knowledge of environmental issues.
Possible careers
Major Branches of Physics. For those who will ultimately pursue a physics career, the major branches of physics include:
Acoustics
Archaeometry
Astrophysics
Atomic and Molecular Physics
Biophysics
Chemistry
Condensed Matter Physics
Cosmology
Geophysics
High-energy Physics
Medical Physics
Nanoscience
Nuclear and Particle Physics
Soft Matter Physics
Here are just a few of the options that may be open to you once you've earned your degree or with further training:
Condensed Matter Physicist
Medical/Health Physicist
Biophysicist
Research or Computer Scientist
Atomic & Molecular Physicist
Nuclear & Particle Physicist
Consultant
Nanoscientist
Astrophysicist
Geophysicist
Teacher
Meteorologist
Archaeometrist
Applied Physicist
Environmental Physicist
Neurophysicist
Professional disciplines & graduate studies | Your undergraduate degree in physics provides an excellent foundation for education (high school and university), engineering, medicine and dentistry. Graduates from this discipline have also gone on to work in law, journalism and management. The University of Lethbridge's School of Graduate Studies offers programs at the master's and doctoral levels spanning over 60 disciplines — so why not consider pursuing grad school right here in Lethbridge! Whether you choose to do your advanced studies at uLethbridge or another institution, know that your undergraduate degree has set you on the path to post-graduate success.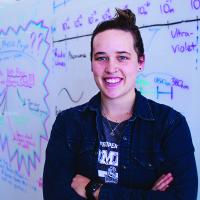 For the past five years, I have been pursuing a major in physics at the University of Lethbridge. Throughout this time, I've had the privilege of making many strong connections with both the faculty of the University and many community members here in Lethbridge. Some of those connections led me to an internship with the Astronomical Instrumentation Group, where I have had a part in developing innovative techniques in cryogenic instrumentation and high-resolution spectroscopy. I'm very thankful to have had these opportunities, which have made my university experience so much more than just an education. - Alicia (BSc '20) Physics - Current MSc student
Sample classes
Course selections for the program will vary, but may include:
In

tro

ducti

o

n

to

P

hysics

I, II, & III

Waves, O

p

t

ics

& Sound

Quantum M

ec

ha

nics

I, II,

&

III

Electricity & Magnetism

I

n

t

r

oduct

i

o

n

to

Experimental Physics
Mechanics
Nuclear & Particle Physics
Quick links
Why uLethbridge?
Experience | Expand your knowledge, gain practical hands-on experience and learn from an expert in your field of study by participating in co-operative education, applied or independent studies and our international exchange programs — explore your interests while connecting with employers and putting future career opportunities to the test. Co-op students can actually head out on their first work term before ever stepping foot on campus! For example, many transfer students have completed a summer work term before starting classes in September.
Research | Opportunities to work on research projects with world-renowned professors — uLethbridge actively engages students at the undergraduate, graduate and PhD level.
Ease of transition | Transferring from college to a smaller university pretty much guarantees that you'll get to know your professors.