Program description
Statistics is the study of the collection, organization, analysis, interpretation and presentation of data. In a world that is increasingly data-driven, knowing how to extract and interpret information is key. Statistics help evaluate ideas, test hypotheses and give clarity to complex issues.
If your passion is the environment, statisticians help manage our natural resources and understand the impact of climate change. If your passion is public policy, statisticians work with governments and non-governmental organizations to measure the health of the economy and assess the effectiveness of programs. If your passion is sports, statisticians help improve teams through player drafting, signing and development. No matter where your passion lies, you are likely to find statisticians active in that area.
The major in applied statistics is structured to provide a firm theoretical background in statistics and to allow you to apply specific statistical techniques within your discipline of interest. The program has three possible concentrations:
economics
geography
psychology
Each of these disciplines makes extensive use of statistics in the analysis of real-world data. Students in this major and any chosen concentration will learn about statistical resources and benefit from training across multiple departments.
Minors | Adding a minor to your degree is a great way to explore academic interests beyond your major. A minor is a set of courses comprising a secondary focus of interest. It is generally not related to your major. A minor may be required or optional. Pursue a second passion by adding a minor to your degree.
Honours thesis | If your GPA is high enough in your fourth year, you can opt to complete an undergraduate thesis course. This is an excellent opportunity for you to earn an "Honours Thesis" designation on your degree.
Experience learning | Our students have a number of experiential learning opportunities available to them including co-operative education, international exchanges, independent and applied studies as well as volunteer opportunities. uLethbridge is the only university in Alberta to offer co-operative education to all majors in the arts & sciences, at both the undergrad and grad level. Transfer students can actually head out on their first work term before ever stepping foot on campus! For example, many transfer students have completed a summer work term before starting classes in September.
Skills acquired | In addition to developing exceptional written and oral communication skills in this program, you'll also develop strong critical and analytical thinking skills, advanced information acquisition and management skills, as well as precise attention to detail. All of these abilities are highly sought after in the business world and can be applied to practically any scenario.
Possible careers
Students completing the major in applied statistics will develop skills that are highly sought after by both public and private sector industries. Here are just a few of the options potentially open to you once you've earned your degree:
Professional disciplines & graduate studies. Your undergraduate degree in applied statistics also provides an excellent foundation for actuarial science, law, management, engineering, architecture and education. The University of Lethbridge's School of Graduate Studies offers graduate programs at the master's and doctoral levels in more than 60 disciplines — so why not consider pursuing grad school right here in Lethbridge! Whether you choose to do your advanced studies at uLethbridge or another institution, know that your undergraduate degree has set you on the path to post-graduate success.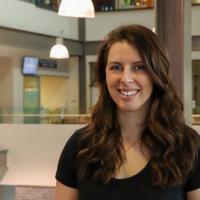 Overall, my experience in the applied statistics program at the University of Lethbridge was amazing. My academic goals were consistently supported by both the department and my professors. I really enjoyed learning research methods, mathematical probability and how to use them in an actual scenario. It was a challenging program, but 100% worth it in the end.
- Emily (BSc '19) Applied Statistics
Sample classes
Sample classes list:
Fundamentals of Programming
Elementary Linear Algebra
Calculus I-IV
Survey Design & Analysis
Mathematical Probability
Mathematical Statistics
Design & Analysis of Experiments