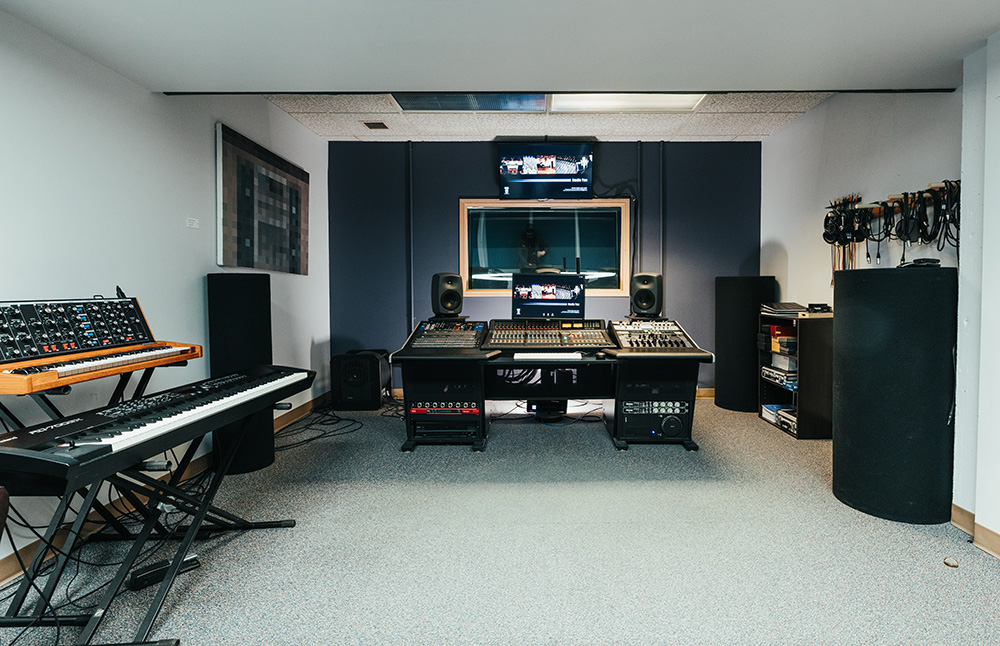 Location: W700G
Studio 2 is used in film scoring, Foley work, sound design, electronic music composition, microphone placement and audio capture research, as well as student mixing projects. This audio production suite features a Solid State Logic Matrix2, 5.1 and 9.1 surround sound and an isolation booth.
More Info
Contact: Chris Morris, Technical Services Coordinator
Who can use the space
Students who have completed prerequisite courses.
Technical Specifications
Console
Solid State Logic Matrix2
Recorders
Avid Pro Tools 12 HDX
Avid HD Analog I/O 32 x 32
Computer
Apple Mac Pro
2.7GHz 12-core with 30MB of L3 cache
32GB of 1866MHz DDR3 ECC
Dual AMD FirePro D500 GPUs
Pegasus Storage Array
Monitoring
Genelec 8040A's
Genelec 7060B Subwoofer
9.1 Auro 3D Surround Sound
Preamps
Solid State Logic Xlogic VHD
Manley Core
Avalon 737SP
Millennia HV-3C
Outboard Gear
API 5500 Dual Equalizer
Manley Massive Passive
Empirical Labs EL8X-S Distressor
Lexicon PCM96 Surround
TC Electronics D2 Delay
Outboard Gear (500 Series)
Great River 32EQ (2)
API 527 Compressor
Inward Connections The Brat EQ
Chandler Little Devil Compressor
Shadow Hills Industries Dual Vandergraph
Empirical Labs ELDS-V DerrEsser
Software
Pro Tools 12 HDX
Waves Gold Plugins
Altiverb 7XL