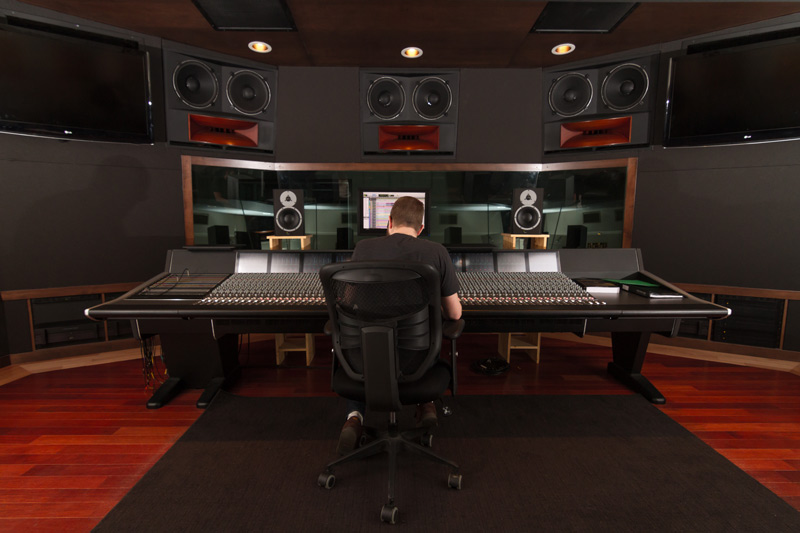 Location: W700A1, W700A2, W700A3, W700A4
Studio One features a full complement of outboard signal processors, quality preamps, and mastering decks as well as an extensive collection of microphones, access to keyboard synthesizers and a Yamaha C3 grand piano. The studio also has an additional isolation booth for percussion and/or vocal audio capture.
More Info
For more information contact Chris Morris, Technical Specialist.
Who can use the space
After receiving the necessary training, students enrolled in the Digital Audio Arts program, as well as Digital Audio Arts faculty, may utilize Studio One.
Studio One is also a rental space. For rental inquiries contact Chris Morris, Technical Specialist.
Technical Specifications
Recall Sheets
Console
48 Channel Solid State Logic Duality (info)
Recorders
Computer
Apple Mac Pro
2.7GHz 12-Core with 300MB of L3 Cache
32GB of 1866MHz DDRC ECC
Dual AMD FirePro D500 GPUs
Pegasus Storage Array
Monitors
Kaufman & Associates Custom 5.1 Surround Sound System
Dynaudio BM12As
Preamps
Avalon VT-737 (info)
SSL Dual Mic Pre's - SuperAnalogue & VHD
Focusrite Red Quad Preamp
Outboard
Microphones
AKG C414
AKG C451
Royer R-121 Ribbon Microphones
DPA 4012
DPA 4011
Telefunken U-47
Neumann KM-184
Neumann M-149
Neuman U-87
Shure SM-81
Shure SM-57
Blue Baby Bottle
AKG D112