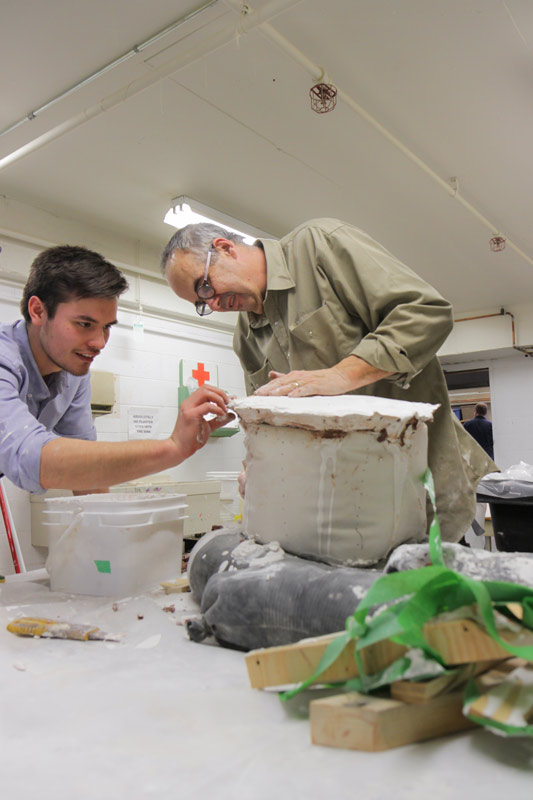 Location: W840 & W890
The Sculpture Facilities include the wood shop, metal shop, ceramics area, plaster room, as well as a bronze and aluminum foundry.
Sculpture Facilities Hours
Once the necessary training requirements have been met, students are allowed to work in the Sculpture Facilities according to the following schedule; which has been updated for the 2020-2021 Academic Year.
W840 - Work shop (includes Wood Shop and Sculpture Studio):
Monday - Thursday, 8:30 am - 6:00 pm
Friday, 8:30 am - 4:30 pm
Monday - Friday, closed one hour over the lunch break
CLOSED Weekends and Holidays
W823 (Advanced Studio) & W890 (Senior and Graduate Studio):
Open 24 hours
Supplementary Studio Spaces:
Daily: 8:30AM-Midnight
These hours are subject to change based on technician availability and also Fall and Spring Reading Weeks, and at the end of each semester. Notices will be posted on the appropriate studio/shop door to alert users of any change in hours.
More information
Please visit the Art Technican's Office:
W848 or email Mary-Anne McTrowe
W814 or email Jarrett Duncan
Facilities Manager:
W838 or email Niall Donaghy
Who can use the space
Art students who have met all necessary training requirements. Please see the contact link.
Technical Specifications
Bronze & aluminum foundry, forge, MIG & stick welders
Sawstop table saw, band saws, miter saw, jointer, drill presses, other hand & power tools
Grinding room with downdraft tables for finishing & detailing bronze work
Ceramics area with Bailey electric kiln, pottery wheels, slip casting & hand building equipment
Plaster room for mould making & casting
Digital fabrication equipment including 4-axis CNC router CNC plasma cutter