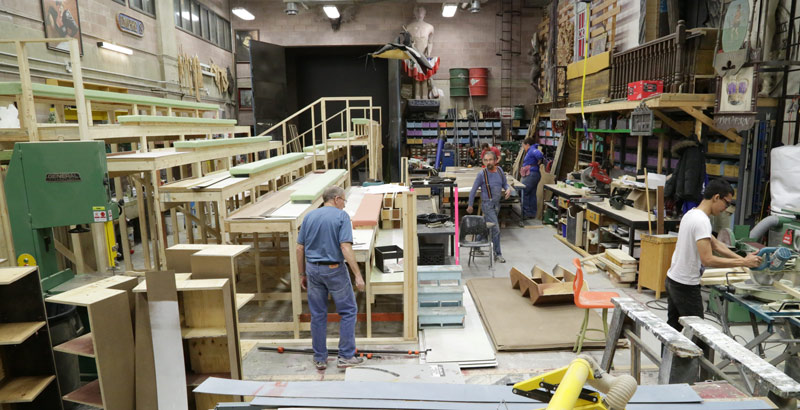 Location: W440
Measuring 70'x45', the Scene and Prop Shop supports the construction of set pieces, scenery and properties for the Drama Mainstage, TheatreXtra, as well as serves as a lab space for class work. This very well-equipped shop space is able to provide the space and tools necessary to build full sets (up to two stories), and full-sized backdrops.
Scenery and props materials include wood, paint, metal, styrofoam, plastics, fabrics, upholstery, and electronics. Equipped with top-of-the-line hand and power tools and supplies students receive comprehensive hands-on experience in a fully-staffed workshop space.
Storage spaces are dedicated to housing oversized flats, a revolve, rake and stock set pieces. A Props Storage/Trap room contains a vast collection of hand props, stock furniture, paper props, a collection of production weaponry and armour, and set-dressing supplies (antiques and knick-knacks).
Who can use the space
Department of Drama students and classes.
When available, any registered University of Lethbridge student who completes the safety orientation may also use the space under supervision of the technicians.
All users of the Scene and Prop Shop must complete a safety orientation and obtain WHMIS certification prior to using the space.
Shop hours
Monday - Friday 8:30am - 4:30pm
Technical Specifications
Altendorf sliding panel table saw
Large throat band saw
Wood lathe
Cordless cold-cutting metal saws
pneumatic tools (air sprayers, air-brushes, micro pinners, nailers)
X-carve - computer assisted CNC (Computer Numerical Control) machine
Advanced wood working tools