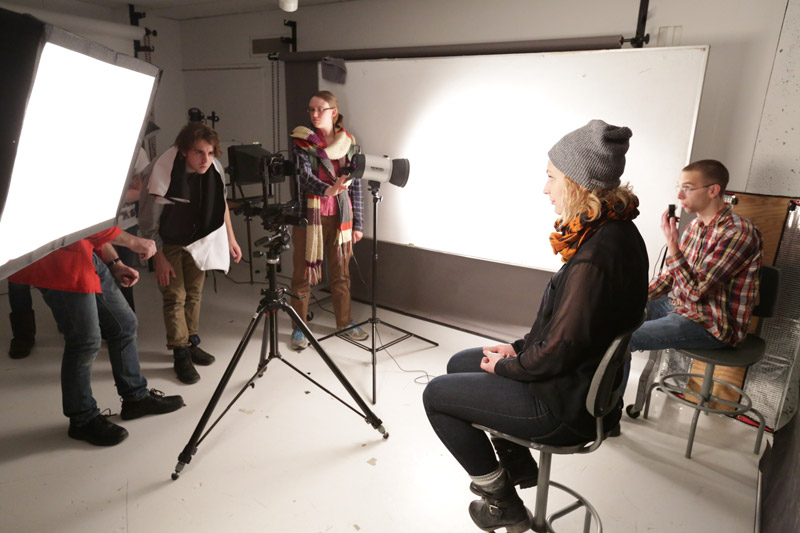 Location: W748
The Photography Studio is used by all levels of photography classes.
The photography facilities include a full wet darkroom with regular and mural-format enlargers, a black and white film processing area, and a "dry" work space furnished with light table, copy stand, paper cutter, and dry-mounting presses. Lockers in the studio are available for students to use as storage.
A small lighting studio and classroom space has a large flat screen monitor, iMac workstation, and Epson pro 750 scanner.
35mm, medium format, 4 x 5, and 8 x 10 film cameras are available for rental by photography students. Digital cameras, light meters, tripods, and lighting equipment are also available. For 35mm cameras and film developing tanks, please see the technicians in W838. For all other equipment loans see the Digital Arts Technician in W814.
More information
Office: W838
Who can use the space
After receiving the necessary training, students enrolled in all levels of photography, as well as advanced and senior students working in photographic processes, are given 24-hour access to the darkroom and adjoining studios.
Technical Specifications
Large flat screen monitor
iMac workstation
Epson pro 750 scanner
35mm, medium format, 4 x 5, and 8 x 10 film cameras are available for rental by photography students
Digital cameras, light meters, tripods, and lighting equipment