ELEMENTS. CHEMICALS. MINERALS.
Welcome to the Department of Chemistry & Biochemistry
Chemistry studies the elements that comprise all matter. Everything around us — the air we breathe, water we drink, food we eat, cars we drive, even our bodies — are made from these elements.
Chemistry is often called the central science as it deals specifically with the 112 elements that comprise all matter. Everything around us - the air we breathe, water we drink, food we eat, buildings we live in, cars we drive - our very bodies - are all made from these elements. There are five main branches of chemistry: analytical chemistry, organic chemistry, inorganic chemistry, physical chemistry and theoretical chemistry.
The primary focus of the program is to provide you with extensive theoretical knowledge in all five branches of chemistry, while enhancing your technical and practical skills with hands-on experience and research opportunities.
The Department of Chemistry & Biochemistry is home to many advanced instruments which enable cutting-edge research. These tools include nuclear magnetic resonance (NMR), infra-red, Raman, UVvisible, atomic absorption spectrometers, macromolecular x-ray diffractometer, isothermal titration calorimeter, and a surface plasmon resonance spectrometer.
Leader in RNA and protein biophysics research earns University of Lethbridge 2023 Speaker Research Award
A research leader in RNA and protein biophysics who regularly uses his expertise to engage in science outreach and communication activities, Dr. Trushar Patel has been named the 2023 winner of the University of Lethbridge's Speaker Research Award.
"The quality and impact of work from Dr. Patel since arriving at the University of Lethbridge is exceptional. He consistently demonstrates leadership in his field of study, as evidenced by the many awards with which he has been recognized and peer-reviewed publications he and his team have produced," says Dr. Dena McMartin, ULethbridge vice-president (research). "In addition to the valuable research his lab undertakes, Trushar continues to utilize his expertise as an engaging science and policy communicator and champion of outreach initiatives that inspire the next generation of scientists. He's richly deserving of this award."
The Speaker Research Award recognizes the importance of research, scholarship and performance to the philosophy and goals of the University.
Patel will be presented with the Speaker Research Award at Spring 2023 Convocation, Ceremony I, on Thursday, June 1, 2023, at 9:30 a.m. in the 1st Choice Savings Centre gymnasium.
University of Lethbridge researchers receive grant for further exploration into the causes of Alzheimer's disease
Most of the research into Alzheimer's disease has focused on the familial type where the disease has a strong genetic component. What might come as a surprise is that 90 to 95 per cent of cases are late-onset or sporadic Alzheimer's disease (SAD), an area where researchers at the University of Lethbridge are focusing their efforts.
SAD is much more difficult to research because of the presumed interactions between genetics and lifestyle factors, which can vary from person to person. Regardless of how complicated it might be, Dr. Rob McDonald, a neuroscientist with the Canadian Centre for Behavioural Neuroscience, believes that's precisely the direction research needs to take. Now he and Dr. Igor Kovalchuk, a ULethbridge chemistry professor with expertise in cannabis extracts, have been awarded $250,000 through the federal government's New Frontiers in Research Fund. They'll be joined by Tony Montina, a ULethbridge expert in metabolomics, which is the study of metabolites in cells, fluids and tissues.
Dr. Nehal Thakor wins coveted Blue Jacket Award 2023
Dr. Nehal Thakor, a professor in the Department of Chemistry & Biochemistry, was chosen as RiboClub's Blue Jacket Award winner. The Blue Jacket Award is RiboClub's highest recognition for service by RNA scientists to the Canadian RNA community. The award recognizes sustained and impactful contributions that have strengthened the RNA community and helped it to better achieve its goals in RNA research and education.
"I feel honoured by this award and I look forward to continue serving and providing leadership to the RNA community in Canada," says Thakor.
"As Chair of the Department of Chemistry & Biochemistry, I am delighted that RiboClub has celebrated Prof. Nehal Thakor for his important contributions to the field of RNA research," says Prof. Paul Hayes. "This prestigious award also recognizes Thakor's unwavering dedication and steadfast commitment to the training of our next generation of scientists. Congratulations on a job well done!"
The Blue Jacket Award includes Thakor being appointed to the Scientific Advisory Board of RiboClub and more recently, being appointed to the organizing committee of RiboClub 2024, the organization's 25th anniversary meeting.
"Further, with my active involvement in establishing RNA Canada and RNA Alberta, we hope to accelerate the discovery and development of RNA-based technologies in the province and Canada," says Thakor.
Career Bridge: Centre for Work-Integrated Learning and Career Development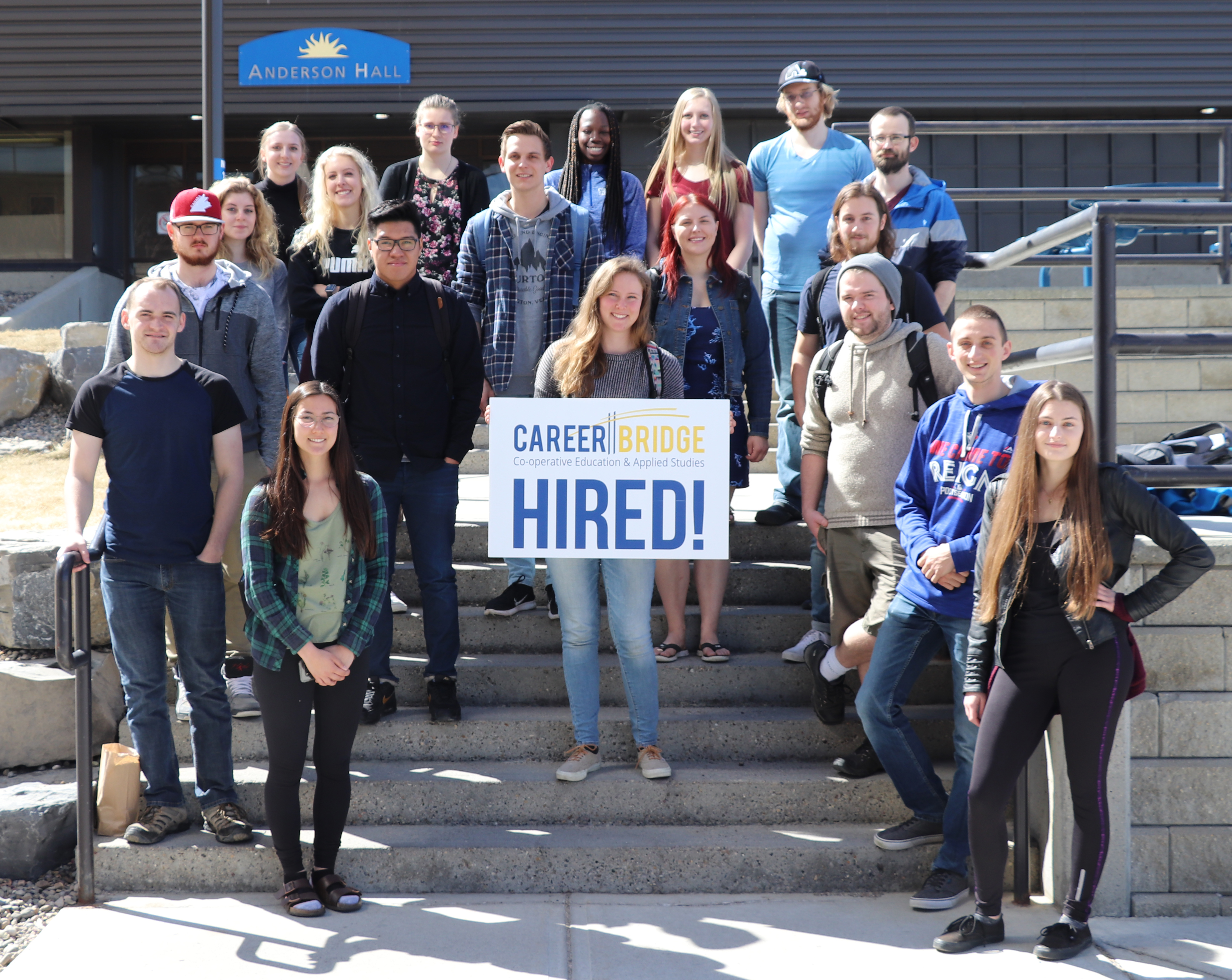 Put Your Knowledge to Work 
Whether you're looking for a more in-depth learning experience by assisting with research projects on campus or by testing your knowledge in a real-life work setting, we can help! The University of Lethbridge is proud to offer you an exceptional opportunity to explore professional development through academic programs and services designed to give you a competitive edge in a fast-changing world.
You have a bright future — experience it via Career Bridge at uLethbridge!