MOLECULAR. CHEMICAL. PHYSICAL.
Welcome to Biochemistry
Biochemistry is the study of all living systems at the molecular level. It looks at the chemical and physical basis of life and how these living systems interact with their environments.
The Departments of Chemistry & Biochemistry and Biological Sciences jointly offer a multi-disciplinary major in biochemistry for the 40-course Bachelor of Science (BSc). You can also select a general major in the sciences and choose biochemistry courses as options.
Biochemistry will help you develop a strong background in the basic sciences and extensive laboratory skills. Thereby, it provides background for a diverse range of careers in the life sciences, including professional programs such as medicine and veterinary medicine. 
The Department of Chemistry & Biochemistry is home to many advanced instruments which enable cutting-edge research. These tools include nuclear magnetic resonance (NMR), infra-red, Raman, UVvisible, atomic absorption spectrometers, macromolecular x-ray diffractometer, isothermal titration calorimeter, and a surface plasmon resonance spectrometer.
Cuban PhD student finds Wieden lab a perfect fit for her antimicrobial resistance studies
The idea of coming to Canada to continue her studies had been established long before Cuban-born Amanda Vazquez Gonzalez began seeking scholarship support to do so. Actually embarking on the trip, just as the COVID-19 pandemic was beginning to take over the planet, nearly ended her dream.
Vazquez Gonzalez is at the University of Lethbridge now, the recipient of a Philanthropic Educational Organization (PEO) International Peace Scholarship (IPS) that has allowed her to work towards her PhD in biomolecular science as part of Dr. H.J. Wieden's Laboratory for Biomolecular Design and Engineering. The IPS fund is a program which provides scholarships for selected women from other countries to pursue graduate studies in Canada or the United States.
Research paper examines novel approaches to addressing antibiotic-resistant pathogens
University of Lethbridge researchers in the Alberta RNA Research and Training Institute (ARRTI) are making strides in addressing the antibiotic crisis caused by the steady emergence and spread of antibiotic-resistant pathogens.
Recent work on the molecular basis of antibiotic action conducted in the research group of Dr. Hans-Joachim Wieden, director of ARRTI, was published in the Proceedings of the National Academy of Sciences of the United States of America (PNAS). This report, published in one of the three most influential scientific journals in the world, is a result of a collaboration with Dr. Scott Blanchard (St. Jude Children's Research Hospital and adjunct professor at Weill Cornell Medical College) and Dr. Karissa Sanbonmatsu (Los Alamos National Laboratory).
From Dengue fever to Zika, viruses are prevalent around the world and virus pandemics frequently make headlines. University of Lethbridge, Alberta RNA Research and Training Institute, Chemistry and Biochemistry researcher Dr. Trushar Patel and his team are shining new light on viruses and how they survive in an effort to ultimately develop approaches that could apply to families of viruses to inhibit their replication.
Patel is a Canada Research Chair in RNA and Protein Biophysics. His lab is inspiring and training the next generation of researchers, including Tyler Mrozowich (BSc '18), a master's candidate who first worked in Patel's lab as an undergraduate student in 2017.
"We have an ongoing commitment to teach the next generation of trainees, starting from the first-year undergraduate all the way to the PhD program," says Patel. "If you are motivated, we help you create and harness your research skills, which helps us push the research forward and helps you get your career moving forward."
Career Bridge | Co-operative Education & Applied Studies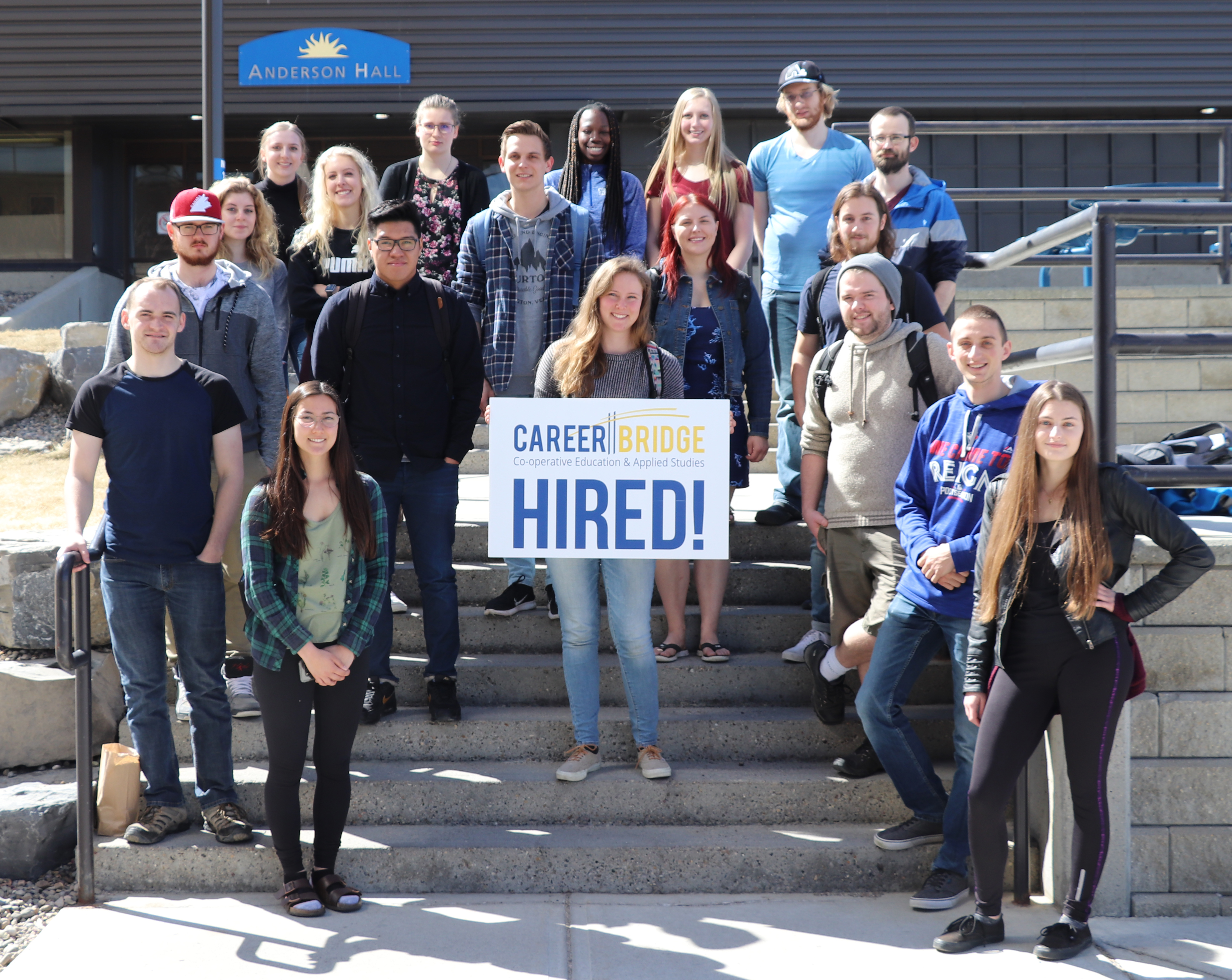 Put Your Knowledge to Work 
Whether you're looking for a more in-depth learning experience by assisting with research projects on campus or by testing your knowledge in a real-life work setting, we can help! The programs available in the Career Bridge office will provide you with a solid foundation for further studies and an excellent framework for a challenging and rewarding career — whatever direction you decide to go. Explore career options, participate in research and develop skills that complement your degree.