MOLECULAR. CHEMICAL. PHYSICAL.
Welcome to Biochemistry
Biochemistry is the study of all living systems at the molecular level. It looks at the chemical and physical basis of life and how these living systems interact with their environments.
The Departments of Chemistry & Biochemistry and Biological Sciences jointly offer a multi-disciplinary major in biochemistry for the 40-course Bachelor of Science (BSc). You can also select a general major in the sciences and choose biochemistry courses as options.
Biochemistry will help you develop a strong background in the basic sciences and extensive laboratory skills. Thereby, it provides background for a diverse range of careers in the life sciences, including professional programs such as medicine and veterinary medicine. 
The Department of Chemistry & Biochemistry is home to many advanced instruments which enable cutting-edge research. These tools include nuclear magnetic resonance (NMR), infra-red, Raman, UVvisible, atomic absorption spectrometers, macromolecular x-ray diffractometer, isothermal titration calorimeter, and a surface plasmon resonance spectrometer.
Dr. Laura Keffer-Wilkes is the 2022-2023 Equity, Diversity and Inclusion (EDI) Scholar
As EDI Scholar, Keffer-Wilkes, who's also recently been named as the director of Synbridge, will work on a project titled Women in STEM – Support Our Sisters.  "I'm very honoured to be named this year's EDI Scholar," says Keffer-Wilkes. "Women in Canada are still under-represented in STEM fields.  While many women study STEM subjects as undergraduates, there's a disconnect once they finish graduate school.  They're just not being hired as instructors or professors. This isn't a Lethbridge-only issue; it happens across North America."

The goal of the project is to use a cooperative model to reach out to women who are already at the University and work together to create a strong, safe environment and remove the isolation between departments.  They also want to partner with young women and gender-diverse individuals to create safe spaces to learn.  The first initiative — I am a Scientist — is well underway and consists of a series of posters of women in STEM at the University.
New possibilities for therapeutic interventions revealed in collaborative study
Many medications on the market today target disease-related proteins, but a new study by scientists from Massachusetts General Hospital (Harvard Medical School), Merck Research Laboratories and the University of Lethbridge has shown that small-molecule drugs can target non-coding RNA (ribonucleic acid), thereby expanding the possibilities for therapeutic interventions in many diseases.
"This work opens up the possibilities of developing drugs that can target RNAs that are involved with many diseases," says Dr. Trushar Patel, Canada Research Chair in RNA and Protein Biophysics.
In our bodies, DNA is transcribed or copied into coding RNAs, which in turn are translated into proteins that are the workhorses of a living system. However, most RNA is noncoding and scientists are learning about the critical role it plays in controlling systems. On a normal day, these nucleic acids provide cell maintenance and cell differentiation, but if they go rogue they can play a major role in diseases such as cancer.
Dr. Nehal Thakor is the RiboClub's Blue Jacket Award winner for 2022
The Chemistry and Biochemistry Department is pleased to announce that Dr. Nehal Thakor has been awarded the Blue Jacket Award for 2022 by the RiboClub.  The RiboClub brings together ribonucleic acid (RNA) researchers aimed at promoting the study of RNA evolution, structure and function.  By fostering regular meetings, exchanging ideas, and sharing infrastructure, the RiboClub creates a unique atmosphere for the recruitment and development of young researchers.
The Blue Jacket Award celebrates Dr. Thakor's extraordinary service and leadership to the RNA Community.  A few of his accomplishments include:
Co-organizer for the RiboClub 2019 Annual General Meeting – which marked its 20th Anniversary.  
Contributions as a member of the National Program Committee and Executive Committee of the NSERC-CREATE-funded RNA Innovation program.  
Serving on the Canadian Consortium of RNA Researchers (C2R2)'s Management Committee and Grants Committee (national committees).
As a Blue Jacket award winner Nehal has also been appointed to the Scientific Advisory Board of the Riboclub.  
Congratulations!
Career Bridge: Centre for Work-Integrated Learning and Career Development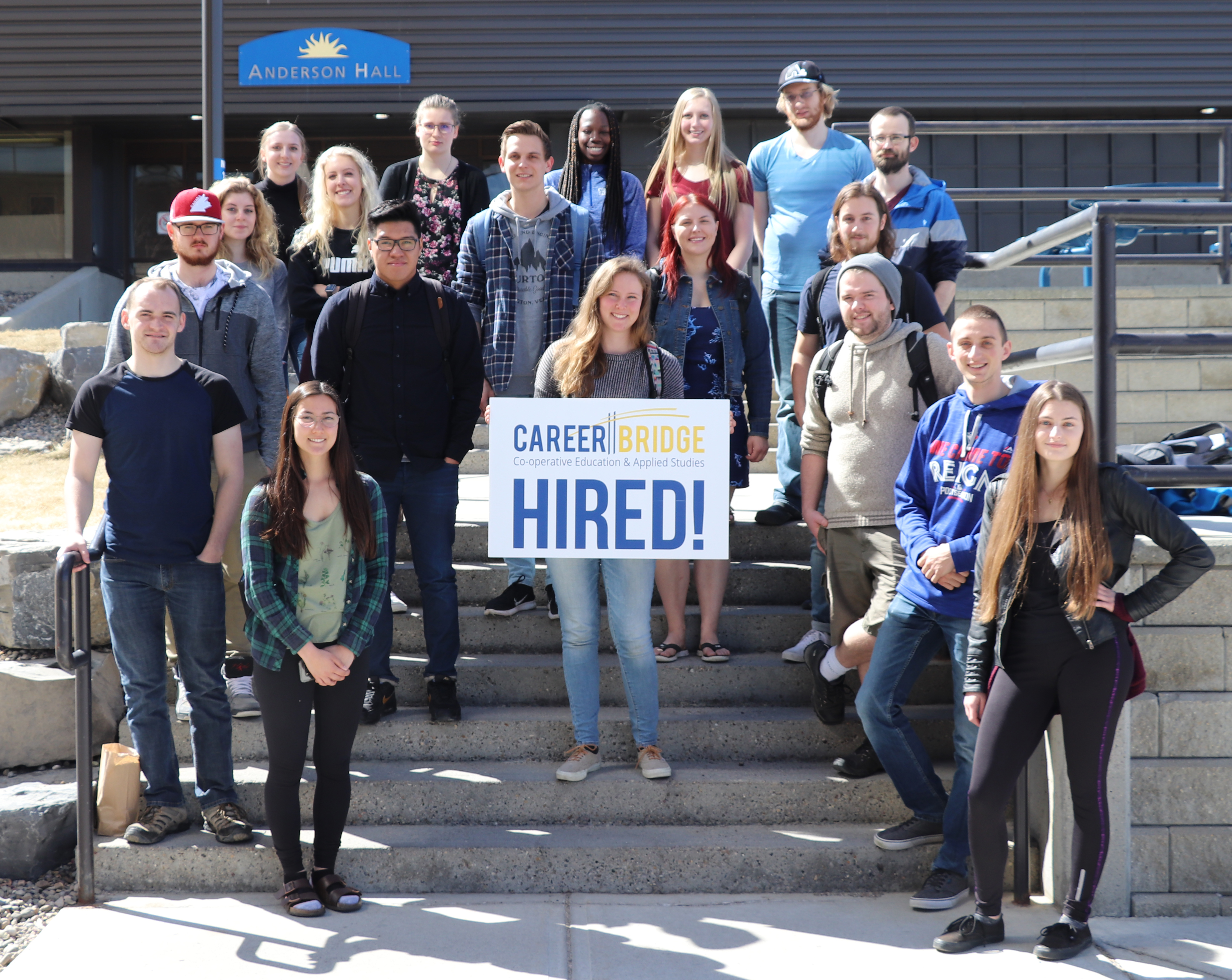 Put Your Knowledge to Work 
Whether you're looking for a more in-depth learning experience by assisting with research projects on campus or by testing your knowledge in a real-life work setting, we can help! The University of Lethbridge is proud to offer you an exceptional opportunity to explore professional development through academic programs and services designed to give you a competitive edge in a fast-changing world.
You have a bright future — experience it via Career Bridge at uLethbridge!