ELEMENTS. CHEMICALS. MINERALS.
Welcome to the Department of Chemistry & Biochemistry
Chemistry studies the elements that comprise all matter. Everything around us — the air we breathe, water we drink, food we eat, cars we drive, even our bodies — are made from these elements.
Chemistry is often called the central science as it deals specifically with the 112 elements that comprise all matter. Everything around us - the air we breathe, water we drink, food we eat, buildings we live in, cars we drive - our very bodies - are all made from these elements. There are five main branches of chemistry: analytical chemistry, organic chemistry, inorganic chemistry, physical chemistry and theoretical chemistry.
The primary focus of the program is to provide you with extensive theoretical knowledge in all five branches of chemistry, while enhancing your technical and practical skills with hands-on experience and research opportunities.
The Department of Chemistry & Biochemistry is home to many advanced instruments which enable cutting-edge research. These tools include nuclear magnetic resonance (NMR), infra-red, Raman, UVvisible, atomic absorption spectrometers, macromolecular x-ray diffractometer, isothermal titration calorimeter, and a surface plasmon resonance spectrometer.
Key member of Return to Campus Committee, Dr. Trushar Patel, to receive 2021 Volunteer Award
As one of the country's best young research scientists, Dr. Trushar Patel has earned numerous honours for his expertise with viruses and RNA-based vaccines. His work in the lab and in mentoring student researchers is only a fraction of what Patel brings to the University of Lethbridge and this commitment to give freely of his time to help the community has led to his selection as the 2021 University of Lethbridge Volunteer Award recipient.
As ULethbridge looked at how it would safely reopen its campuses for the Fall 2021 semester after a year of online instruction due to the COVID-19 pandemic, the need for expert guidance was clear. Patel, a professor in the Department of Chemistry & Biochemistry and Canada Research Chair, volunteered to co-chair the Return to Campus Committee. The work involved in a safe reopening of campus was tremendous and required long hours, as provincial public health guidance frequently changed in response to the shifting pandemic. Patel's expertise was invaluable in helping the University safeguard the health of the campus community during this time.
Bursary to be established in Bob McKay's honour
During his nearly 40-year career at the University of Lethbridge, Bob McKay was often moved by the tenacity shown by many of his students who had to work at extra jobs to fund their education. After McKay passed away earlier this year, his family decided to honour his memory by establishing a bursary to support students majoring in chemistry or biochemistry who are facing financial adversity.
McKay, who worked as a chemistry instructor in the Department of Chemistry & Biochemistry, taught thousands of students over the years.
"One of our frequent conversations was how lucky we both were to have parents who paid for our university education and how difficult it is for university students who have to pay for their university education with little or no support," says Sandra McKay, Bob's widow. "Bob was deeply concerned about how hard it is for kids today who have to work more than one job and who have to rely on student loans and bursaries to get through their university education, leaving them with debts that need to be paid once they graduate."
Researchers earn RDAR support to find viable solutions to mitigate Bovine Respiratory Disease
Researchers in the University of Lethbridge's Southern Alberta Genome Science Centre (SAGSC) and its bioinformatics core are collaborating with scientists at Agriculture and Agri-Food Canada (AAFC) to find viable solutions to mitigate Bovine Respiratory Disease (BRD) — the most prominent feedlot cattle disease in North America — that is responsible for an estimated financial burden of $3 billion annually.
The supported project is led by ULethbridge associate professor Dr. Athan Zovoilis and Dr. Tim McAllister, a principal research scientist at AAFC. Zovoilis, SAGSC director and Canada Research Chair in RNA Bioinformatics and Genomics, Dr. Angeliki Pantazi (SAGSC scientific officer) and Dr. Eric Merzetti (BioNet program manager) are working with McAllister's team and other scientists at AAFC to advance a genomic-based diagnostic pipeline for BRD, based on Alberta herd-specific pathogens, that will increase the precision of antimicrobial use in the provincial cattle industry.
Career Bridge: Centre for Work-Integrated Learning and Career Development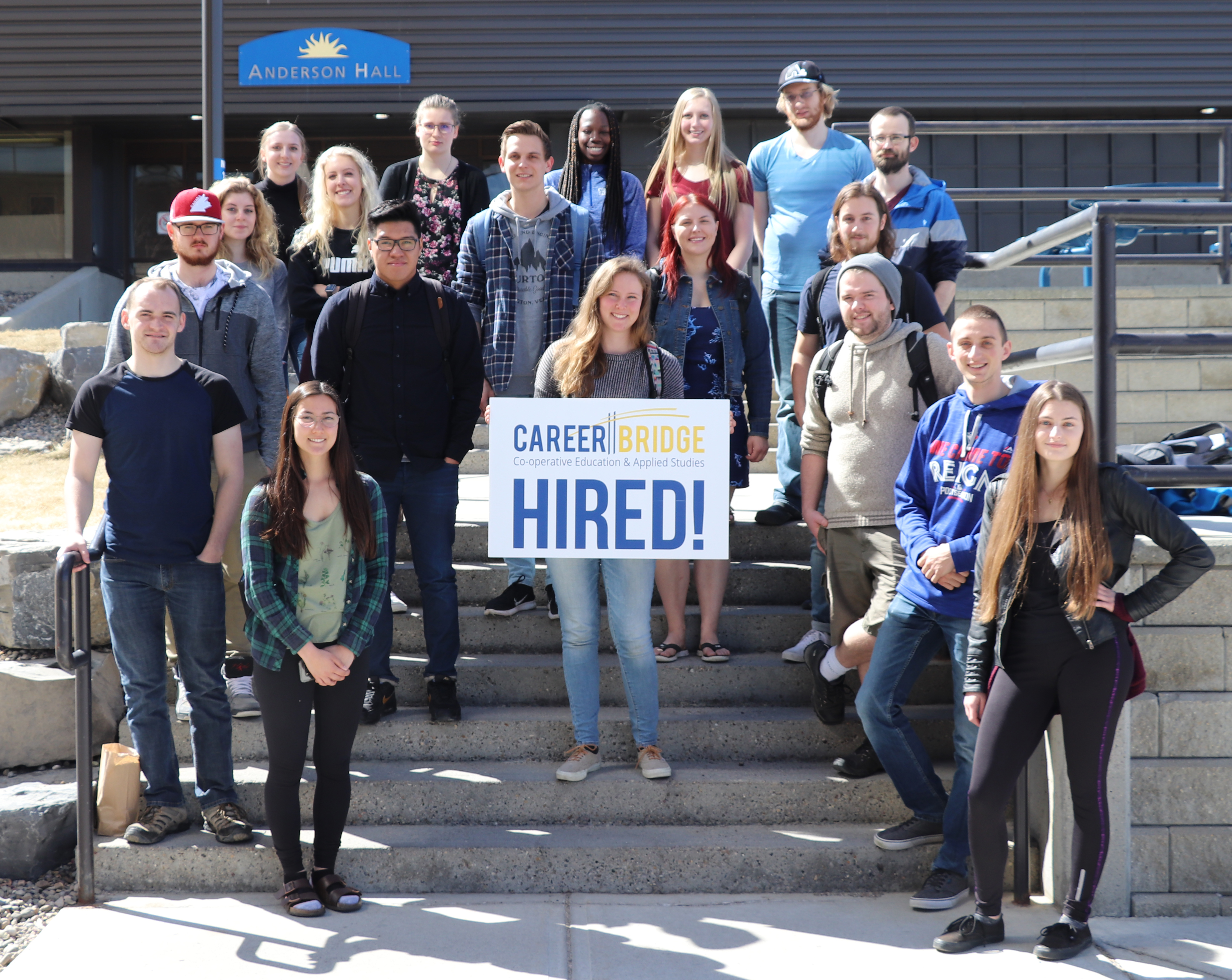 Put Your Knowledge to Work 
Whether you're looking for a more in-depth learning experience by assisting with research projects on campus or by testing your knowledge in a real-life work setting, we can help! The University of Lethbridge is proud to offer you an exceptional opportunity to explore professional development through academic programs and services designed to give you a competitive edge in a fast-changing world.
You have a bright future — experience it via Career Bridge at uLethbridge!