ELEMENTS. CHEMICALS. MINERALS.
Welcome to the Department of Chemistry & Biochemistry
Chemistry studies the elements that comprise all matter. Everything around us — the air we breathe, water we drink, food we eat, cars we drive, even our bodies — are made from these elements.
Chemistry is often called the central science as it deals specifically with the 112 elements that comprise all matter. Everything around us - the air we breathe, water we drink, food we eat, buildings we live in, cars we drive - our very bodies - are all made from these elements. There are five main branches of chemistry: analytical chemistry, organic chemistry, inorganic chemistry, physical chemistry and theoretical chemistry.
The primary focus of the program is to provide you with extensive theoretical knowledge in all five branches of chemistry, while enhancing your technical and practical skills with hands-on experience and research opportunities.
The Department of Chemistry & Biochemistry is home to many advanced instruments which enable cutting-edge research. These tools include nuclear magnetic resonance (NMR), infra-red, Raman, UVvisible, atomic absorption spectrometers, macromolecular x-ray diffractometer, isothermal titration calorimeter, and a surface plasmon resonance spectrometer.
Two students from Dr. Jean-Denys Hamel's group have received awards from the Division of Fluorine Chemistry of the American Chemical Society
Audra Lutterotti received a Moissan Summer Undergraduate Research Fellowship in Fluorine Chemistry to undertake work in Dr. Hamel's lab over the summer of 2022. The research looked into understanding the process of fluorinating bicyclo[1.1.1]pentane derivatives (BCPs), which included the synthesis of [1.1.1]propellane through distillation and the use of proton and fluorine NMR for characterization of the products formed. There are only two such awards given worldwide each year. This program is intended to encourage an interest in fluorine chemistry among prospective graduate students.
Ty Dudas received the ACS Award for Research at an Undergraduate Institution for his work over the summer of 2022. This research aims to create new processes to make fluorinated molecules. The hope is that these new processes will be used to make new medicines and agrochemicals cheaper. Blue light is shined on metallic catalysts to form organic radicals, which are very reactive and short-lived species, and uses them to stitch together new fluorinated molecules. The ACS Division of Fluorine Chemistry Undergraduate Research Award recognizes outstanding undergraduate research students each year for excellence and achievement in any area of fluorine chemistry at their home institution.
Congratulations Audra and Ty!!
Dr. Susan Findlay featured in CBC article
Dr. Susan Findlay, Associate Chair with the Department of Chemistry and Biochemistry, was featured in a pragmatic CBC article about the long road to recovery for students and teachers returning to campus.  
She, like many University of Lethbridge faculty, say they are struggling to bring students back to campus and the engagement is low.  
Many students are finding it difficult to re-adjust to in-person classes and many students coming in for labs lack confidence and practical skills.  And most students are dealing with numerous stressors (financial, social, family, mental) that are adding further challenges.
In the article Dr. Findlay also discusses her teaching strategy "flip the course".  Traditionally students would attend a lab, hear instructions and then complete the experiment.  In a "flip the course" strategy students get video lessons/materials ahead of time so they can start the lab with the experiments and still have time to ask questions and engage.
To read more please click on the Read the Article button below.
Dr. Nehal Thakor is the RiboClub's Blue Jacket Award winner for 2022
The Chemistry and Biochemistry Department is pleased to announce that Dr. Nehal Thakor has been awarded the Blue Jacket Award for 2022 by the RiboClub.  The RiboClub brings together ribonucleic acid (RNA) researchers aimed at promoting the study of RNA evolution, structure and function.  By fostering regular meetings, exchanging ideas, and sharing infrastructure, the RiboClub creates a unique atmosphere for the recruitment and development of young researchers.
The Blue Jacket Award celebrates Dr. Thakor's extraordinary service and leadership to the RNA Community.  A few of his accomplishments include:
Co-organizer for the RiboClub 2019 Annual General Meeting – which marked its 20th Anniversary.  
Contributions as a member of the National Program Committee and Executive Committee of the NSERC-CREATE-funded RNA Innovation program.  
Serving on the Canadian Consortium of RNA Researchers (C2R2)'s Management Committee and Grants Committee (national committees).
As a Blue Jacket award winner Nehal has also been appointed to the Scientific Advisory Board of the Riboclub.  
Congratulations!
Career Bridge: Centre for Work-Integrated Learning and Career Development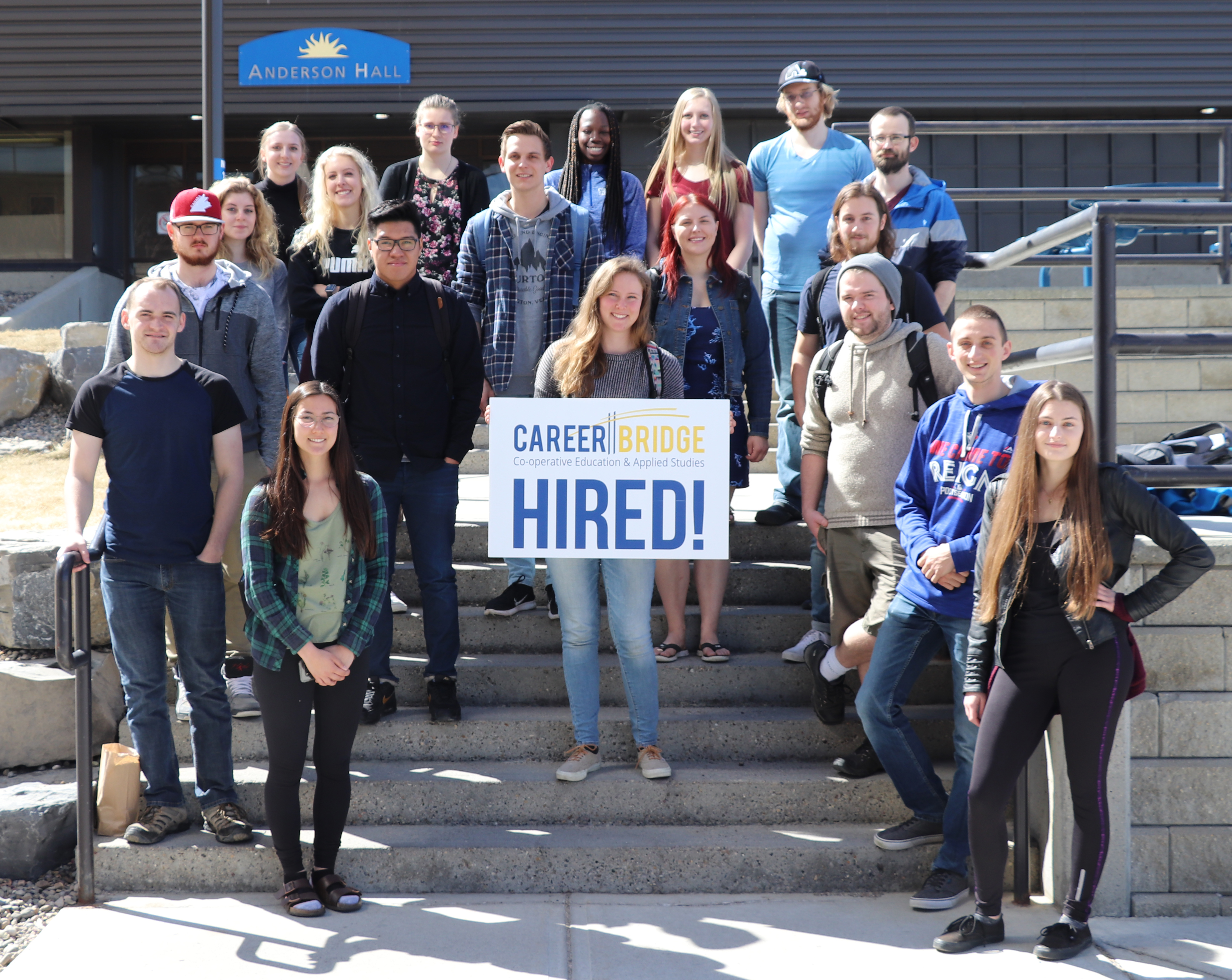 Put Your Knowledge to Work 
Whether you're looking for a more in-depth learning experience by assisting with research projects on campus or by testing your knowledge in a real-life work setting, we can help! The University of Lethbridge is proud to offer you an exceptional opportunity to explore professional development through academic programs and services designed to give you a competitive edge in a fast-changing world.
You have a bright future — experience it via Career Bridge at uLethbridge!