ELEMENTS. CHEMICALS. MINERALS.
Welcome to the Department of Chemistry & Biochemistry
Chemistry studies the elements that comprise all matter. Everything around us — the air we breathe, water we drink, food we eat, cars we drive, even our bodies — are made from these elements.
Chemistry is often called the central science as it deals specifically with the 112 elements that comprise all matter. Everything around us - the air we breathe, water we drink, food we eat, buildings we live in, cars we drive - our very bodies - are all made from these elements. There are five main branches of chemistry: analytical chemistry, organic chemistry, inorganic chemistry, physical chemistry and theoretical chemistry.
The primary focus of the program is to provide you with extensive theoretical knowledge in all five branches of chemistry, while enhancing your technical and practical skills with hands-on experience and research opportunities.
The Department of Chemistry & Biochemistry is home to many advanced instruments which enable cutting-edge research. These tools include nuclear magnetic resonance (NMR), infra-red, Raman, UVvisible, atomic absorption spectrometers, macromolecular x-ray diffractometer, isothermal titration calorimeter, and a surface plasmon resonance spectrometer.
Pandemic underlines need to revamp academic system that disadvantages parenting researchers and women
The COVID-19 pandemic pressure tests our societies in many ways and reveals often overlooked, long-existing and festering systemic challenges and disadvantages. One of the most universal experiences associated with the current pandemic has been the struggle of working parents forced to balance full-time, stay-at-home jobs with the challenge of parenting and home-schooling.
University of Lethbridge researchers Drs. H.J. Wieden and Ute Kothe, along with graduate student Luc Roberts, detailed in a recent article published in EMBO Reports, that the struggle is just as acute in the academic world — widening an already existing gulf between researchers who are active parents and those who are not, thereby presenting a threat to the diversity, inclusivity and quality of research communities. The authors identify the pandemic as an opportunity to rethink and overhaul the academic career and reward system that consistently disadvantages parenting researchers and women.
Foreign study placement leads to post-doc at Princeton
For Connor MacNeil, graduate school turned out to be the tale of two Pauls. While doing his undergraduate degree in chemistry at New Brunswick's Mount Allison University, his research supervisor, Dr. Steve Westcott, suggested he call the University of Lethbridge's Dr. Paul Hayes, who had also been a student of Westcott's. Westcott mentioned they had similar research interests and thought they would get along.
"I could tell right away it was going to be a good fit," says MacNeil. "It's an important part of starting grad school. If you don't get along with your supervisor, then it can be a really unpleasant few years."
-- Photo by Jon Darmon
Partnership gives U of L student one-of-a-kind learning opportunity
A partnership between API (Applied Pharmaceutical Innovation) and the University of Lethbridge led to a unique training opportunity for one graduate student.
Amy Henrickson (BSc '17) started her master's in January, working under the supervision of Dr. Borries Demeler, a professor in the Department of Chemistry & Biochemistry, in the Canadian Center for Hydrodynamics. She's focusing her work on adeno-associated viruses (AAVs).
These small viruses, which are not known to cause disease in humans, elicit a mild immune response in the body and that makes them attractive for use in delivering gene therapies. In therapeutic applications, AAVs can be engineered to deliver DNA to target cells. Using AAVs in this manner is an area of growing interest and clinical trials have produced promising results in several diseases such as Parkinson's disease, hemophilia and cystic fibrosis.
Career Bridge | Co-operative Education & Applied Studies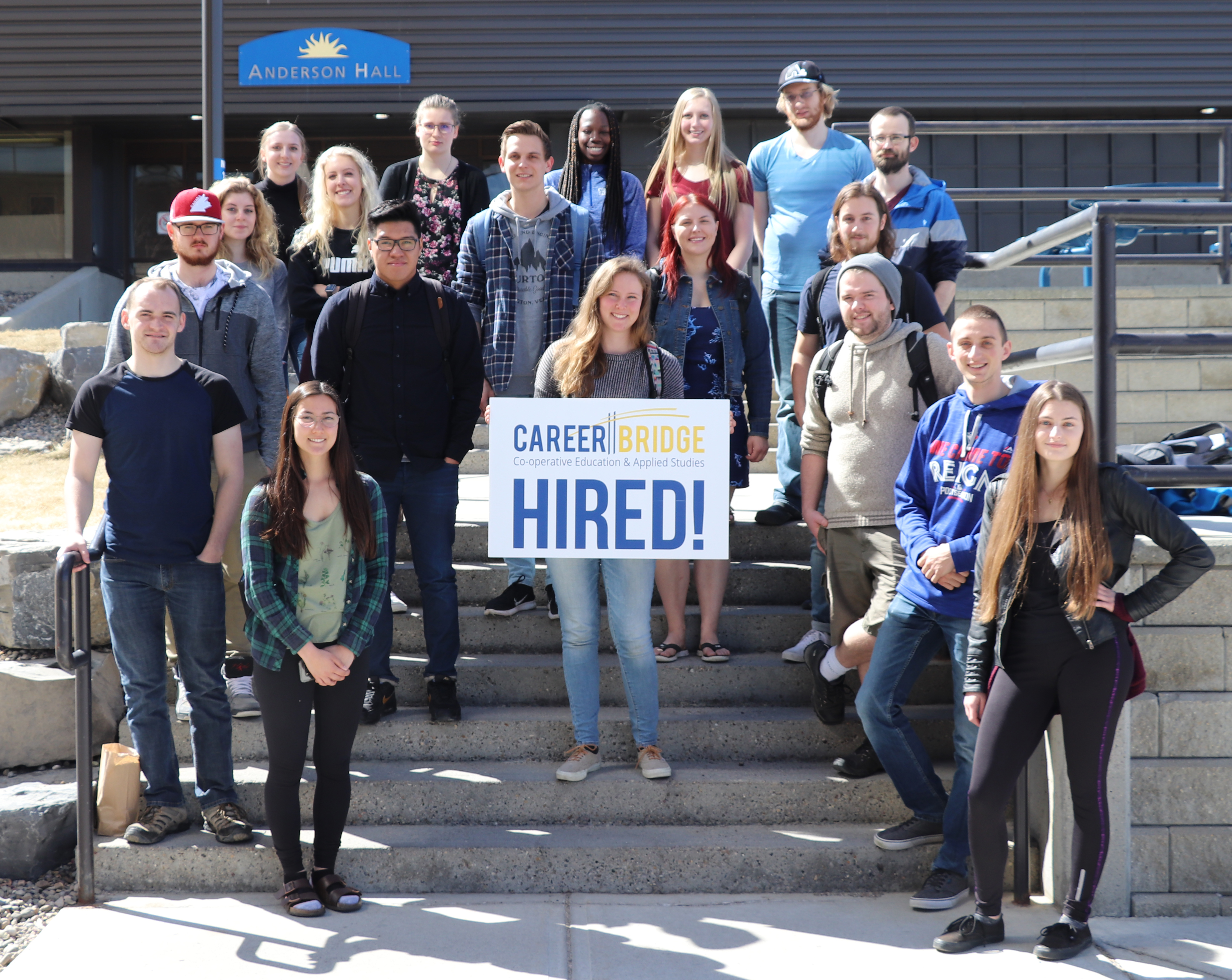 Put Your Knowledge to Work 
Whether you're looking for a more in-depth learning experience by assisting with research projects on campus or by testing your knowledge in a real-life work setting, we can help! The programs available in the Career Bridge office will provide you with a solid foundation for further studies and an excellent framework for a challenging and rewarding career — whatever direction you decide to go. Explore career options, participate in research and develop skills that complement your degree.