Your Program Planning Guide (PPG) is one of the most important resources you'll need to build your schedule.
Your PPG identifies program requirements, lists all the courses required in your specific program and includes a Sample Sequencing Plan. It is specific to your program and major and outlines the courses required to complete your degree. You should use your PPG every time you are planning your course schedule as it can help you keep track of your progress toward completing your degree.
Visit ulethbridge.ca/ross/ppgs to obtain a PDF of your PPG. You will need to know your calendar year, program and major (these are found on your Offer of Admission letter).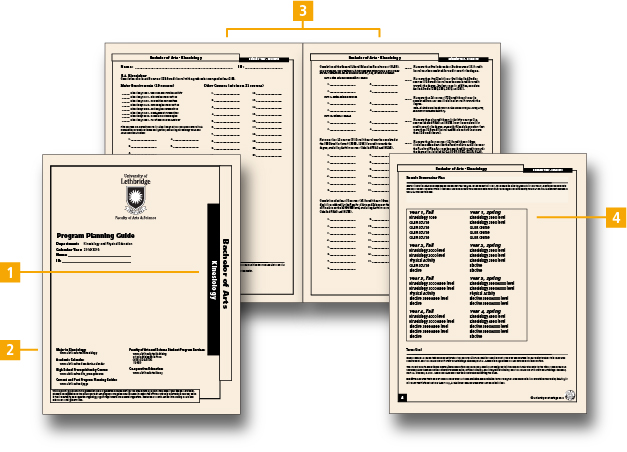 Click the image to view an example PPG

Degree/Major | These are important to know as you will require certain courses to complete your degree.

Resources | Contacts and various websites to assist with planning your program.

Major and Degree Requirements | Outlines your entire degree requirements. Fill out these two pages as you complete your degree to track your progress. We recommend you meet with an academic advisor to help you fill out your PPG.

Sample Sequence Plan | The following sequence plan is based on a five-course schedule. It is recommended you follow this plan as close as possible to prevent scheduling conflicts due to availability of prerequisite/corequisitecourse requirements. To understand required courses, Lib Ed Requirement courses (Liberal Education List Requirement) and electives better review the section - Useful Terms.