The University of Lethbridge is an unbelievable place with amazing people.
Anna Novak
Combined degree, BSc./B.Mgt. | Student from Ukraine
English for Academic Purposes (EAP) Graduate
Anna Novak is a recent graduate of the English for Academic Purposes (EAP) program. She feels that coming to the University of Lethbridge and studying the EAP program has been a great experience and she plans on continuing her studies further by enrolling in an undergraduate program. After completing the Advanced level EAP course she applied and gained admission to the Combined BSc./BMgt. degree program where she plans to study Chemistry and International Management with the hopes of one day entering the cosmetic industry.   
Read what Anna has to say about the EAP program and life as a student at the University of Lethbridge. 
Where are you from?
I am from Western Ukraine, the Ternopil region. In my childhood I traveled frequently and managed to see a lot of Ukraine. It has an incredible natural environment. Ukraine has everything from mountains, seas, rivers, lakes, and even deserts.
Why did you choose the UofL?
I was encouraged to study at the University of Lethbridge because I heard positive things about this university.
Last semester during the Easter holiday, my parents met with a family friend who described his daughters experience at the University of Lethbridge. It was encouraging to hear about the great time she had here. My parents and I decided it would be worthwhile for me to try studying abroad at the University of Lethbridge. Initially, I was scared to study outside of Ukraine, but after hearing about his daughter's experiences, I was excited to study in Canada.
In Ukraine, I was studying Pharmacy at a medical university. I initially wanted to continue studying this at a Canadian university but discovered that I first need to study Chemistry and then I can apply to a Pharmacy program. After doing more research, I discovered the UofL has amazing laboratory facilities, which was important to me. I also really liked that the city of Lethbridge is quiet and peaceful.
Describe your experience at the UofL.
To be honest, I was not very prepared for coming to Canada.  The last year I studied at my home university, I had a period of exams and important events that took up most of my summer and I did not have a lot of time to organize myself before coming. Regardless of this, I had a smooth transition to the University of Lethbridge. My experience here has been formative. I have matured a lot and studying here has helped me become an adult. Being away from my home country and experiencing a new place has been very important for me; I have had an opportunity to develop my identity.
Do you feel that that the EAP program improved your Academic English abilities?
Yes!
As a student in my Ukrainian university, I studied writing summaries, responses, essays and how to format bibliographies but the writing styles are different in Canada. I think that international students need to take the EAP program to understand how to write and make good presentations. I needed to have experience practicing these skills. If I came to the university and started my major right away, I would have been shocked and would have wondered how to do these tasks.
How has the EAP program improved your English abilities?
I completed the High Intermediate and Advanced classes of the English for Academic Purposes program. I believe that my communication and essay writing skills have improved as a result of these courses. During Christmas, I traveled home, and I was able to help my grandpa in his shop and spoke to people in English. They were shocked at my abilities and asked me "what happened to you?" Even when I was talking with my friends, sometimes I was only able to remember how to say things in English and not in Ukrainian. They too said, "What happened with you? You're Ukrainian!" Nowadays, I think in English most of the time.
How did you find the EAP teachers?
I really liked my teachers so much. I think all the EAP teachers are great. Last term, Robyn and Angela were my teachers, and they were so amazing. I also had Steven, and he was so nice and helpful. Whenever I had questions, they helped me. All the teachers are very understanding of students' situations and are flexible and empathetic of issues we face. They are aware of what is happening in the news. They knew about what was happening in Ukraine and what was happening in Peru, and it is so good when teachers know what the students are feeling.
As a current student of the UofL what do you enjoy most about attending the university?
I enjoy everything about the university. Most of all, I love the people I have met. They are open and helpful. Whenever I ask for help or advice, teachers and other students are always so happy to help and offer information.
Coming to a new country can open new doors. I have met a lot of people from other countries, and other communities and it is important to be open to others. It has been a good experience to learn a new culture and to have the chance to solve my own problems, without relying on my parents.
What word or phrase would you use to describe the UofL?
An unbelievable place with amazing people. You can make new friends from many countries. There is a lot of deer too!
What is your favorite thing about the UofL?
I think the nature here is amazing and the weather is unexpectedly nice. I also really like our school logo and colors; it reminds me of home.
What advice could you offer perspective students?
Come to Canada with an open mind and do not be afraid to interact with lots of different kinds of people. You will grow as a person if you can interact with people from different cultural backgrounds.
You can also find lots of people from the same country as you who can help you understand things here in Canada. Especially if you come with a low level of English, it is helpful to create connections with people who can speak your native language so they can help explain things in depth that are more difficult to understand.
Are you utilizing the Homestay program or are staying in campus residence?
I have rented an apartment. I live on the South side, but I feel that it is further from campus than I thought. I want to move on the West side at the end of the summer.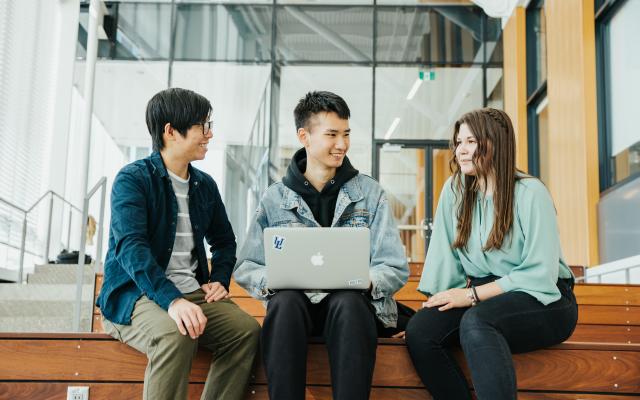 Improve Your Academic English
Don't meet the English Language Proficiency requirement of the University of Lethbridge? Join the English for Academic Purposes program.
Become a University of Lethbridge Student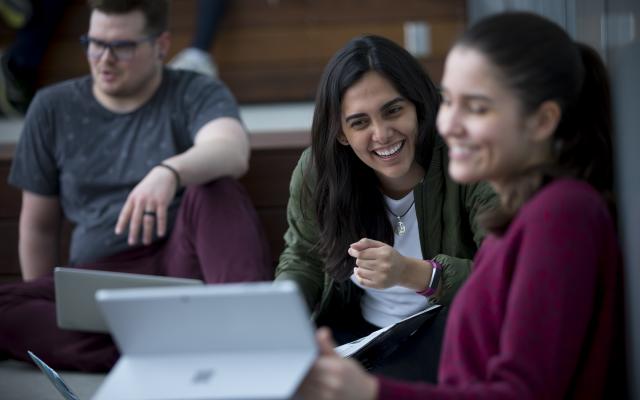 Want to Earn Two Degrees at Once?
A combined degree is a program where students complete the requirements for two degrees at the same time. When the student graduates, they will be awarded two bachelor degrees, one for each area of study. The bonus is that you complete a combined degrees program in less time than it would take to complete both degrees individually.