Credentials available
Bachelor of Arts
Bachelor of Science
Bachelor of Arts & Science
Bachelor of Arts / Bachelor of Education
Bachelor of Arts / Bachelor of Management
Bachelor of Science / Bachelor of Education
Bachelor of Science / Bachelor of Management
Program description
Kinesiology is the study of human movement through physical activity and the critical role it plays from both an individual and cultural perspective. It also helps us understand the mechanics of human motion.
Our programs are designed to provide you with the opportunity to study the theoretical and practical applications of activity as a cultural form, as well as individual performance at all levels of involvement and all ages.
You will also gain an understanding of movement through the integration of specialized knowledge found in topics like anatomy, biomechanics, culture, exercise physiology, leadership, media, motor control, race and ethnicity.
You will have access to state-of-the-art laboratories, as well as the 1st Choice Savings Centre for Sport and Wellness, with its indoor track, pool and climbing wall.
BA vs. BSc
Students completing the Bachelor of Arts program explore sport and physical activity involvement from a socio-cultural, wellness and participatory perspective, while students enrolled in the Bachelor of Science program study these concepts from a human performance perspective.
Minors | Adding a minor to your degree is a great way to explore academic interests beyond your major. A minor is a set of courses comprising a secondary focus of interest. It is generally not related to your major. A minor may be required or optional. Pursue a second passion by adding a minor to your degree.
Honours thesis | If your GPA is high enough in your fourth year, you can opt to complete an undergraduate thesis course. This is an excellent opportunity for you to earn an "Honours Thesis" designation on your degree.
Experience learning | Our students have a number of experiential learning opportunities available to them including co-operative education, international exchanges, independent and applied studies as well as volunteer opportunities. uLethbridge is the only university in Alberta to offer co-operative education to all majors in the arts & sciences, at both the undergrad and grad level.
Community involvement & student clubs | The department provides a number of community services including public lectures and workshops and often draws research subjects from the local area. You can also gain experience by participating in KinPhyEdS Club, which hosts lectures and attends the annual KIN Games, a national event involving academic and physical activity challenges.
Skills acquired | In addition to developing exceptional communication skills, you will develop critical and analytical problem solving skills, research and information management skills, leadership skills, time management, and improve your attention to detail. You will leave the program with a strong ability to summarize research findings, excellent lab experiences, as well as an in-depth knowledge of health and wellness issues.
Possible careers
Athletics Administration
Coaching & Athletic Training
Exercise Prescription
Health or Wellness Industry/Promotion
Physical or Occupational Therapy
Sport Nutrition
Exercise Physiology
Orthopedic Assistant
Activity Director
Outdoor Adventure Education
Sports Management
Injury Prevention & Rehabilitation
Professional disciplines & graduate studies | Your undergraduate degree in kinesiology provides an excellent foundation for medicine, chiropractic, physiotherapy, sports psychology, business management and education. The University of Lethbridge's School of Graduate Studies offers graduate programs at the master's and doctoral levels spanning over 60 disciplines — so why not consider pursuing grad school right here in Lethbridge! Whether you choose to do your advanced studies at uLethbridge or another institution, know that your undergraduate degree has set you on the path to post-graduate success.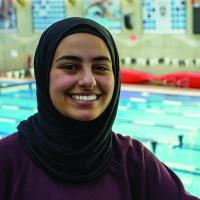 I had never heard of kinesiology until I moved to Canada to attend the University of Lethbridge five years ago. I knew it was what I wanted to do the moment I stepped out of my first KNES1000 class. Ilsa Wong inspired me not just to want to learn more about the human body and how it works, but also to teach it to students of my own, which is why I am pursuing a combined degree in kinesiology and education. My dream is to teach physical education to people around the world. Specifically, I want to inspire other Muslim, hijab-wearing, sport-loving girls like myself to participate in physical activity without hesitation, and thanks to the University of Lethbridge combined degree program, I feel equipped and ready to do so.
- Deema (BSc/BEd '21) Kinesiology/Physical Education
Sample classes
Course selections for the program will vary, but may include:
Wellness & Physical Activity
Functional Human Anatomy
Research Methodologies
History of Sport & Physical Activity
Growth, Development & Aging
Biomechanics
Sport Psychology