Indigenous Governance and Business Management diploma
Gain the knowledge you need for a vibrant career in as little as two years.
Throughout Canada there is a significant demand for graduates with Indigenous business and governance perspectives both on- and off-reserve.
With the Indigenous Governance and Business Management two-year (20-course) diploma you will gain an Indigenous perspective on business management, community development, governance and entrepreneurship in as little as two years. Your courses will cover a wide range of Indigenous political, legal and economic development issues as well as current practices in Indigenous business relations.
Why the Dhillon School of Business Indigenous Governance and Business Management diploma?
Your classes are a mix of in-person and online, allowing for collaborative interactions with your peers and instructors that foster a sense of community.
You'll learn from Indigenous faculty members who bring their lived experiences and cultural expertise to the classroom.
You'll have the chance to apply what you learn in class to practical, real-world projects with a variety of work-integrated learning options, including paid co-operative education work-terms.
You'll have access to support to help you on your educational journey, including resources for Indigenous students specifically.
You'll have the option to ladder into a Dhillon School of Business degree (Bachelor of Management) or pursue studies in a different subject at ULethbridge; the credits you earn in the IGBM diploma count towards most ULethbridge bachelor's degree programs. 
Ready for more details? You can see a list of all the courses you'll be taking as part of the Indigenous governance and business management diploma in the program planning guide.
(Just a few) possible careers
Indigenous agreements analyst
Corporate consultation and community liaison
Indigenous engagement officer
Indigenous relations advisor
Economic development officer
Business manager
External relations officer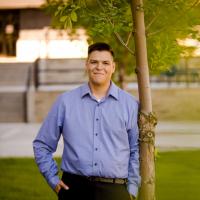 I liked the fact that the Indigenous Governance and Business Management (IGBM) program is forward thinking. Rather than focusing solely on the past and historical issues, the IGBM program provides a way to utilize Indigenous ways of knowing in a career. It equips you with the same set of skills as any other business management program… but you are also learning about Indigenous culture and identity and really looking at all of these aspects through an Indigenous lens as well.

Nathan Crow
Current Bmgt. student, majoring in Indigenous Governance and Business Management