Welcome to the School of Liberal Education
Through our Early Start Experience, you can take a liberal education course for credit before the start of the fall term. The Early Start Experience is open to first-year students in all bachelor's degree programs.
The course (LBED 1500 - The First-Year Experience: Mapping our Communities) has been developed to promote your success and ease your transition from high school to university, while giving you credit towards your degree. Liberal education teaches you how to think critically and become a global citizen.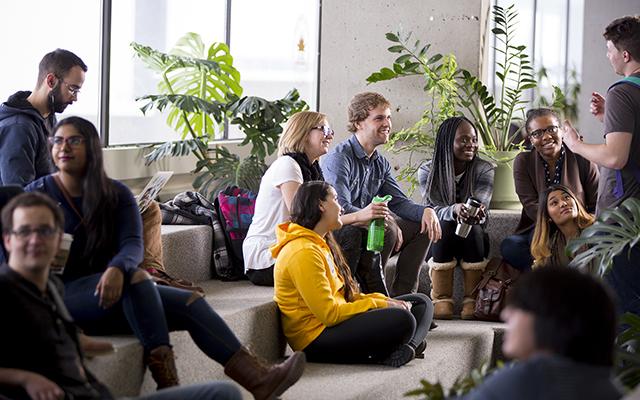 The Early Start Experience
This is a special offering of Lib Ed 1500, The First Year Experience, specially  designed to promote student success and to ease the transition from high school to university for incoming first year students.
Dates: August 22 to September 2, 2022
The Global Citizenship Cohort
Do you dream of making the world a better place to live? Are you interested in the environment and social justice issues?
Study with a small cohort group of like-minded students.
Enjoy a first-year experience that will introduce you to a variety of disciplines and build your study skills.
Participate in courses connected by a common theme.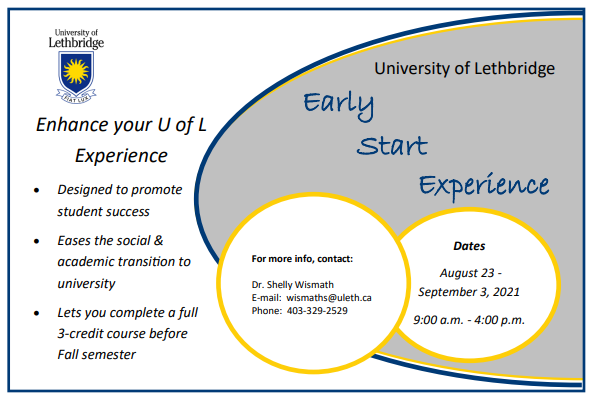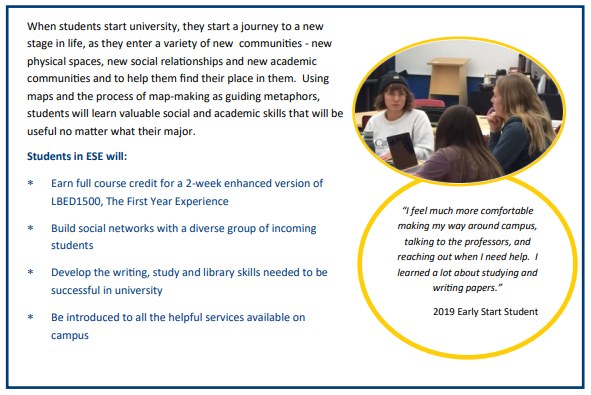 Student Job Opportunities
Each year the School of Liberal Education hires a number of students to act as Tutors in courses such as LBED 1000 and LBED 1500. These positions require a commitment of 5 hours per week for a semester, and pay a stipend of $1000 for the semester.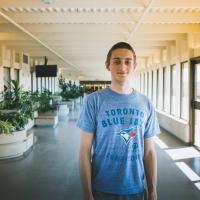 In my second year of university I had the chance to be a tutor for Liberal Education 1000. On top of that I paired it with an independent study looking at critical thinking and teaching. The experience was amazing and reflecting every week on the time with the students allowed me to be more prepared as a future teacher as I will be going into the Education Faculty. This is what liberal education is about, learning and having many different experiences and connecting them to a passion you have. The School of Liberal Education gives you these opportunities and will guide you along. I love that I got to personally pursue a passion, tutor, and see students succeed.

Antoine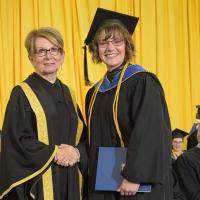 Acting as a Liberal Education 1000 tutor gave me the opportunity to develop not only my communication and critical thinking skills, it also allowed me to gain confidence in myself. Being at the front of a room, helping students understand new concepts and encouraging them to ask questions, and of course trying to act as a peer support for them is by no means an easy feat but I was able to persevere and succeed in ways I never thought I could. I found a new respect for all the hard work professors and instructors put into planning their lectures and being able to stand up in front of hundreds of students and be passionate about what they are talking about.

Katherine
School of Liberal Education Volunteer Award
Congratulations to Erin Burns.  Erin is the winner of the 2020 School of Liberal Education Volunteer Award.  The award is given to a student with high academic standing and a strong record of volunteer activity in the community.
Friends of Liberal Education Prize
The School of Liberal Education congratulates Abigail Curle, the 2018 recipient of the Friends of Liberal Education Prize for outstanding achievement in Liberal Education 1000 or 2000. Previous winners are Cassandra Ostashek (2017) and Katherine Hatton (2016).
Liberal Education Essay Award
Congratulations to Dalys Fletcher and Kieran Brennan, winners of the Liberal Education Essay Prize in Spring 2017. Days Fletcher was awarded first prize of $1500  for her essay The Good Life. Kieran Brennan was awarded second prize of $500 for his essay Creativity: the Fifth Pillar of Liberal Education. Essays can be found on our Awards and Prizes page.
The Muthada Boora Family Award
This prize is awarded based on grades, volunteer work, and an essay on the value of Liberal Education. The Fall 2018 winners are:
Mikaela Tegart (new high school entrant)
Blaine Primeau (new transfer student)
Madeline Szabo (continuing student). 
Learn more about the award winners and read their essays here!