uLethbridge residence students don't know who Pete and Bette Greidanus are when they first arrive on campus, but by the time they leave, they've become two of the most important people in their university experience.
In 1996, Bette started volunteering on the uLethbridge campus through the Inter-Varsity Christian Fellowship (IVCF) with the mandate of welcoming and embracing new students. Both she and her husband Pete understood the stress and confusion new students faced when leaving home for the first time, something they'd experienced as students themselves. Over the past 19 years, Bette and Pete have refined the move-in day experience to involve student leaders in assisting students as they settle in, alleviating some of this stress and ensuring that new students know they are surrounded by a network of support.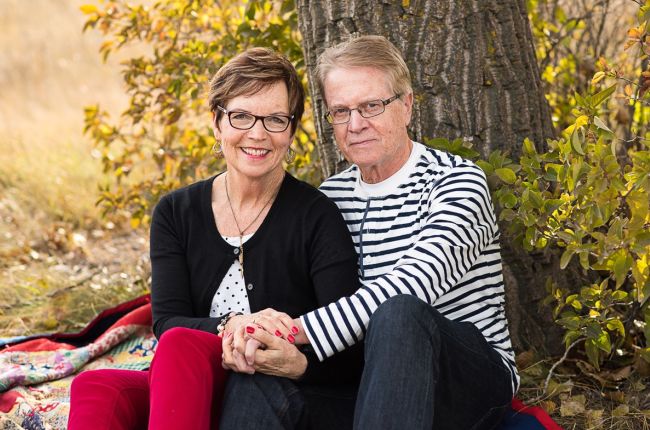 Pete and Bette are more than the first friendly faces seen on campus. Since 2008, the couple has opened their home and their hearts to students by hosting them for dinner – up to 25 students at a time, sometimes 10 times per year. These dinners give residence students a taste of the home they are missing and often longing for as they navigate the start of their university experience. A home-cooked meal with good conversation and fellowship has proven to be just the tonic of support many a homesick student has needed. All that is asked of them is to bring dessert.
Pete and Bette have also fostered a campus culture of volunteering. Through the generosity of their time and spirit, they have inspired and recruited dozens of volunteers each year, many of whom return year after year, having been shown the difference even the smallest gesture can make in a student's life.
In extending their hospitality and support to these many residence students over the years, Pete and Bette are inspiring and supporting student potential, building internal community and enhancing the University's relationship with its external community partners. Through their efforts, countless students have experienced the best of what uLethbridge has to offer, a welcoming and supportive community eager to see them achieve their educational goals and aspirations.
For their remarkable hospitality and support of residence students and their devotion to fostering a campus culture of volunteering, the University of Lethbridge is proud to bestow upon Pete and Bette Greidanus the University of Lethbridge Volunteer Award.