Program components
Coursework and Thesis
Co-operative education (optional)
Description
On this page you will find majors in the M.Sc. program delivered by the Faculty of Arts and Science. For further information regarding our M.Sc. majors offered by the Faculty of Health Sciences (Addictions Counselling, Health Sciences, and Nursing) please visit the Master of Science (Health Sciences) webpage.
The Master of Science program offers students in a wide range of disciplines the opportunity to earn a master's degree by writing a thesis and successfully completing a limited number of courses. The creation of a Thesis in any discipline calls for a range of skills that are central to the liberal education tradition, including analysis and synthesis of ideas, empirical investigations, the construction and articulation of arguments, and writing skills.
The M.Sc. program prepares students to undertake Ph.D. programs in relevant disciplines as well as develop professional, transferable skills for a wide range of careers. 
Students are required to secure a potential supervisor prior to submitting an application for this program.​ For further information please visit our Search Supervisors page. ​
The thesis forms the central requirement of the program which involves close collaboration between the supervisor and student; as a result, it is important for students to be on campus to conduct research with their supervisor. Our M.Sc. programs are delivered on the Lethbridge campus only.
Full-time and part-time registration is available. Full-time students complete a 24-month program while part-time students complete a 48-month program. See individual majors for more information, including intakes and program components. 
---
In case of discrepancies between this page and the Graduate Studies Calendar and Course Catalogue, the Graduate Studies Calendar and Course Catalogue shall prevail.
Applicants will meet the following minimum requirements to be considered for admission:
Hold a baccalaureate degree (i.e. an undergraduate degree) in a related discipline from a recognized degree-granting institution

Have a minimum grade point average of 3.00 (based on 4.00 scale) on the last 20 graded university-level term courses OR calculated on the most recently completed master's degree if the applicant is applying for another master's degree
Demonstrate English language proficiency (ELP) for graduate student
Secure a potential supervisor
See here for information regarding international graduate-level admission requirements.
Step 1: Prepare Supporting Documents
See Supporting Documents for the Master of Science program below. If additional documents are required, the School of Graduate Studies will contact you.
Step 2: Find a Supervisor
To find a potential supervisor, you will need to contact a uLethbridge faculty member with expertise in your research area. Please visit Search Supervisors page to find a potential supervisor.
Step 3: Submit Online Application by Deadline
Submit your complete application by midnight (MST/MDT) on the deadline date.
Step 4: Arrange for Official Documents
Official documents (e.g., transcripts, ELP test scores) are required prior to registration.
Note: Applicants who have attended or are currently attending an institution participating in ApplyAlberta do not need to arrange for official transcripts to be sent to uLethbridge from the issuing institution. A list of participating institutions is available at www.applyalberta.ca.
Step 5: Admission Decision Process
The departmental committee reviews your application and makes a recommendation on admission to the program committee. You will be notified of your official admission status by the Registrar's Office no later than 10 weeks after the appropriate application deadline.
*Note: Students who are graduates of non-Canadian universities must provide notarized English translations of all documents not in the English language.
For more details please see the Graduate Studies Calendar and Course Catalogue.
Because the capacity of the program is limited, not all students who meet the minimum admission requirements can be admitted. Criteria used for admission include:
your record and letters of recommendation
your proposed supervisor's record of scholarship, completed and current, especially in relation to your proposed work
the feasibility of your project in the light of available resources
your financial support
If the program committee feels that you are eligible for admission, but are lacking in necessary preparation, you may be admitted subject to relevant conditions. In these cases, candidates may be given one of two options:
The required preparation may be undertaken prior to admission, with the permission of the program committee
It may be taken after admission and within the maximum time limit of 24 months for full-time students and 48 months for part-time students
In either case, the program committee establishes a definite date by which all conditions must be fully satisfied.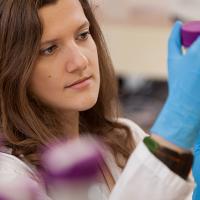 If we can understand the mechanics of what's going on at the base molecular level in the brain, we could be better enabled to find ways to help people who, after having chemotherapy, suffer these side effects. Anna Kovalchuk (BSc '14, MSc '15, PhD '18)