Counselling Services at the University of Lethbridge is pleased to offer services to Calgary Campus students through distance delivery ("telecounselling") - either via video conferencing or telephone. The platform that we are using is Zoom. Zoom is a third-party video communication service that uses industry-standard privacy and security measures. For additional information regarding their privacy standards and tips on privacy, visit the following link: https://zoom.us/privacy
What is Counselling?
In its most general form, counselling is an interactive process involving a trained professional counsellor and a client, with the purpose of enhancing the client's current level of functioning. In counselling, the client and counsellor collaborate in order to help the client grow and change by: establishing goals, developing new ways of understanding and coping with problems, and learning to use external and internal resources more effectively.
The foundation of counselling is the relationship you establish with your counsellor. Therefore, it is crucial that you pick the right counsellor for you. 
What does a Counsellor do?
A counsellor is someone who has specialized training in helping people make change in their lives and improve their well-being. Don't be afraid to ask your counsellor about his or her training, credentials, and specializations. Your counsellor should not direct counselling, or try to be the expert of your life, but should collaborate with you to help you make the changes you want. 
How much does Counselling Cost?
As a student of the University, counselling on campus is free. Some outside agencies in the community offer free services as well, depending on your needs and situations. Other agencies offer sliding-free or subsidy options, in which they base your fee on your current income and financial situation. 
How to Book an Appointment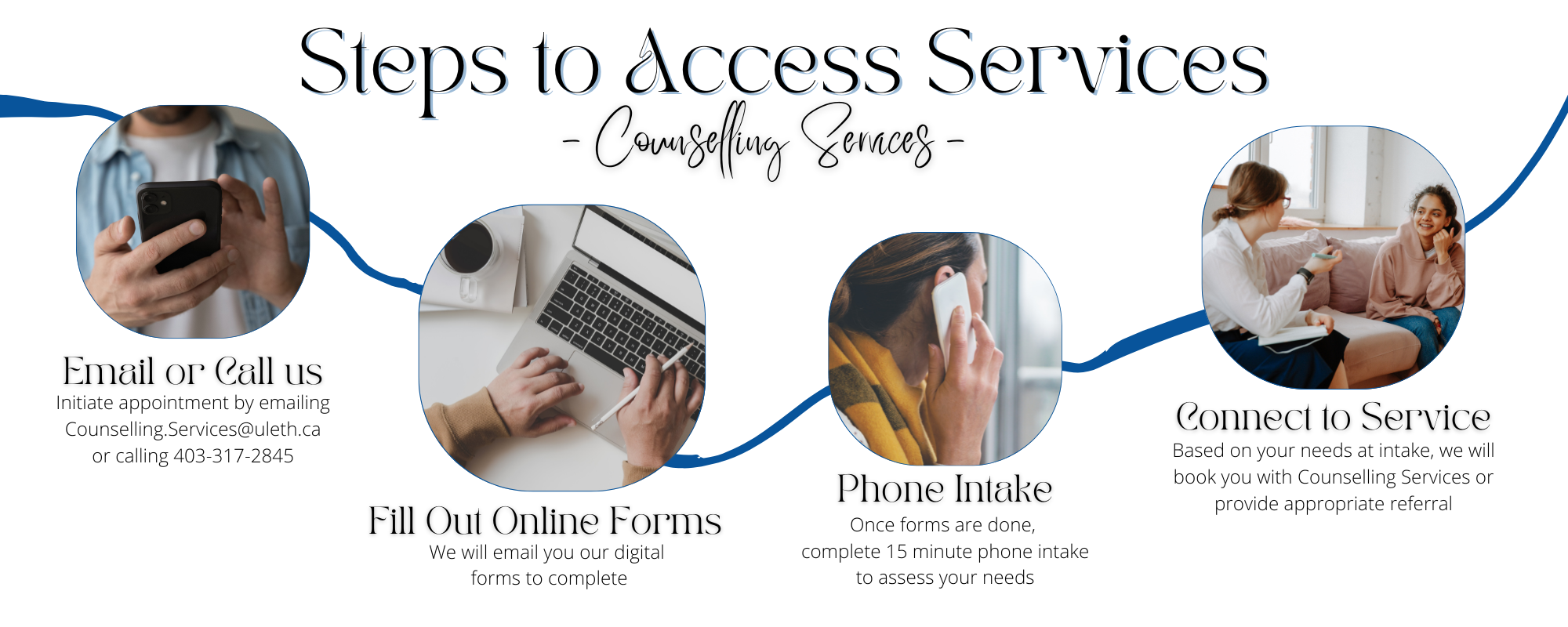 What to Expect From Counselling
Intake
During your first appointment, you and the counsellor will establish a connection (either through phone or video-conferencing). You will set goals for counselling. 
How do I determine if my counselling is working?
Counselling is likely to be "effective" if you feel that counselling is a worthwhile endeavour, that you are making positive changes, and that you are being validated, supported, and challenged by your counsellor. Remember, YOU are the best judge of whether counselling is effective for you. 
What should I do if I'm not satisfied with counselling?
If you are not satisfied with your counselling or feel that another counsellor would be better suited to you, then you have a right to ask your counsellor for a referral. It is the professional responsibility of that counsellor to ensure you get a proper referral. A counsellor who respects your needs and understand the importance of the therapeutic relationship, should not be hurt or offended at your request to see another counsellor. 
Is counselling right for me?
Based on waht you now know about counselling, the informed decision if yours. If you are ready to make change in your life, or if you are ready to explore the possibility of making change, then counselling may be right for you. 
There are a number of resources in Calgary that can be accessed in an emergency.
Call 911 or the Calgary Distress Center Crisis Line at (403)-266-4357
Both of these resources are accessible 24/7