We are here for you!
Fall/Spring Hours
Monday to Thursday 8:30am - 7:30pm (Closed 12 -1:15 pm for Lunch)
Friday 9:00am - 4:00pm  (Closed 12 -1:15 pm for Lunch)
Summer Hours:
Monday to Friday 9am - 4:00pm (Closed 12 -1:15 pm for Lunch)
**IMPORTANT NOTICE**
** As of November 1st, 2022 we will be charging a $10 fee for all no-show and late-cancel appointments. To avoid late-cancel charges, you must cancel your counselling appointment 24 hours prior to your appointment time via email, phone, or voicemail.  If a fee is required, fees will be billed to your U of L student account.** 
Please talk to our Intake Coordinators or to your Counsellor for more information and details. 
Services Available to Students
Services offered in-person, Zoom, or over the phone.
You can choose your mode of service!
Need emotional support ASAP? We got you!
What you need to know:
-  Just like a walk-in clinic, walk-in appointments must be made in-person at our office on Wednesdays only. First-come first-serve! Doors open at 8:30am - AH153.
- These are same-day appointments, meaning you may need to come in early to book and return later for your appointment.
-  Only in-person sessions will be accepted (no zoom or phone sessions available for walk-ins).
- Walk-in sessions are limited to 2 per semester, per student. 
- We have multiple amazing counsellors available to support you (female and male), however on walk-ins, students cannot choose their counsellor. 
- If you are actively seeing one of our counsellors, you may not be able to book a walk-in. Check with our front desk staff if you are unsure or call 403-317-2845 for more info - we are here to help!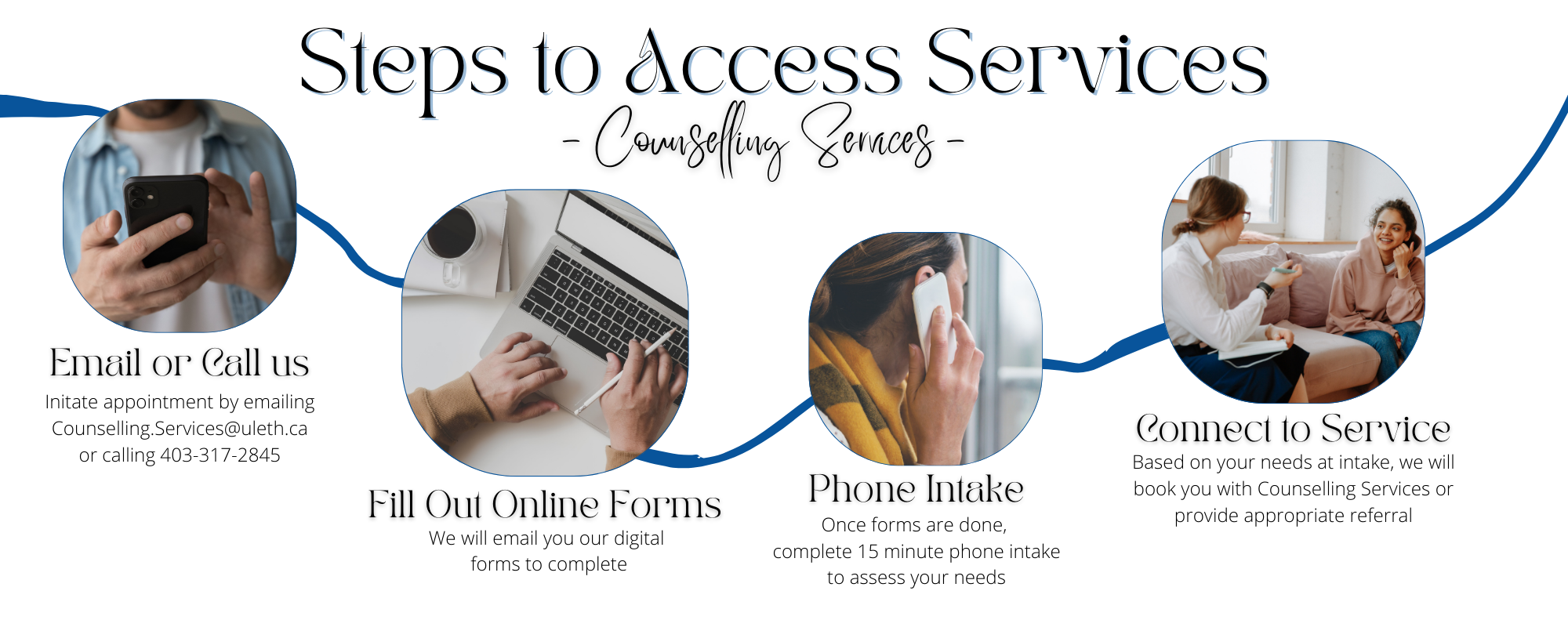 Emergencies & After Hours
Emergencies & After Hours
If you are in emotional distress during office hours, a counsellor may be available as soon as possible. We reserve spots for emergencies situations such as recent assault, suicide risk or severe emotional crisis.
For campus emergencies contact Security at 403-329-2345 or dial 911
24/7 phone counselling services - Wellness Together Canada - call 1-866-585-0445 (free) 
Distress line of Southwestern Alberta at (403) 327-7905 or 1 888 787-2880
Familiarize yourself with Risk & Safety Services Policies on the UofL Campus
Worrisome Behaviour
Sexual Violence Awareness & Support