Please contact our intake coordinators to book an appointment or register in our groups or workshops (ph: 403-317-2845 or email: counselling.services@uleth.ca) to inquire. 
What is One-on-One Counselling?
Engaging in one-on-one counselling takes a lot of courage and provides you with the opportunity to discover much about yourself. One-on-one counselling can be a powerful and valuable venue for change and growth. During your first appointment, your counsellor will discuss the initial consent form with you. This provides you with the opportunity to ask questions or express any concerns you might have. The remainder of the session is spent gathering information about your presenting concern(s) and/or needs(s) and exploring expectations for your work together. Counselling appointments are 50 minutes in length. 
Counselling is different than talking to a friend or family member. Our conversations have specific goals, and although your group counsellor(s) will be supportive, they also will challenge you. Sometimes you might feel annoyed, tired, or upset following a session. This can happen as you are processing new ways of thinking or because you've spoken about something that's been upsetting to you. As a result of counselling, you may experience changes in your relationships, or beliefs that have unexpected results. Usually, these changes are very positive in the long-term, but it may be difficult to experience as they are occurring. 
How Do I Book an Appointment?
Please contact us via counselling.services@uleth.ca or phone 403.317.2845 - we will require some initial paperwork prior to booking your appointment.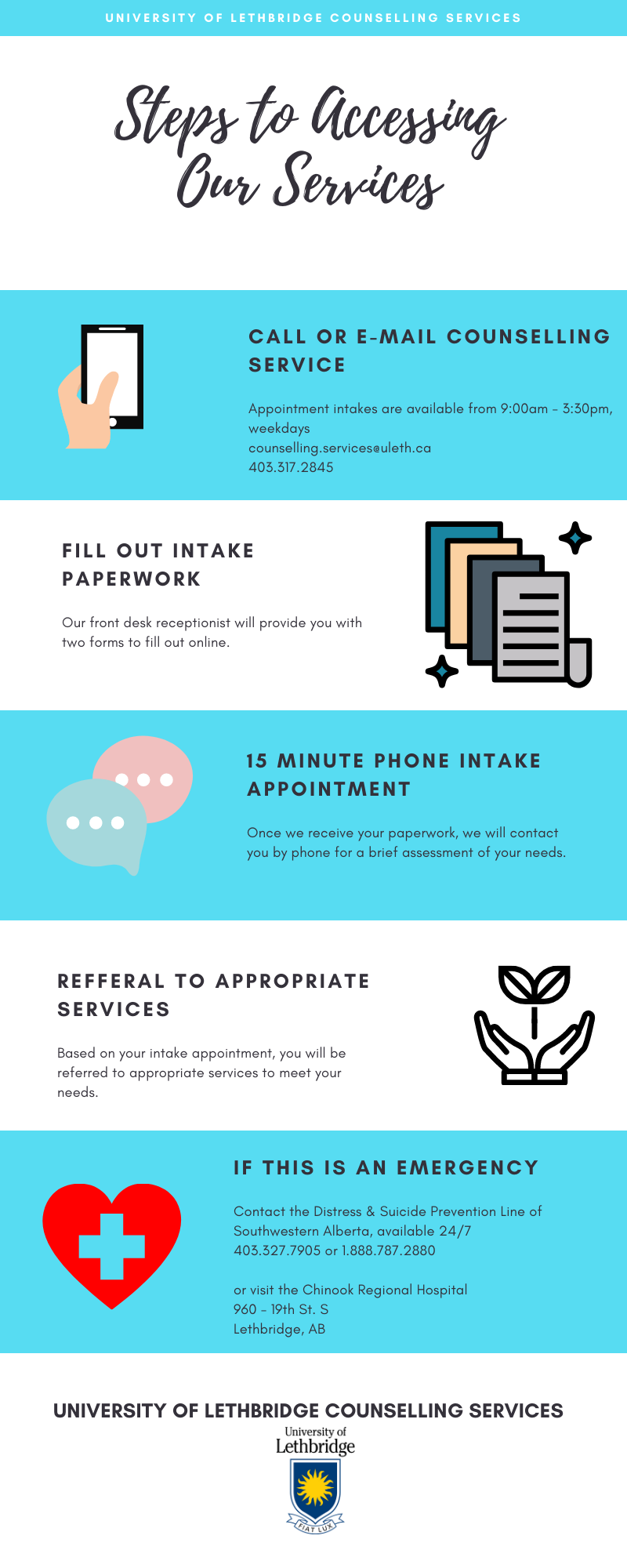 WALK-IN WEDNESDAYS ARE BACK!
If you are struggling with a current situation that is impacting your mental health or general wellbeing, a walk-in session may be right for you. See below on how to get a walk-in session! 
Walk-in sessions are:
50 minutes long

with a mental health professional specializing in post-secondary issues

to work on a specific issue or mental health concern 

goal-oriented, solution-focused, and brief
Walk-in sessions are NOT:
for career or academic specific concerns. For career counselling or study skills support, please visit the "Career Services" or "Study Skills Appointments" tab in the leftside menu

on-going personal counselling (if you feel on-going counselling is a better option for you, please visit the counselling website)

for clinical assessment and/or diagnosis 
How to get a session?
Appointments are available on Wednesdays starting at 6am. Appointments can only be book on the day of and are first-come first -serve.

Visit the My Experience Transcript (MET) page 

here

to login and book your walk-in. Look for "Counselling Services" on ther left side menu.

Please read and follow the instructions on MET - virtual forms must be completed and confirmation uploaded to complete your appointment booking.