Our Faculty & Their Research
The scientific questions presented by the human brain are as numerous as they are intriguing. Of the countless unexplained phenomena in the universe, the brain is the most challenging and could be one of the most important for humanity to understand.
CCBN is a top-quality, state of the art, stand alone research and training facility that houses a vibrant and dynamic scientific community of 15 principal investigators and 180 visiting scientists, postdoctoral fellows, graduate and undergraduate students, and staff.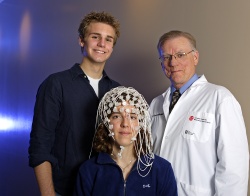 This internationally recognized group of scientists explores research interests from the molecular and subcellular level all the way to the whole organism level with a unified drive to understand the neural mechanisms of learning, brain plasticity, recovery of function, brain development and brain disease.
This highly productive group is well funded by a variety of granting agencies including, National Institutes of Health (US), Alberta Innovates (AI), Natural Sciences and Engineering Research Council (NSERC), and Canadian Institutes of Health Research (CIHR) and has been a major research node within the Canadian Stroke Network.
CCBN is an integral part of the undergraduate and graduate programs at the University of Lethbridge and has attracted visiting scientists and postdoctoral fellows from around the world. We offer one of the most uniquely personable, highly interactive and stimulating learning environments for training in behavioural neuroscience in the world.