University of Lethbridge Herbarium (LEA)
Oki, and welcome to the University of Lethbridge's Herbarium website!
The University is located on traditional Blackfoot Confederacy territory. We honour the Blackfoot people and their traditional ways of knowing in caring for this land, as well as all Indigenous Peoples who have helped shape and continue to strengthen our University community.
Who We Are
LEA is dedicated to collecting, processing, digitizing, filing, and storing all vascular plant specimens that have been collected under appropriate permits or gifted from other researchers or herbaria. This website was created as an initiative to promote the herbarium's presence, share our collection with other herbaria, and store research vouchers from researchers in all disciplines.
Our aim is to provide users with relevant links to current herbaria-related research, provide information on our on-campus collection, share online resources to all things botanical, and also to provide information on upcoming botanical excursions or events.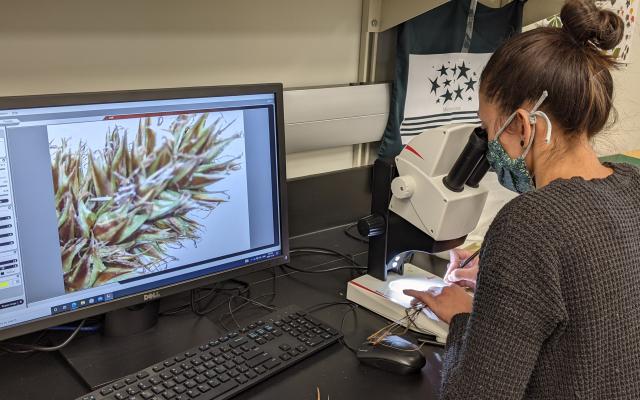 At LEA, we don't just house dried plants. We are a resource for botanists, ecologists, other researchers, and students. Having a collection of different species found in nature helps to document the vascular plant diversity we see today, so that we can use this information to compare changes in the future.
Photographed by J McCune
November 24, 2021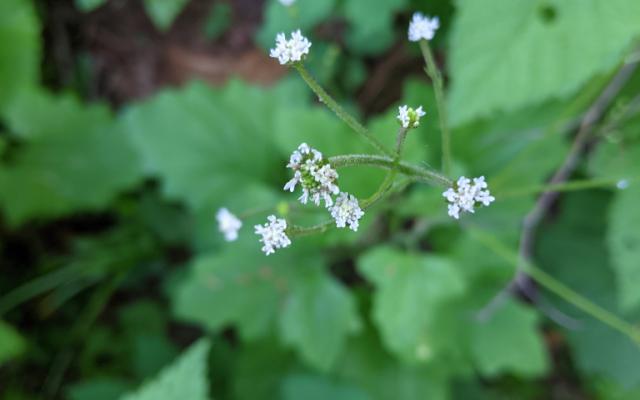 Adenocaulon bicolor W.J. Hooker (pathfinder) shown here was aptly named because the fuzzy white underside of the leaves would become more visible if one tramples over these species in the endless green forest understorey.
Photographed by T Chisholm
July 9, 2021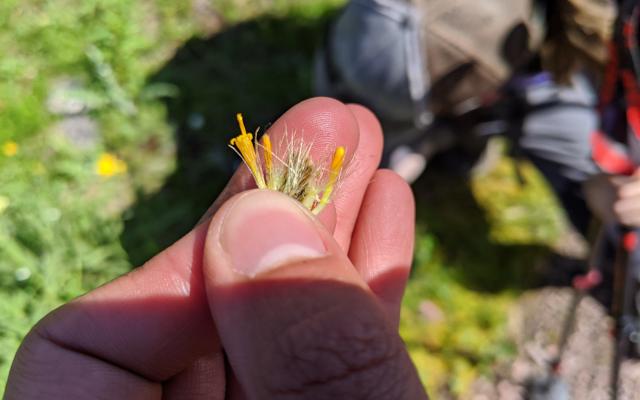 Flowers among the flowers
Did you know that the head of a sunflower is composed of many smaller flowers called ray (the pretty petals) and disc (the middle bit) flowers? Examining these characteristics can lead to proper identification of the Asteraceae family.
Photographed by T Chisholm
July 22, 2020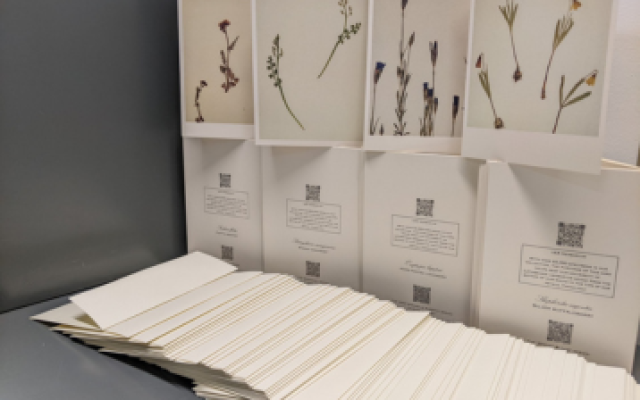 Greetings! We have greeting cards!
LEA is proud to present our first printing of four different greeting card series! Each card displays a unique photo of herbarium voucher specimens found in our physical collection. Collect one of each from our currently available series: 'Rare Alberta Plants', 'Spring Bloom', 'Packera' and 'Moonwort'! Available for a limited time only! Multiple print service available upon request: chisholm@uleth.ca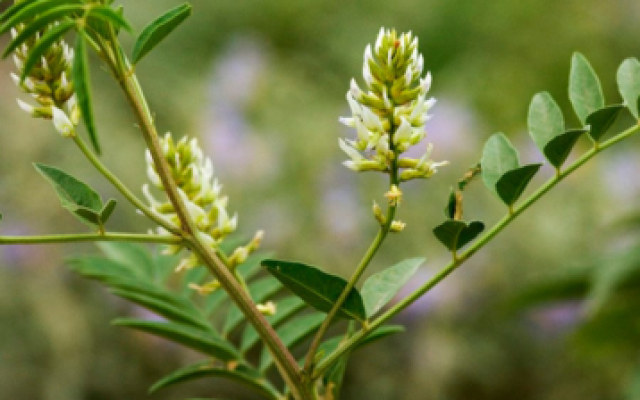 Flora Foundations: Wild Licorice
Join the herbarium at the Galt Museum for a great afternoon workshop led by Jenny Burke, Biology instructor at the University of Lethbridge, exploring, learning, and gaining a new understanding of the Wild Licorice plant (Glycyrrhiza lepidota) through the lens of botany.
Sunday, June 25, 2023
12:00 p.m. 2:00 p.m
Cost $10 per ticket
Join Jenny Burke at the University of Lethbridge Herbarium in the University Science Commons building. Spend the morning with magnifying glasses looking at both live plants and herbarium specimens, then pick some of the plants that are blooming and dry to and 'paste up' your very own herbarium voucher, with a label, to take home.
Tuesday, July 4, 2023
10:00 a.m. 11:00 a.m