MOLECULAR. CHEMICAL. PHYSICAL.
Welcome to Biochemistry
Biochemistry is the study of all living systems at the molecular level. It looks at the chemical and physical basis of life and how these living systems interact with their environments.
The Departments of Chemistry & Biochemistry and Biological Sciences jointly offer a multi-disciplinary major in biochemistry for the 40-course Bachelor of Science (BSc). You can also select a general major in the sciences and choose biochemistry courses as options.
Biochemistry will help you develop a strong background in the basic sciences and extensive laboratory skills. Thereby, it provides background for a diverse range of careers in the life sciences, including professional programs such as medicine and veterinary medicine. 
The Department of Chemistry & Biochemistry is home to many advanced instruments which enable cutting-edge research. These tools include nuclear magnetic resonance (NMR), infra-red, Raman, UVvisible, atomic absorption spectrometers, macromolecular x-ray diffractometer, isothermal titration calorimeter, and a surface plasmon resonance spectrometer.
Key member of Return to Campus Committee, Dr. Trushar Patel, to receive 2021 Volunteer Award
As one of the country's best young research scientists, Dr. Trushar Patel has earned numerous honours for his expertise with viruses and RNA-based vaccines. His work in the lab and in mentoring student researchers is only a fraction of what Patel brings to the University of Lethbridge and this commitment to give freely of his time to help the community has led to his selection as the 2021 University of Lethbridge Volunteer Award recipient.
As ULethbridge looked at how it would safely reopen its campuses for the Fall 2021 semester after a year of online instruction due to the COVID-19 pandemic, the need for expert guidance was clear. Patel, a professor in the Department of Chemistry & Biochemistry and Canada Research Chair, volunteered to co-chair the Return to Campus Committee. The work involved in a safe reopening of campus was tremendous and required long hours, as provincial public health guidance frequently changed in response to the shifting pandemic. Patel's expertise was invaluable in helping the University safeguard the health of the campus community during this time.
New possibilities for therapeutic interventions revealed in collaborative study
Many medications on the market today target disease-related proteins, but a new study by scientists from Massachusetts General Hospital (Harvard Medical School), Merck Research Laboratories and the University of Lethbridge has shown that small-molecule drugs can target non-coding RNA (ribonucleic acid), thereby expanding the possibilities for therapeutic interventions in many diseases.
"This work opens up the possibilities of developing drugs that can target RNAs that are involved with many diseases," says Dr. Trushar Patel, Canada Research Chair in RNA and Protein Biophysics.
In our bodies, DNA is transcribed or copied into coding RNAs, which in turn are translated into proteins that are the workhorses of a living system. However, most RNA is noncoding and scientists are learning about the critical role it plays in controlling systems. On a normal day, these nucleic acids provide cell maintenance and cell differentiation, but if they go rogue they can play a major role in diseases such as cancer.
Researchers earn RDAR support to find viable solutions to mitigate Bovine Respiratory Disease
Researchers in the University of Lethbridge's Southern Alberta Genome Science Centre (SAGSC) and its bioinformatics core are collaborating with scientists at Agriculture and Agri-Food Canada (AAFC) to find viable solutions to mitigate Bovine Respiratory Disease (BRD) — the most prominent feedlot cattle disease in North America — that is responsible for an estimated financial burden of $3 billion annually.
The supported project is led by ULethbridge associate professor Dr. Athan Zovoilis and Dr. Tim McAllister, a principal research scientist at AAFC. Zovoilis, SAGSC director and Canada Research Chair in RNA Bioinformatics and Genomics, Dr. Angeliki Pantazi (SAGSC scientific officer) and Dr. Eric Merzetti (BioNet program manager) are working with McAllister's team and other scientists at AAFC to advance a genomic-based diagnostic pipeline for BRD, based on Alberta herd-specific pathogens, that will increase the precision of antimicrobial use in the provincial cattle industry.
Career Bridge: Centre for Work-Integrated Learning and Career Development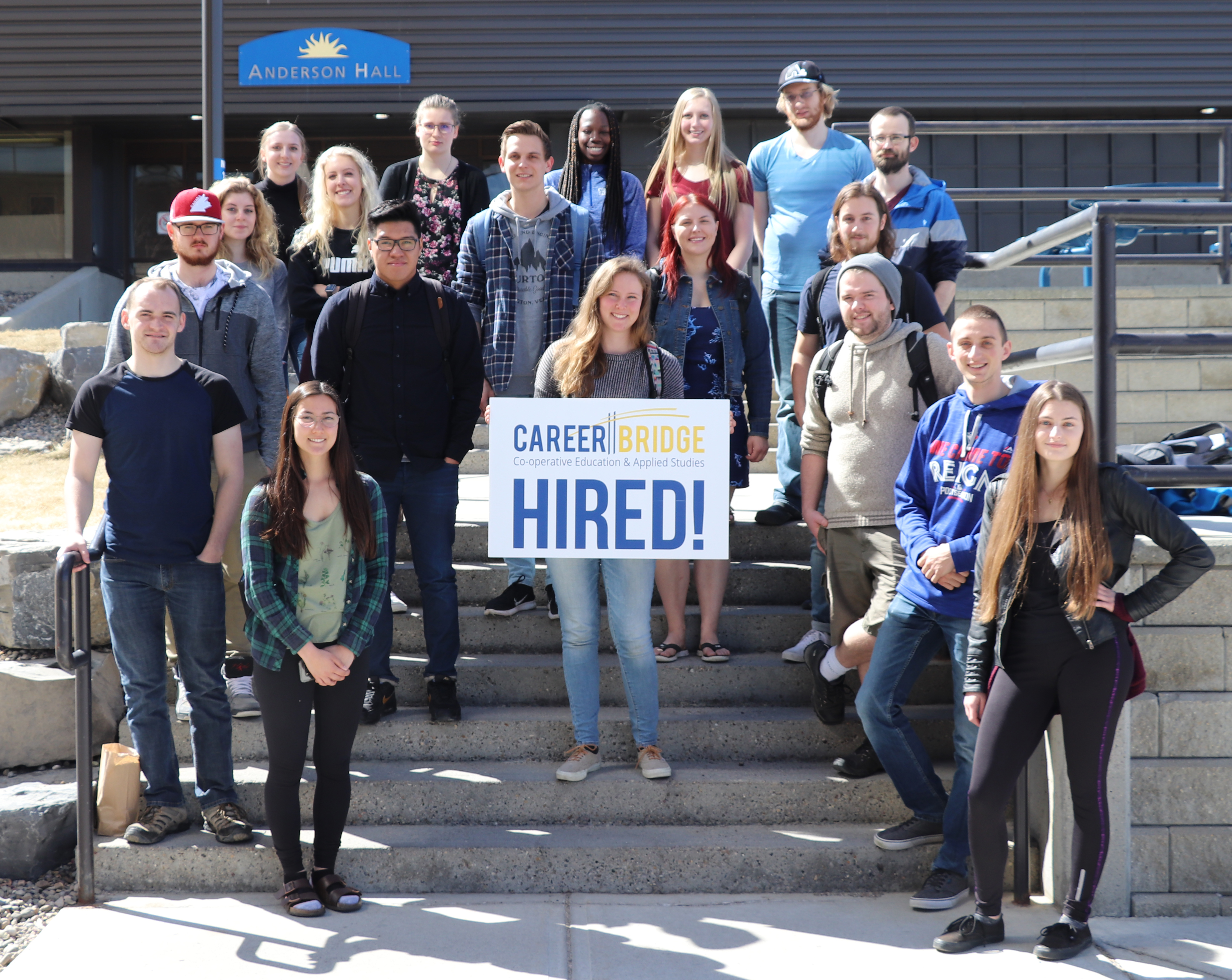 Put Your Knowledge to Work 
Whether you're looking for a more in-depth learning experience by assisting with research projects on campus or by testing your knowledge in a real-life work setting, we can help! The University of Lethbridge is proud to offer you an exceptional opportunity to explore professional development through academic programs and services designed to give you a competitive edge in a fast-changing world.
You have a bright future — experience it via Career Bridge at uLethbridge!