Stepping Stones to Success: Agricultural Biotechnology Student Miriam Belsheim Pursues Humanitarian Efforts at the U of L
by Leah Strand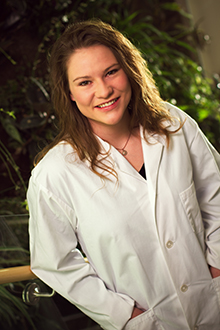 Miriam Belsheim hails all the way from Tulliby Lake in central Alberta, but the move south to Lethbridge was worth the distance because it meant she could take her ideal program –
agricultural biotechnology
.
The University of Lethbridge, which is recognized on the international stage for its epigenetics research program, offers an agricultural biotechnology major within the Bachelor of Science program.
"Biotechnology is a branch of science that manipulates living organisms to form useful products," Miriam explains. "It includes everything from diagnostics to cloning."
Within the biotechnology program, students can concentrate on agricultural business and take courses in the economics and history of agriculture – a unique combination Miriam hopes will help her get into medical school and eventually practice rural/expedition medicine.
"It's a challenging program, but when the professors genuinely enjoy teaching the material, it makes it that much easier to learn," she says.
So far, Miriam has completed two summer work terms through the university's Co-operative Education program. Both terms were with Cargill, first as an Operations Student, then as a Marketing Representative. "I got to manage research trials, collect data and promote marketing initiatives."
This summer, Miriam will be doing a third work term with Agriculture Financial Services Corporation (AFSC) dealing with insurance claims.
Miriam has really taken advantage of all that the U of L has to offer. She's participated in the Archaeology and Curling clubs at the University, and in community service clubs such as Rotary and Volunteer Lethbridge. She also worked as a Student Mentor and attended the U of L Annual Leadership Conference.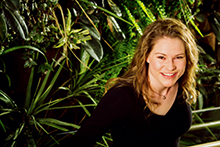 Right now, Miriam is most excited about her role as the treasurer of
Flying Doctors of Canada
. She is also the VP of the U of L student subset,
Doctors of Tomorrow
. The club is currently fundraising for a trip to El Salvador this August, where Miriam and the other members will get hands-on experience working with medical professionals as they volunteer in communities. "I'll get to apply what I've learned to actually help people," she says. "This is why I decided to be a doctor in the first place."
To Miriam, it's crucial to get involved in the university community, especially for students like her who aren't from Lethbridge. "You might pass up an opportunity because you don't think it's for you – but you never know until you try." She urges students to join in as soon as they start university. "Don't hesitate. If you want to have a great experience, you have to get involved. It's such an important aspect of your education."
Miriam's hard work and dedication have not gone unnoticed. She has been awarded the Jason Lang Scholarship for her marks, the Alberta Bio Award for her work in biotechnology, and the Leaders in Agriculture Award for her community and volunteer work.
Miriam's schooling and involvement in humanitarian efforts are preparing her for a bright future in rural medicine. She is building experience mentoring, travelling and most of all, working with people.
"This kind of personal development will help me in medicine, but also in all facets of my life," she says. Above all, Miriam plans to continue her humanitarian efforts. "Sometimes we forget how important it is to be a part of other people's lives."
Apply for admission to the University of Lethbridge today!