Personal Training
Working to create a positive, motivating environment for clients to reach their specific health and wellness goals.
Want to reach your goal faster? Looking for strength or even sport specific training? Focusing on body composition? Maybe you're looking for motivation and accountability? Or just to become more comfortable in the gym? Our personal training options are for you! Personal training is the safest, most effective way to help you reach your goals, whatever they my be. Our goal is to educate you throughout the process, giving you the tools you need to succeed.
What's new with personal training?
We're adding some new faces to our team in the form of new student trainers! Coming soon, you'll be able to book sessions with our fully certified student trainers at a lower cost than our resident senior trainers.
We've added a new option to cover all of your training needs: Group Training! With multiple format options, group training allows 2-6 people the benefits of personal training at a lower cost in a group workout atmosphere. Train with your friends or make new ones!
Don't worry! None of this means that we've gotten rid of the tried and true one-on-one personal training with our resident senior trainers. Instead, just like these other options, we've actually made it more affordable as well and even more accessible.
Ian Davis, Senior Trainer
"Health and fitness are for everyone."
Ian has worked in the fitness industry for thirty years as a certified personal trainer and fitness instructor. His areas of expertise include pre- and post-surgical rehabilitation; strength, core, and stability; body composition and body building.
"I believe in educating my clients as we train together so their fitness journey is safe, fun, and effective." -Ian Davis
Amanda Woodtke, Senior Trainer
"Train smarter, not harder"
With 13 years of experience in the fitness and rehabilitation industry, Amanda has worked with a wide variety of clients in various capacities; helping them reach their goals by addressing imbalances in the muscular system that may cause tightness or pain, contribute to injury, delay recovery or hinder performance.

In addition to ongoing educational pursuits, Amanda has an extensive list of hobbies and interests allowing her to bring a wealth of knowledge and experience to a session.
Katelyn Kemp, Senior Trainer
"If it doesn't challenge you, it won't change you"

Since I began my fitness journey about 7 years ago, my passion for health and wellness has developed into me falling in love with helping others gain confidence and strength when achieving their goals. I have worked in multiple physical therapy clinics alongside some great therapists and have gained knowledge surrounding injury prevention and strength building post injury recovery, that I now apply to my personal training sessions. Starting at the gym is never easy and not always fun, but I promise to help you fall in love with yourself, exercise and the journey.
Student Personal Trainers

"The only thing scarier than the gym is missing out on who you'd become because of it"

Ahmad enjoys living a balanced life with just the right amount of delicious food and the perfect amount physical activity. As someone who used to see the gym as an intimidating place to be, he understands what it's like to be a first timer.
"It's You vs. You"

From playing high level sports throughout my life, living an active lifestyle has become a very important aspect as fitness has become a passion for me. The gym has become a second home for me and focusing on training hard and training properly is what I want to achieve.
My focus is mostly hypertrophy training and strength training while also having knowledge in sports-specific training as well as functional training.
My goal is to strive to become the best version of myself and let me help you become the best version of you.
"When you feel like quitting, think about why you started"

Growing up I've always had a passion for sports and recreation, which lead me to pursue a degree in kinesiology. My main focus is high intensity interval training (HIIT) as well as functional training for your everyday lifestyle. I believe that creating a balanced lifestyle involves more than just the gym and enjoying the activities you're passionate about are just as important as physical training.
"Having experience competing at a high level in sports, as well as having found a love for the gym, I have had the opportunity to bring the two together with personal training. My passion for athletics has shifted to health and fitness, and I am excited to share this with others. Fitness is for everyone, and I am here to help you turn your motivation into a lifestyle. I have an interest in anything from fundamentals to sport performance."
"Don't be afraid of being a beginner"

Hi I'm Morgan!

I grew up playing a variety of high level sports! More recently, I have developed a passion for the gym and all it has to offer.

A few of my favourite things about the gym is that it provides a great opportunity to make new friends, crush new goals, experiment with new movements, and challenge yourself, all whilst simultaneously improving your health and wellness.

The gym is for everyone! Whether your just starting or are an experienced lifter there is a place for you! My goal is to help you feel more confident in your training, build healthy habits, and provide a safe and comfortable training experience!
 
"Pressure makes diamonds"

I've always had a strong interest in sports and science, and I took the opportunity to study in Kinesiology, and my passion in fitness has only grown through the years studying sports science. The gym is for everyone, and my goal is to help you boost your confidence in yourself, your knowledge in training, and keeping a healthy lifestyle. I believe that growth only happens when you place yourself in uncomfortable situations so don't be afraid to get out of your comfort zone so get out there and do your thing!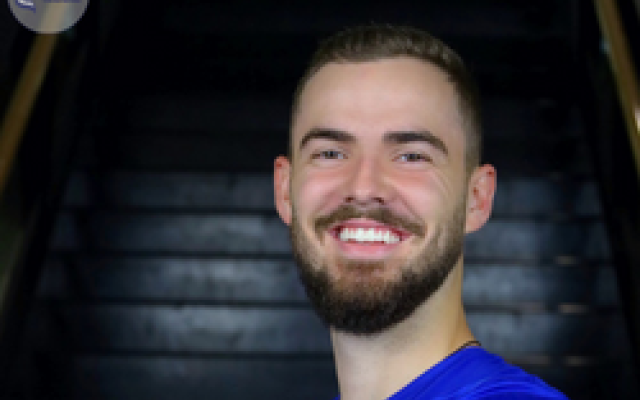 "Pressure is a Privilege"
Although his focus has shifted to weightlifting and hypertrophy training, Lucas has a background in functional training as well. His goal is to help you develop a strong and healthy lifestyle, and feel comfortable, safe and driven in the gym.